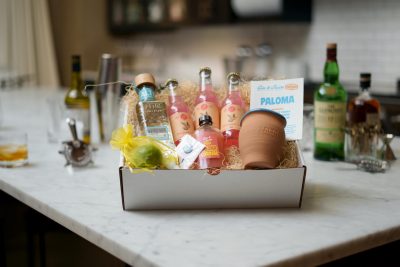 Gin and Juice is the First Virtual Cocktail Bar from the Three Dots and a Dash Team
For the at-home mixologist
Now you can bartend at home like a pro! Introducing Gin and Juice, a virtual cocktail bar from award-winning Beverage Director, Kevin Beary and the team behind Three Dots and a Dash is now open in Chicago!
Gin and Juice is a carryout and delivery-only concept that gives you the chance to mix up the best version of your favorite classic cocktails at home. Gin and Juice offers group cocktail kits that include everything you need from spirits to mixers like fresh squeezed juices, hand-crafted cordials, syrups and garnishes to a selection of bar tools, specialty cocktail ice and mugs that can be added on. Gin and Juice also offers individually bottled cocktails to-go!

Check out the Gin and Juice menu online.
Give your at-home bar cart a makeover with Gin and Juice! The menu is a collection cocktail kits that showcases a variety of the team's favorite spirits from the single barrel rum selections to Japanese whisky, and more. 
The menu features individually bottled 8oz cocktails that are all $16. Bring home cocktails like the Down Periscope made with Blanco Tequila, Mango Brandy, Pineapple, Lime, Almond Orgeat and Guava or the Saturn made with London Dry Gin, Passion Fruit, Lemon, Almond Orgeat and Falernum.
The large format kits are made to be shared, with a selection of more than a dozen group options that make between 6 to 12 drinks. The these kits are Kevin's favorite classic cocktails and include the Chartreuse Swizzle which makes 6 Cocktails and includes Green Chartreuse, lime juice, pineapple juice, Kev's 57 Falernum for $65, Espresso Martini which makes 8 cocktails and includes Grey Goose Vodka, Espresso Martini Cordial, Espresso Bean for $50, the Sesame Japanese Whisky Old Fashioned which makes 12 Cocktails and includes Nikka Yoichi Japanese Whisky, Sesame 2:1 Old Fashioned Syrup for $120 and the Wray and Ting which makes 6 cocktails and includes Wray And Nephew Overproof Jamaican Rum, Ting Grapefruit Soda for $40.
Looking for the perfect gift? Gin and Juice gives you the option to gift any of the signature cocktail kits to send to your friends and family in Chicago.
For more gift guide ideas for your food loving friends and family, click here.
Gin and Juice is a carryout and delivery only bar in Chicago open Monday – Sunday: 11:00 AM – 8:00 PM. Pick-up is located at the Bub City host stand at 435 N. Clark St. For more information visit www.drinkginandjuice.com or follow Gin and Juice on Instagram or Facebook. For any questions about Gin and Juice, including the delivery radius, call 312-610-4200 or email ginandjuice@leye.com.