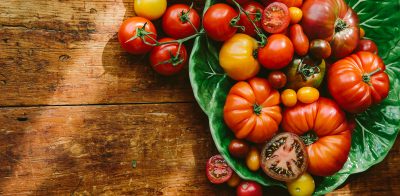 One of Our Favorite Things About Summer: Tomatoes
We love this summer ingredient
As we savor the last months of the summer season, our chefs are adding heirloom tomatoes to their menus. Other than being more colorful and oddly shaped than your everyday tomato, heirloom tomatoes really are special and are at their peak in the late summer.
With such a short season, our best advice is to try 'em while they're delicious so we rounded up a few of our favorite dishes from the perfect salads and summer pastas.
Osteria Via Stato's Chef David DiGregorio is known for sourcing some of the best ingredients from local farmers and purveyors and one of his favorite things about summer is heirloom tomatoes. Try Osteria Via Stato's Heirloom Tomato Panzanella Salad.
Make a reservation at Osteria Via Stato.
il Porcellino's
Caprese Salad
is made with heirloom tomatoes from Nichols Farm & Orchard, buffalo mozzarella, basil, extra virgin olive oil, salt and pepper. It is simple and the perfect summer side dish. The salad is available for dine-in, carryout and delivery.
Mon Ami Gabi
offers a 
Local Tomato Salad with Corsican feta, cucumber, and red wine vinaigrette.
This salad is balanced out by a block of tangy Corsican feta that's drizzled with olive oil. All tomatoes are from local farmers in each market and vary in color, size, and sweetness.
Aba – Chicago is dishing out an Heirloom Tomato Orzo with roasted eggplant, chervil, olive oil and lemon zest. 
Make a reservation at Aba – Chicago. Order carryout or delivery from Aba – Chicago