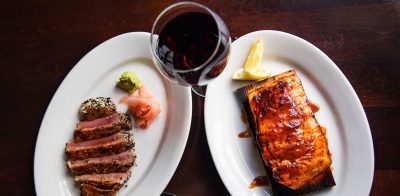 Wildfire's Top 5 Winter Wine Picks
These wines are perfect for winter
Whether you're bundled up on the couch for a Netflix and chill kind of night or heading out to dinner, these wines will hit the spot and are the perfect pairing to cold weather comfort food. Wildfire's wine and spirits director, Brad Wermager, shares his top five winter wine picks guaranteed to keep you warm this season!
Make a reservation or order carryout or delivery at the Wildfire location nearest you. 
For red wine lovers: Pessimist by DAOU Vineyards
This red wine is made up of Petite Sirah, Syrah and Zinfandel grapes. It tastes just like an expensive blend for half the price, with flavors of black cherry, blueberry, and crème de cassis to round it out.
"The Pessimist by DAOU Vineyards is bold, it's juicy and it's spicy.  This wine will definitely warm you up on its own."
Pairs well with: Juicy steaks and burgers
For Chardonnay fans: Rodney Strong Vineyards "Chalk Hill" Chardonnay, Sonoma County '17.
Brad's winter white wine pick is a rich and dense white wine. If you aren't a Chardonnay connoisseur quite yet, give this one a shot.
"This Chardonnay offers stone and citrus fruit flavors with a creamy texture. The richness and density in this wine make it the perfect winter white."
Pairs well with: The Parmesan Alaskan Cod
For Italian lovers: Allegrini "Palazzo Della Torre" (Baby Amarone)
The earthy and rustic blend is a combination of Corvina and Rondinella grapes and a small quantity of Sangiovese grapes. The beautiful dark fruit characteristics make the texture plush and velvety.
"My personal wine and food pairing recommendation would be a bowl of homemade gnocchi with Gorgonzola cheese and walnuts."
Pairs well with: The Mushroom-crusted Pork Chops
For bourbon drinkers: The Federalist "Bourbon Barrel Aged" Zinfandel, Mendocino County '16
Typically go for brown spirits but are interested in getting into wine? This cozy wine is first aged in American oak barrels for six months then switched to bourbon barrels for another six months.
"The bourbon barrel aging adds more richness and caramel notes, as well as lush black fruit, rich caramel and smoke flavors."
Pairs well with: Filet Mignon
For adventurous winos: Ferrari-Carano Siena, Sonoma County '16
Brad's last winter wine pick is an easy sipping Sangiovese blend, which is the main grape used in Chianti, but with less earthy and more juicy characteristics.
"For those who like a more medium-bodied wine that pairs well with a variety of foods, this is the one."
Pairs well with: Savory Italian food and the Bison Meatballs
Let's get to drinking! Click here to view the entire Wildfire wine list curated by Brad.