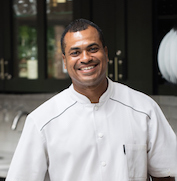 Mychael Bonner
Chef Partner of Di Pescara, Saranello's, and The Ivy Room
Mychael Bonner returned to Lettuce Entertain You in 2005 after acting as the Vice President of Culinary Operations of Maggiano's for 13 years.

A veteran of the restaurant industry for over 30 years, Bonner's experience started when he was a young child watching his mother and grandmother in the kitchen at The Peabody in Memphis. As a high school student in Muncie, IN, Bonner began cooking at The Flamingo. He took such a liking to his job that he went on to attend the Culinary Institute of Chicago. After graduating, Bonner began working as a Sous Chef at The 95th. Bonner next went on to travel around the world, experiencing cooking in places such as France, Italy, New York and San Francisco.

In 1992, Bonner joined Maggiano's. As a part of the Maggiano's team, Chef Bonner opened 36 Maggiano's restaurants across the United States. In 2005, Bonner returned to Lettuce as Executive Chef and culinary talent behind a new concept called Di Pescara. In 2011, Bonner worked with partner Mark Tormey on the Italian restaurant, Saranello's, in Wheeling. During the COVID-19 pandemic, Bonner and his team opened B Square Pizza, a Detroit-style carryout and delivery only concept in Chicago's northern suburbs.

Bonner prides himself on taking a clean and fresh approach to food but still likes to keep pushing the boundaries. Fresh ingredients and culinary innovation pepper his every dish. He considers his role as chef paramount to the success of a restaurant, as his ability to work with the team at all times. As a team player, Bonner feels it is important for him and others to give back to the profession.

In his free time, Bonner enjoys bicycling, spending time with his family and cooking Sunday dinner.