Bang Bang Cauliflower
Recipe by Hub 51
Looking for inspo on what to do with your head of cauliflower? Breaded in a crispy tempura batter and doused in spicy mayo, vegetarians and carnivores alike will surely love Hub 51's Bang Bang Cauliflower.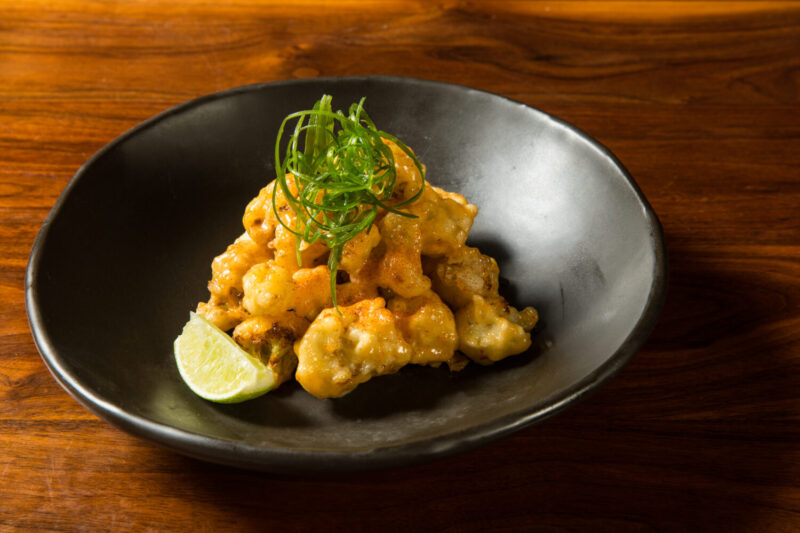 Bang Bang Cauliflower
A spicy riff on cauliflower
Serving Size: 2-4
Ingredients:
Spicy Mayo:
2 Tbsp Rice Wine Vinegar
1 Tbsp Sugar
1 Tbsp White Miso
¾ tsp Kosher Salt
½ tsp Ichimi Togerashi
1 tsp Sriracha
1 tsp Tobanjan
1 ½ cups Mayonnaise

Tempura Batter
1 cup Kikkoman Tempura Mix
¾ cup cold water

Scallion Curls:
Bunch of Scallions
3 cups ice water

Spicy Tempura Cauliflower:
1 medium cauliflower, washed, stemmed and cut into equal medium-sized florets
4 cups vegetable oil
¼ cup potato starch
⅓ cup spicy mayo
2 Tbsp scallion curls
¼ tsp Lime Zest
¼ tsp Togarashi

Method:
Spicy Mayo:
1. Add rice wine vinegar, sugar, miso, salt, ichimi togerashi, sriracha, tobanjan and mayonnaise in a bowl
2. Stir to combine

Tempura Batter:
1. Add the tempura mix to cold water
2. Gently stir in, leaving a few lumps in the batter

Scallion Curls:
3. Cut the green section of the scallions into 3 inch sections
4. Slice the 3 inch sections into very thin slices lengthwise
5. Fully submerge in ice water for 5 - 7 minutes until curled
6. Remove and dry with paper towels

Spicy Tempura Cauliflower:
1. Cut the head of cauliflower into small florets
2. Heat oil in a heavy dutch oven over medium high heat, until it reaches 350°
3. Toss in the potato starch and shake off excess with a sieve
4. Place into the tempura mix and coat evenly
5. Remove the cauliflower from the mix and drop them carefully into the hot oil and fry for 45 seconds
6. Remove from the hot oil and place into a large heatproof bowl with the spicy mayo, toss to coat evenly
7. Remove from the bowl and plate in a shallow dish. Zest a lime over the top, sprinkle with togarashi and scallion curls
8. Enjoy!

Download the recipe