Calabrian Chili & Roast Garlic Chicken Wings with Chive Garnish
Recipe by Stella Barra Pizzeria & Wine Bar
Step up your wing game by making Stella Barra Pizzeria & Wine Bar's Calabrian Chili & Roast Garlic Chicken Wings with Chive Garnish. This recipe of Calabrian chili purée, garlic purée, white wine vinegar, honey and chipotle chilies makes 24 of these bad boys, the perfect snack for a Happy Hour or appetizer.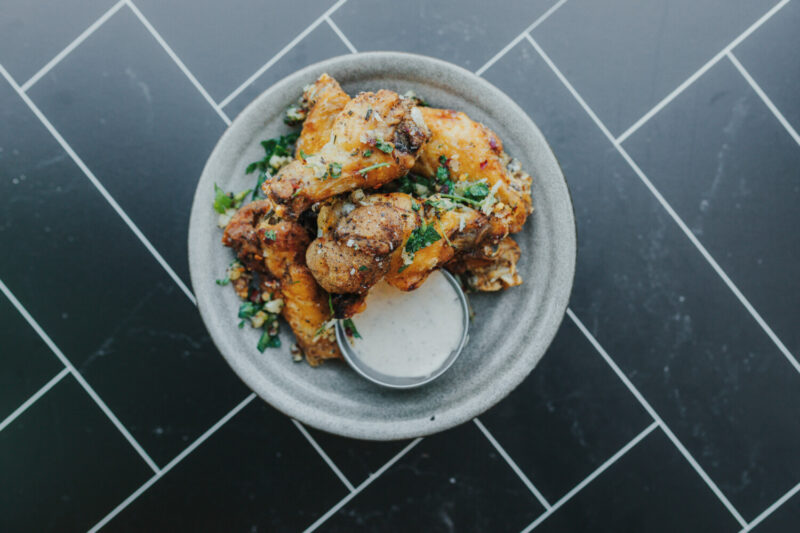 Calabrian Chili & Roast Garlic Chicken Wings with Chive Garnish
Spice up your chicken wings for Game Day
Serving Size: 24 pieces
Ingredients:
1 ½ cups Calabrian chili purée
½ cups garlic purée
1 cup white wine vinegar
1 cup of honey
7 ounces can of chipotle peppers (chopped)
3 cups olive oil
3 ounces chives
Method:
Finely slice the chives and set aside.
Combine remaining ingredients in a bowl. Whisk in 3 cups olive oil, or use blender, making sure to emulsify.
Salt to taste and set aside.
Toss 24 wings in salt and pepper in a large mixing bowl.
If you are using charcoal or gas make sure the all the heat is evenly distributed for even cooking. Place the wings on the grill and let them cook for about 6-8 minutes per side depending on the size.
For the last 2 minutes of cooking, after wings have gathered nice golden color, use a brush to glaze the wings with the sauce. Flip each side over, and repeat. Avoid glazing directly onto the fire source to prevent flare up and smoke out.
Continue cooking until wings have an internal temperature of 160º. They should be glossy and evenly charred.
Remove from grill and garnish with chives.
Download the recipe