Gazpacho
Recipe by Mon Ami Gabi
On a hot summer day, you'll be hard-pressed to find a better dish than a cool, refreshing gazpacho. This chilled soup originated in the Iberian Peninsula, where it was tailor-made for hot weather. The team at Mon Ami Gabi – Chicago has shared their version of the recipe, containing jalapeños to add a bit of a kick.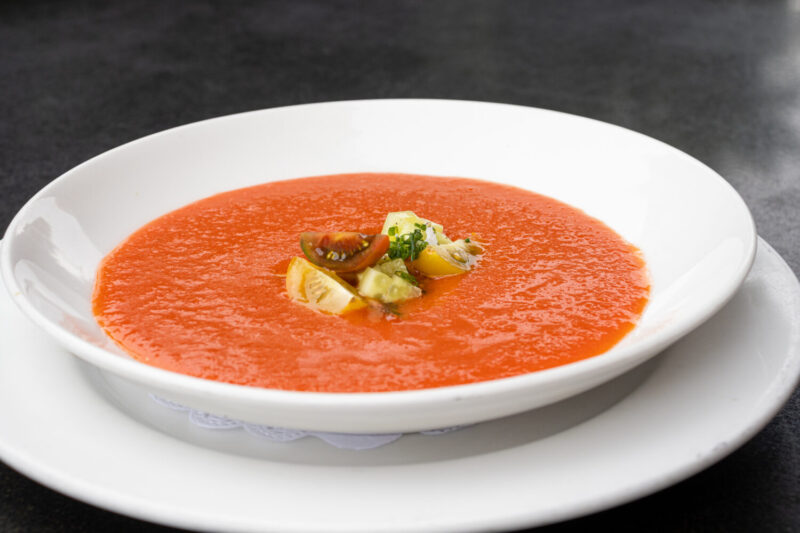 Gazpacho
Cool off with this Mon Ami Gabi summer favorite
Serving Size: serves 4 people
Ingredients:
2 red bell peppers
1 jalapeño
1 seedless cucumber
4 vine ripened tomatoes
1 clove of garlic
¼ tsp sweet pimentón
½ tsp kosher salt
1 pinch of sugar
1 cup tomato juice
¼ cup extra virgin olive, plus 2 tablespoons for garnish
1/2 seedless cucumber cut into small dice, for garnish
12 cherry tomatoes, quartered, for garnish
2 tbsp chives sliced very thin, for garnish
Flaked sea salt, to taste, for garnished
Freshly cracked black pepper, to taste, for garnish

Method:
1. Cut the red bell peppers into medium dices and remove all the seeds. Place them into a large bowl.
2. Cut the jalapeño into coarse pieces, remove all the seeds and place into the large bowl.
3. Peel the cucumber, slice in half and remove the seeds. Cut into a medium dice and add to the bowl.
4. Remove the core from the stem end of the tomato. Slice the tomatoes into medium pieces and place into the bowl.
5. Peel and smash the garlic clove with the side of a knife and thinly slice. Place the garlic into the bowl.
6. Season ingredients in the bowl with sweet pimentón, kosher salt and a pinch of sugar.
7. Add in the tomato juice.
8. Stir all of the ingredients together, cover and let sit in the refrigerator overnight.
9. The following day, blend with an immersion blender and slowly add in the extra virgin olive oil.
10. Taste and season as needed.
11. Store in the refrigerator until ready to eat.
12. In a small mixing bowl combine the small diced seedless cucumbers, quartered cherry tomatoes, sliced chives and olive oil reserved for garnish. Toss the garnishes together and season to taste with the flaked sea salt and freshly cracked black pepper. Spoon 1/4 of the garnish mix into each bowl and enjoy.

Download the recipe