Tuna Bruschetta
Recipe by RPM Italian
Get ready for a taste explosion with RPM Italian's Tuna Bruschetta recipe. This dish is a flavor-packed appetizer that features homemade Garlic Confit and Pesto Aïoli. Sushi-grade tuna is diced and served on top of garlic-infused baguette slices and topped with a baby basil leaf for a deliciously fun appetizer that will have everyone coming back for more!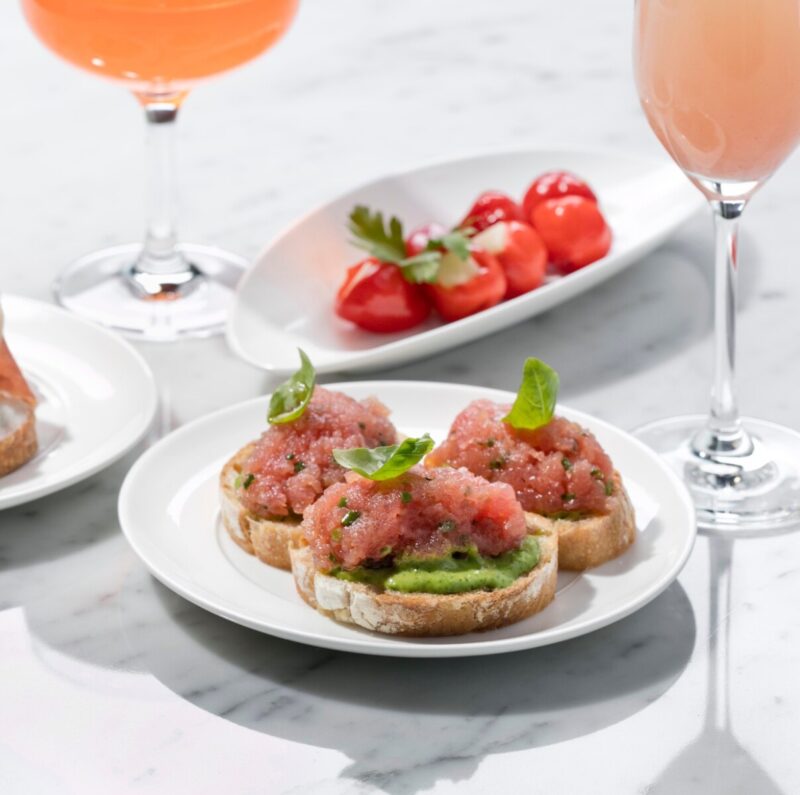 Tuna Bruschetta
Elevate your appetizer spread instantly
Serving Size: 2 - 4
Ingredients:
GARLIC CONFIT INGREDIENTS
• 4 heads of garlic, Peeled into whole cloves
• 4 Cups Extra Virgin Olive Oil

PESTO AÏOLI INGREDIENTS
• 2 cups Basil Leaves
• 1½ Bunches of Parsley
• ¾ Cup Olive Oil
• ¼ Cup + 1 tsp Garlic Confit
• Kosher Salt & Freshly Ground Black Pepper to taste
• 1 Cup Mayonnaise
• ¼ Cup Lemon Juice

TUNA BRUSCHETTA INGREDIENTS
• Baguette, cut into 1 inch thick slices
• ¼ cup Garlic Confit Oil
• ½ lb Sushi-Grade Tuna, finely diced
• 2 Tbsp Extra Virgin Olive Oil
• Kosher Salt & Freshly Ground Black Pepper to taste
• ½ cup Pesto Aïoli
• 10 Baby Basil leaves
Method:
GARLIC CONFIT METHOD
1. Preheat the oven to 325° Fahrenheit.
2. Place the garlic cloves and olive oil ingredients in a Pyrex dish and cover with foil. Bake for 60 minutes.
3. Remove from the oven and set aside to cool.
4. Once cool, drain the oil and enjoy (the oil should be saved, and can be used in any application you would like to add a subtle roasted garlic flavor - dressings, sauces, etc.).

PESTO AÏOLI METHOD
1. Place 1 tsp garlic confit, parsley, basil, olive oil, salt and pepper in the blender and blend until smooth. Set aside.
2. In a separate bowl, whisk together the mayonnaise, ¼ cup garlic confit and lemon juice. Season to taste and set aside.
3. In a new bowl, combine ¼ cup basil pesto and ¾ cup lemon aïoli. Stir to combine.

TUNA BRUSCHETTA METHOD
1. Preheat your oven to 400° Fahrenheit.
2. Slice your baguette to 1 inch slices and brush the top of each slice with the garlic confit oil.
3. Place the slices on a baking sheet and bake for 6 to 9 minutes until golden on top.
4. While the bread is baking, combine the diced tuna, extra virgin olive oil and salt and pepper.
5. Remove the bread from the oven and spread 1 Tbsp of Pesto Aïoli on each slice. Add a Tbsp of the tuna mixture on top and garnish with a basil leaf.
Download the recipe