B Square Pizza – Wheeling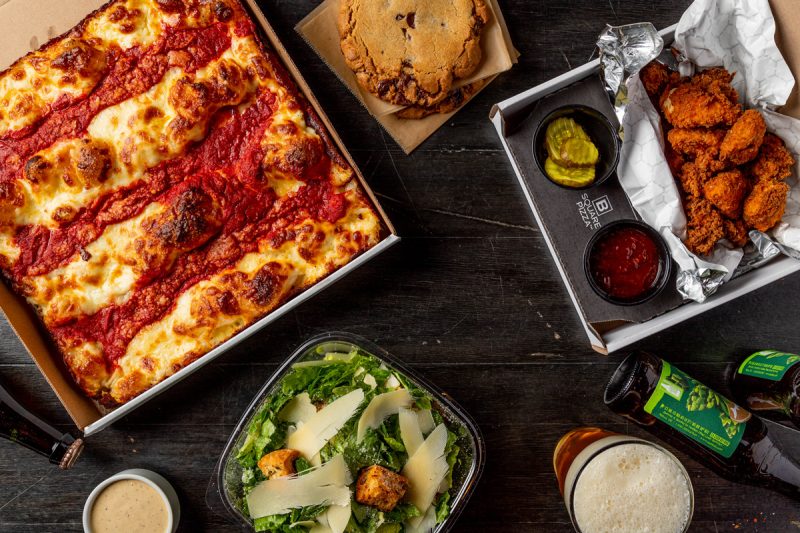 Hours
Sunday - Thursday: 11:00 AM - 8:00 PM
Friday - Saturday: 11:00 AM - 9:00 PM
Menus
B Square Pizza
Salads & Starters
Pizza
Our square-shaped, Detroit-style pizzas are pan baked, using premium products and hand-crafted cheese. Our crust is light and airy, with each corner crust crisp and crunchy, which is a signature to our style of pizza. Thin Crust Pizza Available upon Request. Gluten-Free Pizza Available in Thin Crust.
Choose The Right Size12 inch has 16 pieces and feeds 3-4 / 16 inch has 25 pieces and feeds 5-6
Detroit-Style Square Pizza
signature square-baked pan pizza
Pizzas Toppings
Scratch-made sauces available: Buttermilk Ranch, Marinara
Vegetablesarugula, basil, cremini mushrooms, fresh garlic, pickled fresno peppers, green peppers, kale, italian tomatoes, olives, pepperoncini peppers, pickled peppers, fresh pineapple, red onions, spinach12 inch 2 each16 inch 3
Meatsapplewood-smoked bacon, canadian bacon, fennel sausage, hot capicola, all-beef meatballs, pepperoni, prosciutto12 inch 2.75 each16 inch 4.50
Specialty Pizzas
Crispy Chicken Wings
Jumbo, all natural chicken wings
Chicken & Pasta
Family Game Day Menu
Our specialty Pizza, Salad, Pasta and Wings
Family Game Day MenuChoose One Pizza: Cheese, Pepperoni or Sausage, Caesar Salad, Penne Alfredo39.95
Sweets
Covid-19 Surcharge
A 3% surcharge is added to all checks to offset government mandates on employers. This surcharge may be removed upon your request.
B Square Pizza Lunch
4 Square Lunch Specials
Serves One to Two People
Vegetablesarugula, basil, cremini mushrooms, fresh garlic, pickled fresno peppers, green peppers, kale, italian tomatoes, olives, pepperoncini peppers, pickled peppers, fresh pineapple, red onions, spinach1.50
Meatsapplewood-smoked bacon, canadian bacon, fennel sausage, hot capicola, all-beef meatballs, pepperoni, prosciutto2.50
Pepperonimounds of pepperoni & red sauce8" 15.95
Butcher's Squarehomemade italian-style sausage, hot capicola, applewood-smoked bacon8" 17.95
Spicy Hawaiiancanadian bacon, fresh pineapple, pickled fresno peppers8" 14.95
Mike B's Specialsausage, pepperoni, mushrooms, red onions, olives, pickled peppers8" 16.95
Mama B Squareall-beef meatballs, pepperoncini peppers8" 15.95
Mushroomshaved cremini mushrooms, robiola cheese, truffle oil, white sauce8" 13.95
Triple Greenfresh garlic, spinach, kale, arugula, red sauce8" 13.95
Tomatoitalian tomatoes, fresh mozzarella, basil, extra virgin olive oil8" 13.95
4 Square Lunch Add-ons11:00AM - 3:00PMChocolate Chip Cookie 1Small Caesar 1