Acorn Squash
Recipe by Di Pescara
Get into the holiday season with Di Pescara's Acorn Squash! You'll enjoy the candied pecans, brown sugar and nutty flavors of this dish.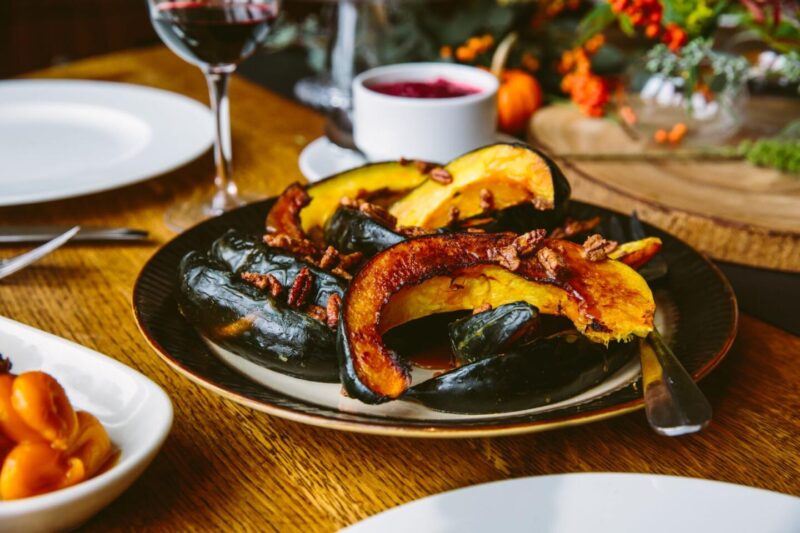 Looking to pick-up for Thanksgiving instead? Di Pescara is offering a Thanksgiving menu to-go!
Acorn Squash
A little something seasonal and a little something sweet.
Serving Size: 6-8
Ingredients:
2 medium-sized acorn squash (wash, cut in half then cut each half into four pieces, remove seeds)
1/4 stick of butter
1 cup of packed brown sugar
1 cup of candied pecans
1 Tbsp of salt and fresh cracked black pepper
Method:
1. Preheat oven to 350°F.
2. Spread out cut pieces of acorn squash on a sheet tray, covered with aluminum foil.
3. Melt butter.
4. Drizzle butter over acorn squash.mooth in Vitamix blender.
5. Season acorn squash with salt and fresh cracked black pepper.
6. Sprinkle brown sugar over squash evenly.
7. Put in oven at 350°F for 25 minutes or until tender using a fork.
8. Remove from the oven.
9. Place onto serving platter.
10. Take residual liquid on pan and pour over acorn squash.
11. Garnish with candied pecans.
Download the recipe