Best Hanukkah Sugar Cookies Ever
Recipe by Beatrix
Beatrix Partner & Executive Pastry Chef Yasmin Gutierrez, who is behind some of the most tasty sweets in the Windy City, teaches us how to make these Hanukkah Sugar Cookies. Get creative and decorate them how you please!
From December 7 – December 15, pick up an assortment of ready to enjoy Hanukkah Sugar Cookies from the Beatrix pastry counter.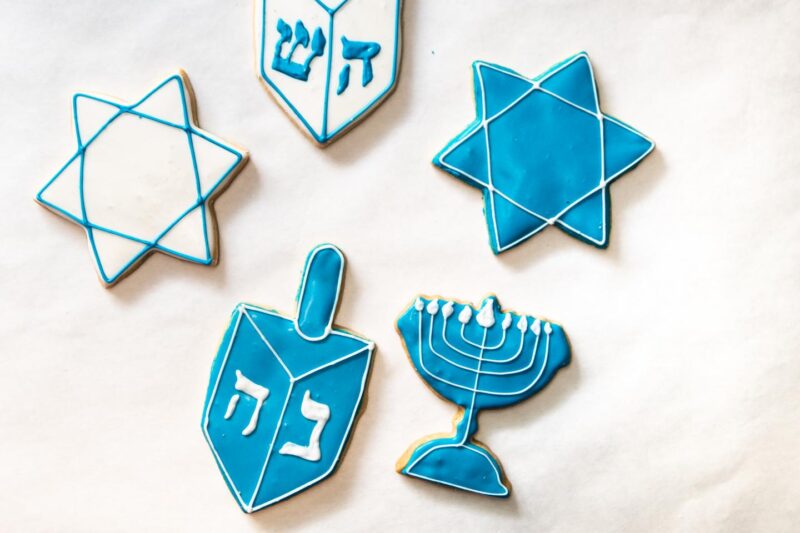 For more recipes for Hanukkah, learn how to make Chef Ben Goodnick's classic potato latkes.
Best Hanukkah Sugar Cookies Ever
Plus making them is a delicious holiday activity
Serving Size: 2 dozen
Ingredients:
For Cookies
1 lb unsalted butter, softened
1 cup granulated sugar
1 cup confectioners' sugar, sifted
1 teaspoon salt
5 egg yolks
5 cups all purpose flour

For Royal Icing (yields 8 cups)
6 lb powdered sugar
2 cups lemon juice
½ cup water
¾ cup egg white powder
Optional: food coloring of your choice
Method:
For Cookies
1. In a stand mixer (or you can use a large bowl and a hand-held beater), beat the butter until smooth and creamy.
2. Add sugars and salt and beat for 2 minutes.
3. Add the egg yolks and beat until well blended.
4. Add the flour and pulse the mixer to incorporate the flour. The dough will not come together in a ball but can be gathered into a ball with your hands.
5. Chill the dough for 2 hours.
6. Roll out ¼ inch thickness.
7. Using your choice of cookie cutters, cut to desired shape.
8. Place on a parchment paper lined sheet pan and bake at 350F for 12-20 minutes.
*The dough may be kept in the refrigerator for up to 3 days or in the freezer for up to 2 months.

For Royal Icing
1. Mix all ingredients on low speed with paddle.
2. If you would like an icing thicker add more powdered sugar.
Download the recipe