Bison Meatballs
Recipe by Wildfire
Wildfire's Bison Meatballs are a signature at the restaurant and now you can try this appetizer recipe at your next get-together or potluck.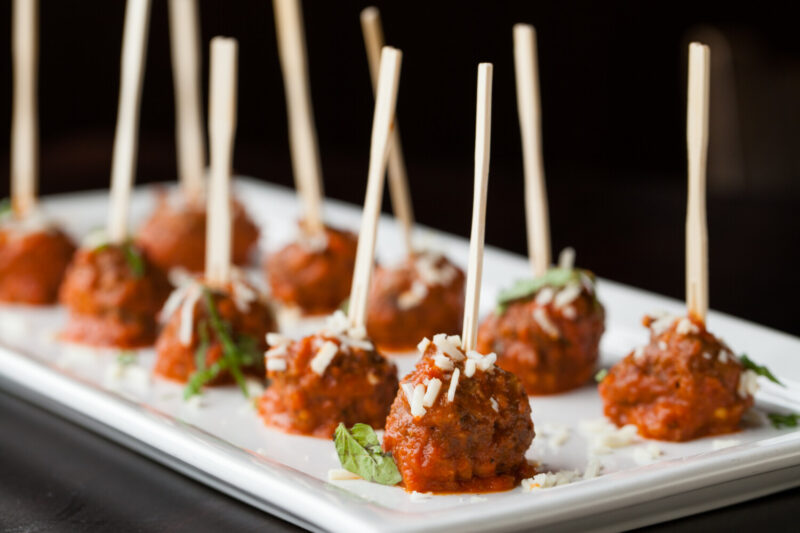 Bison Meatballs
Save this recipe for future entertaining
Serving Size: 4
Ingredients:
1 lb ground bison
1/4 cup + 2 Tbsp fresh breadcrumbs (finely minced bread, day old bread is best)
2 Tbsp whole milk
2 Tbsp butter
3 Tbsp diced onion, 1/4"
3 Tbsp diced celery, 1/4"
3 Tbsp diced carrots, 1/4"
2 cloves, garlic, finely minced
2 Tbsp parmesan cheese
1 tsp chopped fresh sage
1 tsp chopped fresh thyme
1 egg
1 tsp salt
1 tsp pepper
Tomato sauce for serving
Method:
1. Preheat oven to 375 degrees.
2. Soak the cut fresh bread in milk until fully absorbed, about 5 minutes.
3. Sauté vegetables briefly with butter, then add garlic and herbs and sauté until translucent, about 5 minutes at medium heat.
4. Cool to room temperature.
5. Mix all ingredients until well combined. Do not overmix.
6. Scoop out with a 1 or 2 oz. scoop. Place on a parchment paper-lined pan.
7. Roast at 375 degrees for 12-14 minutes.
8. Serve with tomato sauce of your choice as an appetizer or with pasta.
Download the recipe