Calabrian Burrata
Recipe by il Porcellino
Savor the essence of late summer all year round with this recipe for Calabrian Burrata from Chicago's River North Italian-American all-star il Porcellino. In this simple-to-make starter, zesty Calabrian chili peppers, hot honey and bright basil come together to bring next-level flavor to creamy burrata. Serve with toasted ciabatta for an easy indulgence any night of the week.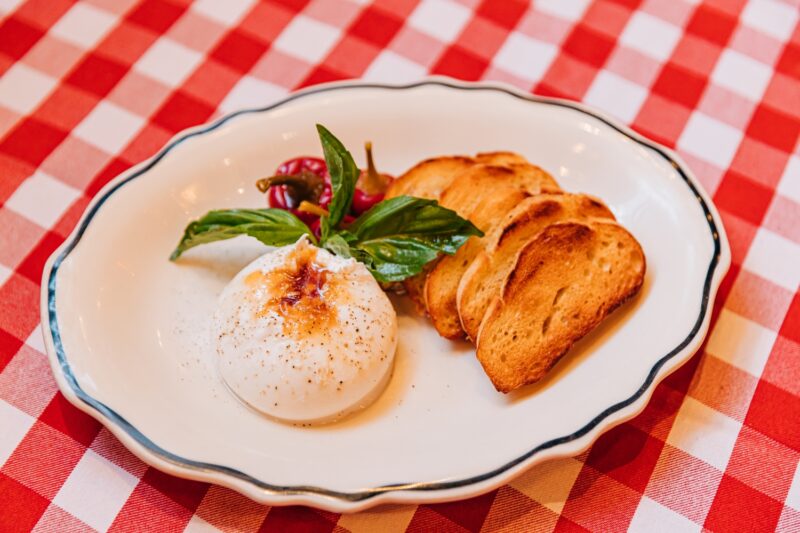 Calabrian Burrata
A starter with a sweet kick
Serving Size: 2-4
Ingredients:
1 Burrata
5 slices grilled ciabatta baguette
3 tsp. Calabrian hot honey (chef recommends Tutto Calabria)
1 sprig fresh basil
3 pickled Calabrian chili peppers (chef recommends Tutto Calabria Whole Cherry Peppers)
Black pepper to taste

Method:
1. Heat oven to 350 degrees. Toast sliced ciabatta for one minute.
2. Place the tempered cheese on the edge of a medium serving plate.
3. Slightly push down on the center of the burrata. Drizzle the Calabrian hot honey and season with black pepper.
4. Place the pickled Calabrian chilies next to the burrata. Garnish with the sprig of basil.
5. Add toasted bread to the plate alongside burrata and chilies and enjoy!
Download the recipe