Chicken Vesuvio
Recipe by Saranello's
Chicken Vesuvio is a hearty Italian-American chicken dish made with peas, potato wedges in a white wine, lemon and garlic sauce. Saranello's is sharing their recipe for this delicious chicken entree. Prefer to have us do the cooking? Join us at Saranello's and order up the Chicken Vesuvio.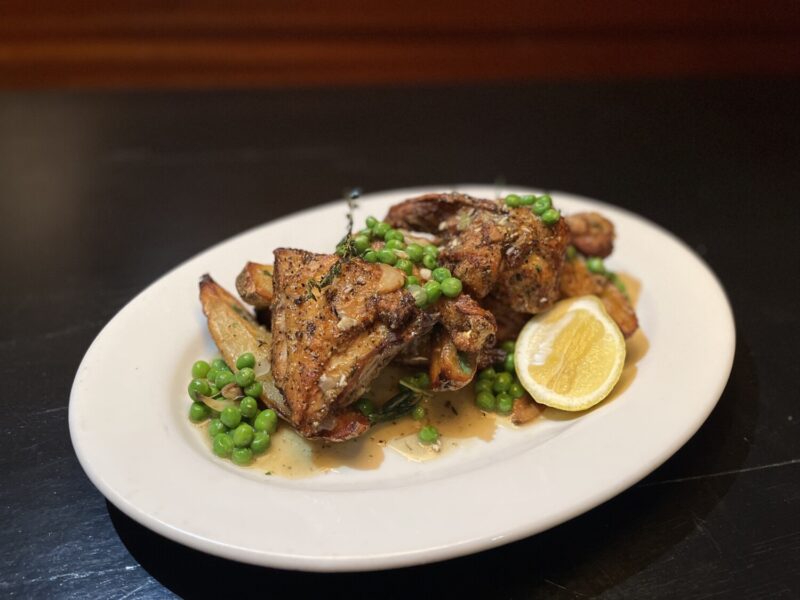 Chicken Vesuvio
A classic Italian chicken dish to try at home
Serving Size: 3-4 people
Ingredients:
Whole bone-in chicken cut into 8 pieces
½ cup olive oil
4 russet potatoes peeled and cut into wedges
1 tablespoon granulated garlic
1 tablespoon dried oregano
1 teaspoon salt
1 teaspoon pepper
8 garlic cloves, sliced
1 cup chicken stock
1 cup white wine
1 cup peas
Freshly squeezed lemon juice (to taste)
Parsley for garnish

Method:
1. Pat dry chicken.
2. In a small bowl, combine granulated garlic, dried oregano and mix well
3. Season chicken with garlic mixture, salt and pepper and allow chicken to marinate for 6 hours in the refrigerator.
4. After 6 hours, in a large sauté pan, heat the olive oil and brown chicken on both sides.
5. Remove chicken from sauté pan and place on roasting pan.
6. Preheat the oven to 375 degrees.
7. In the same sauté pan previously used, add the potatoes and sear for 1 minute on each side.
8. Remove the potatoes and place on a roasting pan with the chicken.
9. Add garlic to sauté pan and cook until golden brown, about 2 minutes.
10. Glaze sauté pan with the white wine and chicken stock.
11. Allow the contents in the sauté pan to cook down for 7 to 10 minutes, then pour into a roasting pan with chicken and potatoes.
12. Place the roasting pan with all ingredients into the oven preheated to 375 degrees for 15 minutes.
13. Remove the pan from the oven and add peas and lemon juice to the pan.
14. Place back into the oven for an additional 7 to 8 minutes or until chicken is cooked.
15. Remove from the oven, arrange chicken into a serving platter and garnish with fresh parsley.
16. Pour remaining sauce over chicken and serve.

Download the recipe