Deep-Fried Turkey Legs
Recipe by Bub City
Take a Southern approach this Thanksgiving with Bub City's recipe for deep-fried turkey legs, which are sure to keep the family happy and the house intact. If deep-frying at home isn't your thing, you can order Bub City's Thanksgiving Feast for to-go.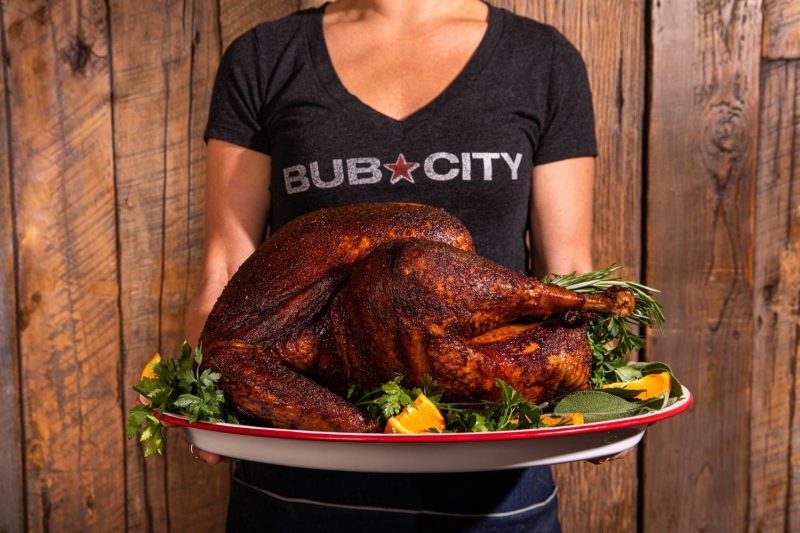 Deep-Fried Turkey Legs
Heard too many horror stories about deep-frying a whole bird? We recommend frying just the legs.
Serving Size: 6 - 8
Ingredients:
FOR TURKEY LEGS
2 whole turkey legs (about 8 lbs. total), thighs and drumsticks separated
½ gallon buttermilk
½ gallon Bub City Batter (see below)
8 cups Bub City Seasoned Flour (see below)
Vegetable or canola oil, for frying
Fine sea salt

FOR BUB CITY BATTER
8 cups all-purpose flour
1 tablespoon baking soda
2 tablespoons dried thyme
2 tablespoons kosher salt
2 tablespoons ground black pepper
2 tablespoons garlic powder
1 tablespoon cayenne
1 tablespoon

FOR BUB CITY SEASONED FLOUR
8 cups all-purpose flour
5 tablespoons baking powder
2½ tablespoons garlic powder
2½ tablespoons onion powder
2 tablespoons fine sea salt
1 tablespoon ground white
1 tablespoon black pepper
Method:
FOR TURKEY LEGS
1. In a large bowl (or resealable plastic bag), add the turkey pieces and enough buttermilk to fully submerge. Cover and chill overnight.
2. Pour enough oil in the bottom of a large, heavy-bottom skillet to reach a depth of at least 6 inches; heat to 300°F over medium-high heat.
3. Remove turkey from buttermilk and lightly pat dry. Dip into the Bub City Batter, allowing excess batter to drip off. Next, dredge the pieces in Bub City Seasoned Flour until evenly coated all over.
4. Carefully place the turkey into the hot oil and fry, flipping halfway through, until golden brown and crispy and an internal temperature of 165°F is reached, about 25-30 minutes.
5. Remove turkey legs from oil and allow to cool slightly on a rack or paper-towel-lined plate.
6. Season with fine sea salt, and let rest for 10 minutes before serving.

FOR BUB CITY BATTER
1. Mix together dry ingredients.
2. Slowly stir in cold water and continue mixing until the batter is smooth and creamy.

FOR BUB CITY SEASONED FLOUR
Thoroughly combine all ingredients.
Download the recipe