Fried Chicken
Recipe by Joe's Seafood, Prime Steak & Stone Crab
Whether you are going on a summer picnic or craving comfort food to eat on your couch, Joe's Seafood, Prime Steak & Stone Crab's Fried Chicken will satisfy you every time. Crispy on the outside and juicy on the inside, this easy recipe is perfect for any occasion.
Want comfort food but don't want to cook? Check out our Fried Chicken Guide.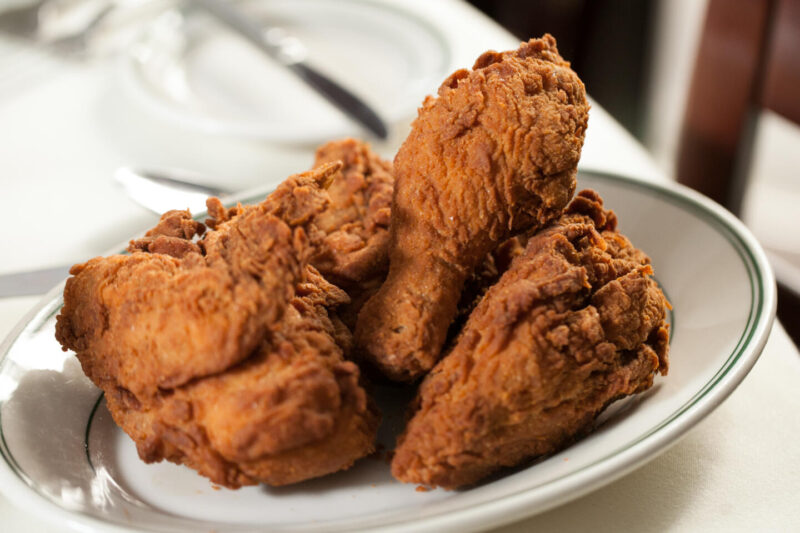 Fried Chicken
Classic homestyle chicken
Serving Size: 1 - 2 people
Ingredients:
• 1 portion half chicken (cut into four pieces, seasoned to taste with salt and pepper)
• 1 cup all purpose flour
• 1 tsp garlic powder
• 1 tsp paprika
• 1 tsp salt
• 1 tsp onion powder
• 2 eggs
• 2 Tbsp water
• 1 package Lance Sandwich Crackers
• oil for frying
Method:
1. Prepare the seasoned flour. In a medium bowl, whisk together 1 cup all purpose flour, 1 tsp garlic powder, 1 tsp paprika, 1 tsp salt and 1 tsp onion powder.
2. Prepare the egg wash. In a small bowl, whisk together 2 eggs with 2 Tbsp water.
3. Prepare the cracker meal. Using a food processor, grind 1 package of Lance Sandwich Crackers into a fine flour.
4. Heat the frying oil. Fill a deep pot with oil, about 3 inches deep. Heat the oil to 350°F.
5. Toss chicken in seasoned flour, transfer to egg wash. Repeat.
6. After the second round of egg wash, dredge the meat in the cracker meal and place atop a wire rack while you dredge the other pieces.
7. Transfer the dredged chicken to the heated oil and fry for approximately 16 minutes until crispy. Using a meat thermometer, the internal chicken
temperature should be 165°F.
Download the recipe