Garlic Butter Escargot Puffs 
Recipe by Mon Ami Gabi
Impress your guests at your next holiday get-together with these appetizer recipe ideas from Mon Ami Gabi – Las Vegas' Executive Chef Vincent Pouessel.
Garlic Butter Escargot Puffs are a great, French-inspired app that is easy to make, plus majority of your prep can be done ahead of time which means more time spent sipping vino with your guests.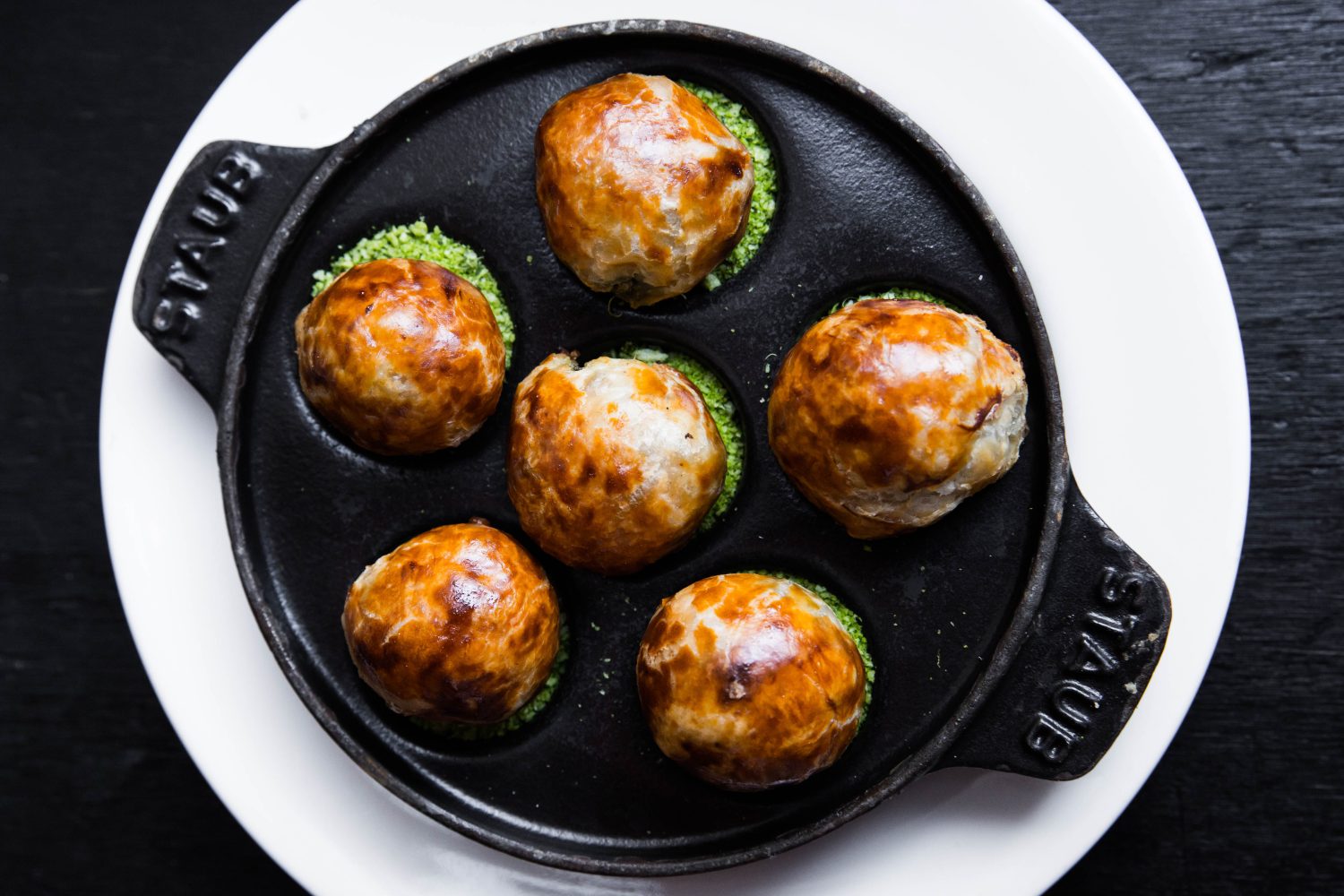 Garlic Butter Escargot Puffs 
Holiday appetizer ideas that are easy to make
Serving Size: 12 people
Ingredients:
36 pieces medium burgundy snail (full can)
½ tablespoon olive or canola oil
18 dry bay leaves, each sliced in half
18 sprigs fresh thyme, each split in half
¼ tablespoon garlic, chopped
Pinches of sea salt
1/8 teaspoon ground black pepper
Frozen puff pastry sheets (available at specialty stores) standard cake pan size
1 egg
Garlic Butter

INGREDIENTS FOR GARLIC BUTTER:
1 pound unsalted butter
¾ Italian parsley bunch
2 ounces shallots, chopped
2 ounces garlic, chopped
1 teaspoon salt
1 teaspoon ground black pepper
1 ounce Japanese breadcrumbs
Method:
1. Rinse snails under cold water and drain.
2. Preheat oven to 375°F.
3. Warm oil in sauté pan. Lightly sauté bay leaves, thyme and garlic.
4. Add snails and salt and pepper to pan. Cook for 5 minutes. This is so herbs and garlic have time to enhance the snails.
5. Refrigerate snails and save for later.
6. Cut the puff pastry sheet into 36 3-inch discs.
7. Place in the center of each puff pastry disc 1 tablespoon garlic butter, and top with 1 piece of escargot.
8. Thoroughly beat egg to create egg wash. Brush the perimeter of each puff pastry with egg wash. Close the puff around the escargot, making a little purse (dumpling).
9. Place escargot puffs on sheet pan lined with parchment paper, sealed side down. Brush with egg wash, and sprinkle a pinch of sea salt on each. Allow to rest in the refrigerator for 15 minutes.
10. Cook in a 375°F oven for 8 minutes.
11. Serve warm on a platter with a bamboo pick or skewer. 

METHOD FOR GARLIC BUTTER:
1. Combine all ingredients; process through food processor.
2. Store in plastic container.
Download the recipe