Gluten-Free Kale and Apple Stuffing
Recipe by Wildfire
Gluten-free stuffing is here! Wildfire's Kale & Apple version highlights fall ingredients and will satisfy all your craving. If you prefer to skip the cooking, Wildfire is open on Thanksgiving Day for dine-in service and carryout.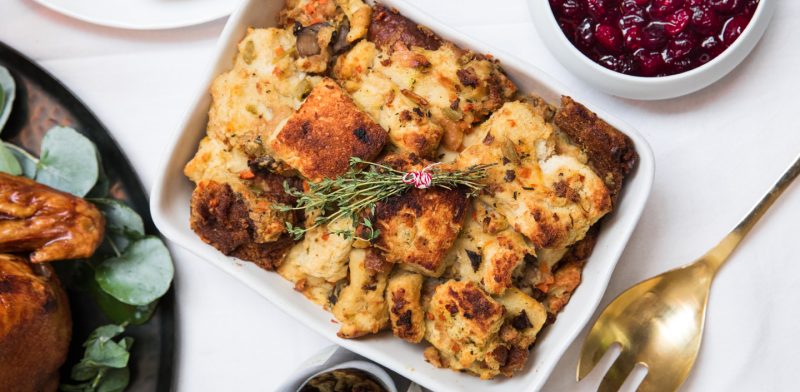 Gluten-Free Kale and Apple Stuffing
A very fall take on a Thanksgiving classic!
Serving Size: 8
Ingredients:
18 ounces loaf gluten-free bread, preferred canyon bake house 7-grain loaf
(found in freezer aisle in many grocery stores)
1 bunch tuscan kale
2 tablespoons garlic, minced
1 ½ cups shallots, sliced thin (1/8")
3 cups leeks, washed well, white part only, sliced thin (1/8")
1 cup celery, ¼" dice
2 tablespoons fresh sage leaves, minced
2 tablespoons fresh thyme leaves, minced
6 tablespoons unsalted butter
¼ cup extra virgin olive oil
2 cups granny smith apple, peeled, cored, ¼" dice
1 tablespoon kosher salt
1 teaspoon fresh ground black pepper
2 whole eggs
3 cups vegetable or chicken stock, warm
½ cup apple cider
1 cup ground parmesan cheese
2 tablespoons unsalted butter
Method:
1. Cut each slice of gluten-free bread into thirds, then thirds again to make 9 cubes,
place in a large stainless steel bowl.
2. Pull washed kale o stem and blanch in salted simmering water for 2 minutes,
then dip into ice water to stop cooking.
3. Drain kale, squeeze out water and rough chop. Set aside.
4. In a large sauté pan, melt 6 Tbsp of butter with ¼ cup of EVOO.
5. Add garlic, shallots, leeks, celery and herbs and sauté for 10 minutes or until tender.
6. Add apples and cook for another 5 minutes
7. Add salt and pepper and set aside to cool.
8. Combine well cubed gluten-free bread, sautéed vegetables and apples with all remaining ingredients,
except 2 tablespoons of butter.
9. Let set for 10-15 minutes to absorb together.
10. Lightly butter a 9"x13"x2" stainless or pyrex pan.
11. Scoop all stung evenly in pan.
12. Cover with plastic wrap, then foil.
13. Bake in 350 degree oven for 30 minutes.
14. Remove plastic and foil and dot with 2 tablespoons butter.
15. Bake for an additional 20 minutes. Serve warm.
16. Enjoy!
Download the recipe