Havana Dream Pie
Recipe by Joe's Seafood, Prime Steak & Stone Crab
Joe's Seafood, Prime Steak & Stone Crab's Havana Dream Pie is truly a pie lover's tres leches dream come true! Layers of  vanilla cake drenched in tres leches are filled with rich custard in this heavenly pie recipe.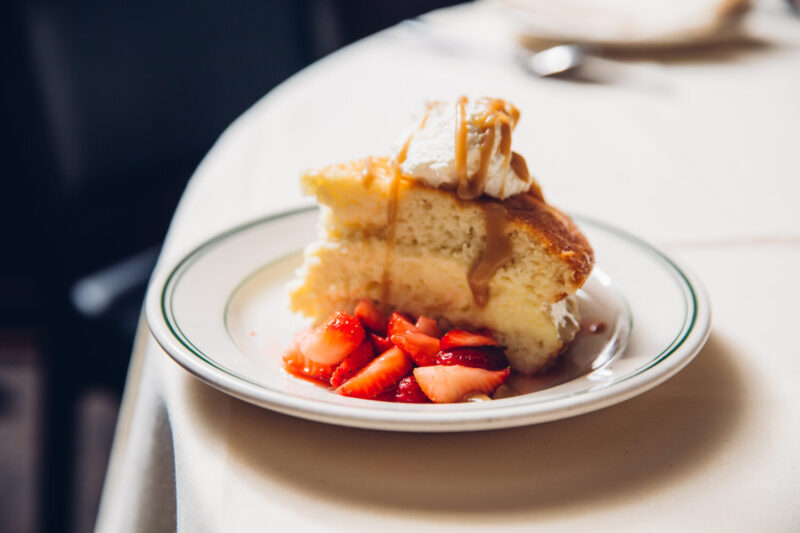 Prefer to leave the baking to us?
Havana Dream Pie
The Perfect Pie for Tres Leches Cake Lovers
Serving Size: 1 9 inch pie
Ingredients:
HAVANA DREAM PIE INGREDIENTS
• 1 White cake, baked in a 9" pie pan per cake box recipe instructions
• 2 ¼ Cup Tres Leches
• 2 ½ Cup Tres Leches Custard
• Whipped cream for serving
• Dulce de Leche sauce for serving
• Cinnamon for serving

TRES LECHES INGREDIENTS
• ¾ Cup Heavy Cream
• ¾ Cup Sweetened Condensed Milk
• ¾ Cup Evaporated Milk

TRES LECHES CUSTARD INGREDIENTS
• 2 ½ C Boston Custard (recipe to follow)
• 2 T. Dulce de Leche (recipe to follow)

DULCE DE LECHE INGREDIENTS
• 1 Cup Whipping Cream
• 1 Cup Dark Brown Sugar
• ½ Cup Sweetened Condensed Milk

BOSTON CUSTARD INGREDIENTS
• 3 Cup Half & Half
• 1/3 Cup Granulated sugar
• ¼ Cup Egg yolks
• 1/3 Cup Whole eggs
• 1/3 Cup Granulated sugar
• 4 Tbsp. Corn starch
• 2 ea. Gelatin sheets (soaked in cold water)
• 4 Tbsp. Softened butter
• 2 tsp. Vanilla extract
Method:
HAVANA DREAM PIE METHOD
1. Slice white cake in half horizontally. Place halves on parchment paper cut side up. Using a cake tester or wooden skewer, poke holes in both halves.
2. Place the bottom half of the cake back into the cake pan and brush with 1 cup Tres Leches.
3. Place top half of cake on a sheet tray and slowly pour 1 cup of the Tres Leches mixture. Set aside.
4. Spread custard on top of the bottom cake half. Place top half of the cake on top of the layer of custard.
5. Brush top with ¼ cup Tres Leches.
6. Refrigerate pie for at least one hour.
7. Serve with whipped cream, Dulce de Leche sauce and a sprinkle of cinnamon.

TRES LECHES METHOD
Combine all ingredients and mix well until completely incorporated.

TRES LECHES CUSTARD METHOD
1. Warm Dulce de Leche.
2. Drizzle Dulce de Leche over custard in a stainless steel bowl and fold in to combine. Don't overmix.

DULCE DE LECHE METHOD
1. Combine whipping cream and brown sugar in a heavy, non-aluminum saucepan and bring to a boil.
2. Reduce heat to medium and simmer until mixture is reduced to 1 cup (approximately 10-15 minutes).
3. Once removed from heat, stir in sweetened condensed milk.
4. Chill mixture in an ice water bath. Warm Dulce de Leche in a saucepan or microwave when ready to use.

BOSTON CUSTARD METHOD
1. In a saucepan, bring half & half and sugar to a boil and turn off.
2. Whisk together eggs, cornstarch, and sugar in a large stainless steel bowl. Temper half & half mixture into egg mixture.
3. Back in the saucepan, cook mixture over medium heat and whisk together often until mixture thickens but does not curdle. Turn off and remove from heat.
4. Pour custard into a clean stainless steel bowl. Squeeze water out of gelatin sheets and add butter and gelatin sheets to hot custard and whisk until smooth.
5. Spread out custard evenly into a 13 x 9 baking dish, cover with plastic wrap and refrigerate for 2 hours. When the custard is cold, add vanilla and whip with a wire whisk for 30 seconds. Store in the refrigerator until ready to use.
Download the recipe