Herbed Tomato Bisque
Recipe by Coastal Soups
This isn't your average tomato soup! Chef Ben Goodnick is sharing a recipe for Herbed Tomato Bisque inspired by Coastal Soups, a carryout and delivery only concept offering seasonal soups.
"We make a simple soup that is a huge upgrade on opening a can. We start by softening some aromatics, add a couple cans of high quality tomatoes, thin with stock and enrich with cream. Use an immersion blender when it's done simmering and you only have one pot to wash," says Chef Ben Goodnick.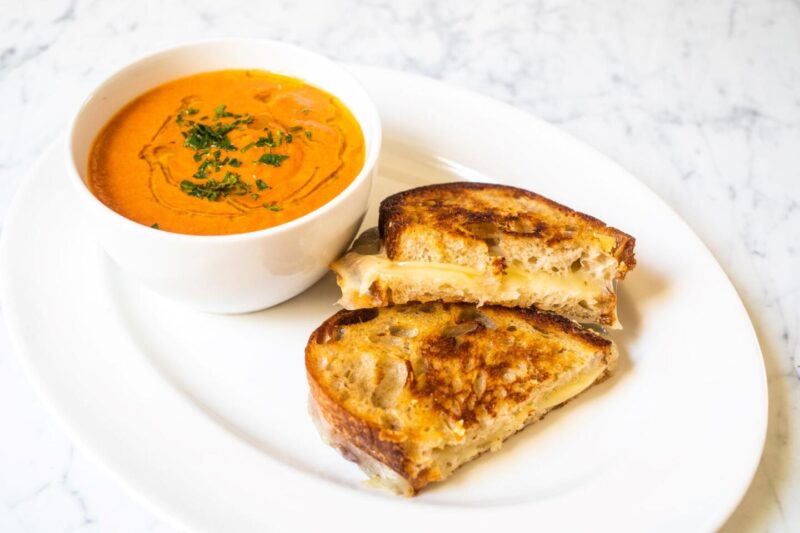 Herbed Tomato Bisque
A chef's take on a traditional tomato soup
Serving Size: Serving size 6
Ingredients:
2 tablespoon butter
1 small onion, finely chopped
1 clove garlic, finely chopped
1 tablespoon chopped fresh basil
1/4 teaspoon crushed red pepper
2 28-ounce cans crushed tomatoes
1/2 cup chicken or vegetable stock or water
1/2 cup heavy cream
1 teaspoon dark brown sugar
Salt and freshly ground black pepper to taste
Method:
Heat a large heavy bottom pot over medium heat.
Add the butter. When it is melted and foamy add the onion and garlic and cook, stirring, until soft. About 5 minutes.
Add the basil and crushed red pepper and cook until fragrant. About 1 minute.
Add the tomatoes, stock and cream.
Bring to a boil, reduce to a simmer and cook for 15 minutes, stirring often.
Add the brown sugar and purée with an immersion blender or in batches in a standing blender.
Add salt and pepper to taste and reheat if needed.
Download the recipe