Matzo Ball Soup
Recipe by Di Pescara
Di Pescara shares their recipe for matzo ball soup that you can make to enjoy at home for a cozy night in.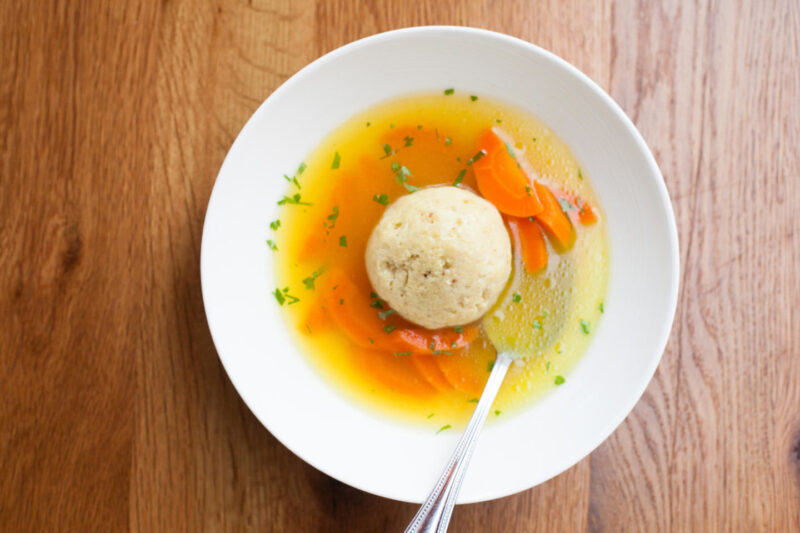 Matzo Ball Soup
This soup is good for the soul
Serving Size: 10 Matzo Balls
Ingredients:
INGREDIENTS FOR MATZO BALLS:
3 quarts of water
1 drop of egg shade food color
5 eggs
½ Tbsp kosher salt
½ Tbsp baking powder
¼ cup vegetable oil or rendered chicken fat
½ cup plus 2 Tbsp matzo meal

INGREDIENTS FOR STOCK:
1 ½ gallons of cold water*
2 ½ lb chicken bones (rinsed)*
1 ½ lb celery (chopped)
1 lb white onion (diced in ½ inch)
2 tsp chicken bouillon
1 ½ lb parsnips (peeled and sliced about 1 ¼ inch thick)
1 ½ lbs carrots (peeled and sliced about 1 ¼ inch thick)
1 ½ Tbsp white sugar
kosher salt to taste
3 drops egg shade (yellow coloring)
¼ cup chopped parsley
*If you prefer to use chicken stock, use 1 gallon of natural chicken stock (not broth) in place of the cold water and chicken bones.
Method:
METHOD FOR MATZO BALLS:
1. In a large bowl, whip together eggs, salt, oil and baking powder with a whisk, until it is well whipped.
2. Using a fork, mix in the matzo meal.
3. Cover with plastic wrap and let stand for 10 minutes at room temperature.
4. Roll into ping pong ball sized balls, make sure to wet your hands while rolling.
5. Place on a sheet pan lined with parchment paper.
6. Boil a large pot of water with enough space for balls to double in size as they cook.
7. Place all of the matzo balls into boiling water, colored with egg shade and salted.
8. Bring to a boil, then allow to simmer for approximately 40-50 minutes, covered.
9. Balls must be soft and fluffy. Allow to simmer as long as necessary.
10. Transfer hot balls into hot chicken broth to serve or cool and then store in chicken broth.

METHOD FOR STOCK:
1. Bring water with the chicken bones and onion to a boil.
2. Skim off impurities.
3. Reduce heat to a simmer and cook for 30 minutes uncovered.
4. Add celery, parsnips, carrots, sugar, chicken bouillon and simmer for an additional 30
minutes uncovered.
5. Remove chicken bones and skim off fat.
6. Serve with hot matzo balls.
Download the recipe