Prime Beef Meatballs
Recipe by il Porcellino
il Porcellino is sharing their recipe for Prime Beef Meatballs, an easy weeknight recipe perfect for a main course or a side dish! Use your favorite marinara sauce and toss with pasta and you've got yourself a delicious Italian comfort food meal.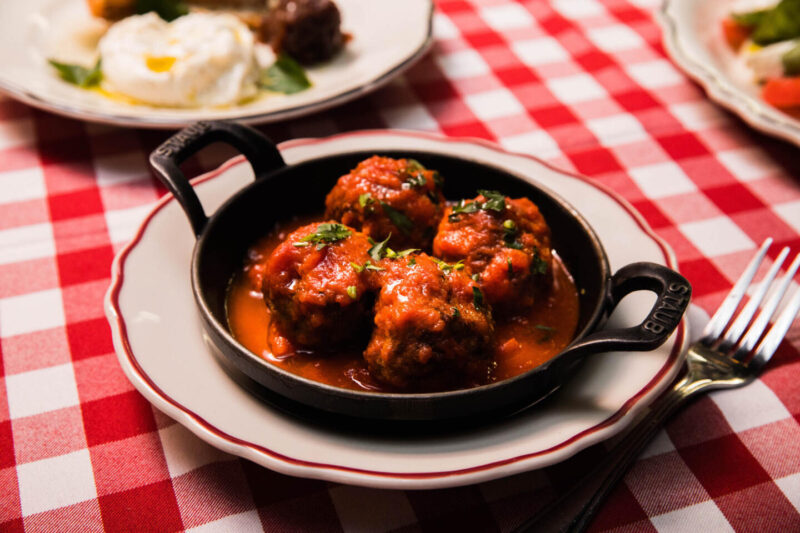 Prime Beef Meatballs
A chef's take on an Italian classic dish
Serving Size: 24 meatballs
Ingredients:
2 cups bread crumbs
3 large organic eggs
¾ cup whole milk                                        
½ cup pecorino romano                            
1 Tbsp garlic, minced
½ cup Italian parsley, chopped  
½ cup white onions, minced
1 Tbsp salt
1 ½ tsp black pepper                                    
2 ½ lb. ground beef  
2  jars of your favorite tomato or marinara sauce
Additional parmesan cheese and parsley for garnish
Method:
1.  Preheat oven to 350 degrees.
2.  Finely chop the garlic and onions and combine.
3.  In a large bowl, combine breadcrumbs, eggs, onions, garlic, milk, cheese, parsley, salt, and pepper and stir to combine.
4.  Add beef. Mix by hand until evenly combined, note that over mixing will toughen the meatballs.
5.  Scoop up about 2.25 oz of the meat mixture to form balls and set aside on parchment paper (about a 2 inch diameter ball).
6.  Once all the meat mixture has been used, smooth each ball by rolling in cupped hands, and arrange directly on a baking pan.
7.  Chill in the refrigerator for 25 minutes so that they retain their shape.
8.  Bake in 2" deep rectangular baking pan for 12 minutes to form a crust.
9.  Remove from oven, drain well, add back to baking pan, add tomato sauce.
10. Bake at 250 degrees for another 15 minutes.
11.  Serve meatballs, making sure to cover with some of the hot tomato sauce. Garnish with parsley and parmesan cheese.
Download the recipe