Slow Cooked Brisket
Recipe by Wildfire
If you are cooking for family and friends and looking for a delicious brisket recipe to try at home, here's how to make Wildfire's Slow Cooked Brisket.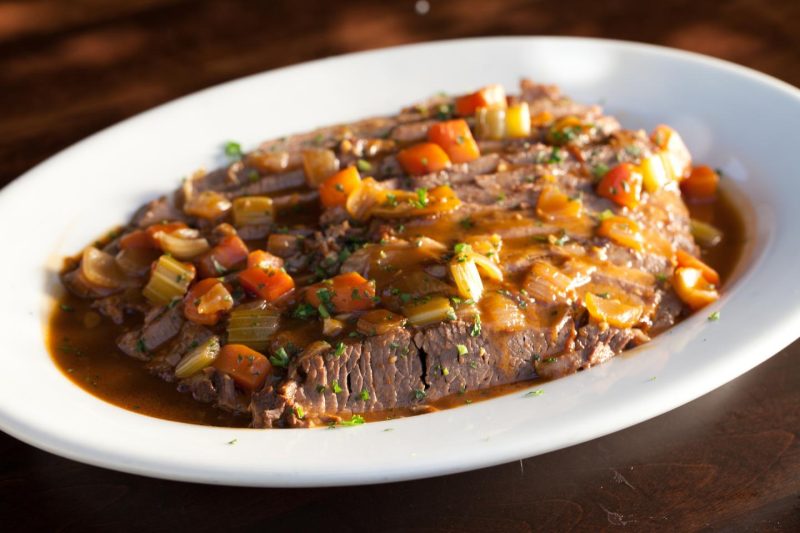 Slow Cooked Brisket
This brisket is tender and juicy and makes for the perfect holiday centerpiece
Serving Size: 8-10
Ingredients:
1 pc. brisket, 1st cut
1 tablespoon salt, Kosher
1 teaspoon pepper
¼ cup olive oil
1 each diced onion
2 each carrots, peeled & diced
2 each celery stalks, diced
8 each garlic gloves, rough chopped
1 each bay leaf
1 each sprigs fresh thyme
1 sprig fresh rosemary
1 cup red wine
4 cups chicken broth
2 cups beef broth
3 tablespoons cornstarch
2 tablespoons cool water
Method:
1. Season brisket with salt and pepper and brown evenly in a large sauce pan.
2. Remove brisket, add all vegetables and herbs and caramelize.
3. Add red wine and reduce by half.
4. Add remaining liquid and bring to a boil.
5. Add back brisket, cover with foil and place into a 300 degree oven for 3 hours.
6. Remove from oven and let brisket sit in braising liquid for ½ hour.
7. Strain broth from vegetables and simmer for 10 minutes.
8. Whisk together corn starch with water and whisk into simmering sauce and cook for another 5 minutes.
9. Carve brisket and top with sauce.
Download the recipe