KC Brisket Burnt Ends
Recipe by Bub City
Nobody knows good 'cue like the Bub City team and they're sharing a recipe for the Kansas City staple, Burnt ends. Burnt ends are the pieces of meat cut from the pointed end of smoked brisket; essentially smoky barbecue nuggets that encapsulate a a juicy bite with just enough caramelized crunch around the edges.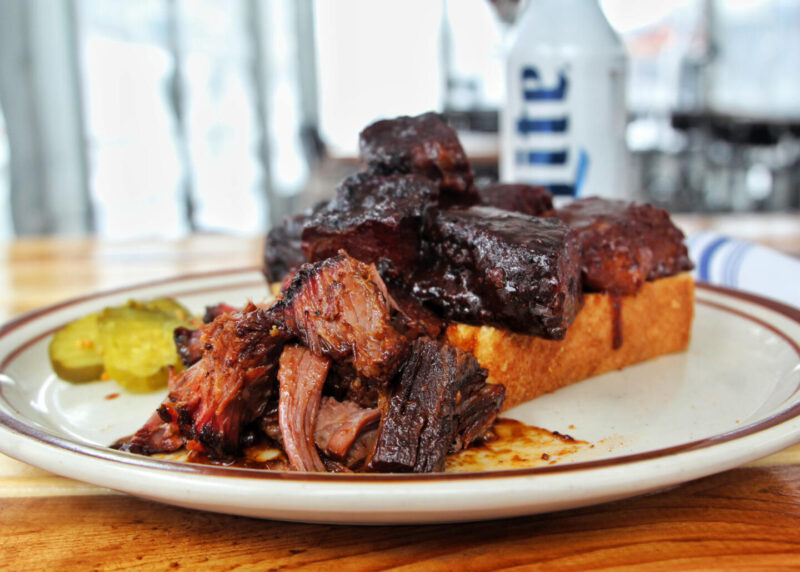 KC Brisket Burnt Ends
Trust us, they're like meat candy!
Serving Size: 6 people (1/2 pound portions)
Ingredients:
1 ea Brisket – Point End or Cap (5- 7 lbs), trimmed of excess fat
1 cup Texas Rub
1 cup Burnt End Rub
2 cup Your Favorite KC BBQ Sauce
2 cup Beef stock, store bought or homemade

TEXAS RUB INGREDIENTS:
1/4 cup Kosher Salt
3/4 cup Black Pepper – medium coarse grind

BURNT END RUB INGREDIENTS:
4 TBL Sugar
4 TBL Brown Sugar
4 TBL paprika
1 1/2 TBL kosher salt
1 1/2 TBL Black Pepper
Method:
METHOD:
1. Prepare smoker or oven to preheat to 225 degrees F
2. Trim the brisket of any excess fat, trimming to ¼ inch.
3. Roll the brisket in the Texas rub to cover. Pat to knock off excess rub. You will have leftover rub.
4. Lay the brisket fat side down, and begin to smoke or cook in the oven for 4-5 hours or until internal temp of 190 degrees F.
5. Pull the brisket off of the smoker or out of the oven. Increase the heat to 250 degrees F.
6. Cut the brisket into thick 1 inch cubes.*
7. In a bowl, toss with burnt end rub covering each piece.
8. Place the brisket cubes snuggly into an ovenproof dish or foil tray.
9. Combine the beef jus and BBQ sauce together. Pour over the brisket and cover them so they are submerged by ¾ inches of liquid.
10. Place back into the smoker or oven and continue to cook for another 2 hours, uncovered.
11. Halfway through, flip each piece of brisket over and continue to cook for another 2 hours. If needed add a little of the leftover BBQ sauce and beef stock mixture to the tray to keep it moist. Burnt ends should be well caramelized at the end with a little of the reduced sauce.
12. Keep warm until serving.

METHOD FOR TEXAS RUB:
1. Mix salt and pepper together in a bowl.

METHOD FOR BURNT END RUB:
1. Mix all ingredients together in a bowl.

*Note: If you have a pre-smoked brisket (from your favorite pitmaster or store) you can begin at step 6.
Download the recipe