Kung Pao Chicken
Recipe by Big Bowl
Big Bowl's Executive Chef Raul Gutierrez is sharing a home cook friendly recipe for an classic Chinese American Dish and Big Bowl favorite, Kung Pao Chicken.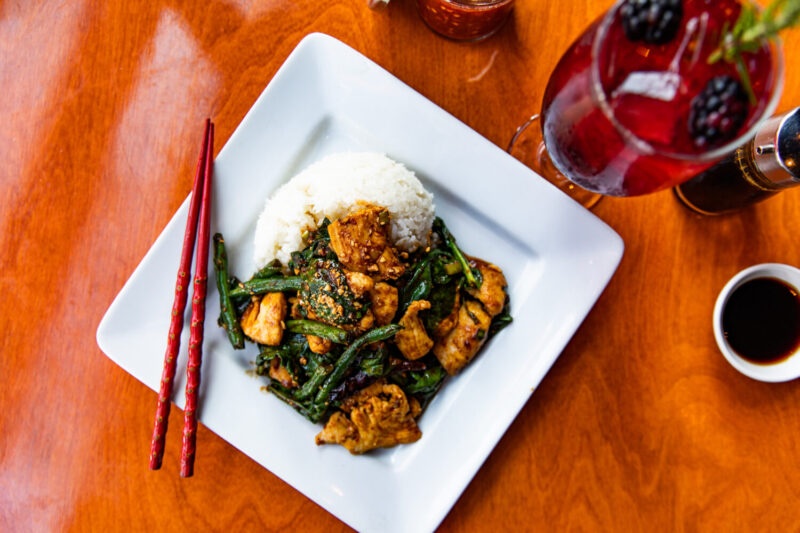 Kung Pao Chicken
You can now make a Big Bowl signature at home
Serving Size: 4
Ingredients:
1 lb boneless, skinless chicken breast, cut into thin slices
1 ½ tsp cornstarch
¼ tsp salt
1 tsp sesame oil
1 tbsp chili paste with garlic
1 tbsp bean sauce
2 tbsp hoisin sauce
1 tbsp soy sauce
1 tsp sugar
1 tsp red wine vinegar
½ cup canola oil
4 dried whole chilies de arbol
½ cup sliced scallions
1 tbsp fresh chopped garlic
1 tbsp fresh chopped ginger
1 cup zucchini, cut in ½ inch cubes
½ cup red pepper, cut in ½ inch cubes
½ cup cilantro leaves
1 cup fresh spinach
⅓ cup roasted peanuts

Method:
1. In a bowl, mix the sliced chicken with 1 tsp cornstarch, salt and sesame oil.
2. In a small bowl, make the sauce by mixing together the chili paste with garlic, bean sauce, hoisin sauce, soy sauce, sugar, red wine vinegar, and ½ tsp cornstarch.
3. In a wok or skillet, heat half of the canola oil. When hot but not smoking, add in the chicken.
4. Stir to separate the pieces and cook the chicken all the way through, about 2 minutes.
5. When done, remove the chicken and drain excess oil with a colander. Reserve the oil.
6. Heat a clean wok or skillet to high heat.
7. Add 3 tbsp of the reserved canola oil.
8. When hot, add dried chilies, when the chilies brown, add scallions, garlic and ginger. Stir continuously. Cook until fragrant for about 20 seconds.
9. Add zucchini and red peppers and cook for about 30 seconds.
10. Stir in the sauce, wait for the sauce to come to a boil and then add the chicken.
11. Toss continuously to incorporate the sauce, about 1 minute, and then add cilantro and scallion and mix well.
12. Continue to mix all ingredients together until they are combined.
13. Plate and garnish with roasted peanuts and serve with your choice of rice.

Download the recipe