Lake Trout with Spinach and Artichoke
Recipe by Osteria Via Stato
Chef David DiGregorio of Osteria Via Stato is sharing an easy fish recipe for you to try at home inspired by his family's Christmas tradition, The Feast of the Seven Fishes.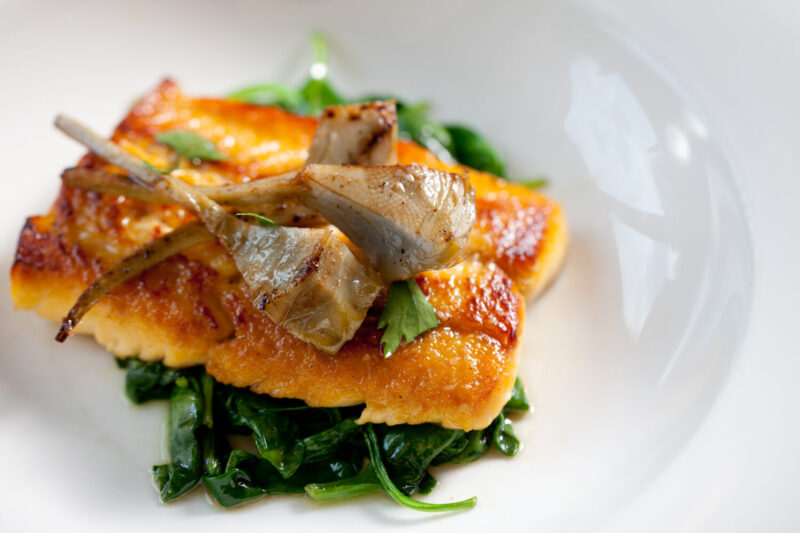 Lake Trout with Spinach and Artichoke
An easy weeknight fish recipe
Serving Size: 1
Ingredients:
1 piece of Lake Trout Filet, skin removed
2 Tbsp Grapeseed Oil
1 cup Spinach
2 Tbsp Cooked Sliced Artichokes, stem on
1 Tbsp Torn Chive and Parsley (½ Tbsp of each)
3 Tbsp Unsalted Butter
Salt and Pepper to taste
Lemon Juice to taste (about half of a lemon)

Method:
1. Season fish with salt and pepper. Heat a sauté pan with grapeseed oil until almost smoking and add the fish to pan face side down and sear without moving, until nicely browned, about 3-5 minutes
2. Turn fish and add 1 Tbsp of butter and remove pan from flame. Baste the fish and allow it to rest in the pan to finish cooking, about 5-6 minutes
3. Heat 1 Tbsp of butter in a sauce pan and add spinach, season with salt and pepper and cook for 1- 2 minutes over high heat.
4. Drain excess water from spinach and reserve.
5. Meanwhile, melt the remaining 1 Tbsp of butter in a sauté pan and add the sliced artichokes and saute over med - medium high heat until it starts to brown, about 3-4 minutes
6. Add the herbs to the artichokes and season with salt and pepper.
7. Place the cooked spinach in the center of a large bowl or plate.
8. Place the fish on top and spoon the artichokes on top of the fish.
9. Squeeze lemon juice to taste and serve.

Download the recipe