Local Apples & Imported Burrata
Recipe by Pizzeria Portofino
Pizzeria Portofino is sharing a recipe for a seasonal riff on one of our favorite appetizers, Burrata! Made with apples, hazelnuts, frisée and radicchio for a bit of bitterness and crunch, this dish is dressed in a savory brown butter vinaigrette and served with a side of toasted Ciabatta.
Try this appetizer recipe at your next get together!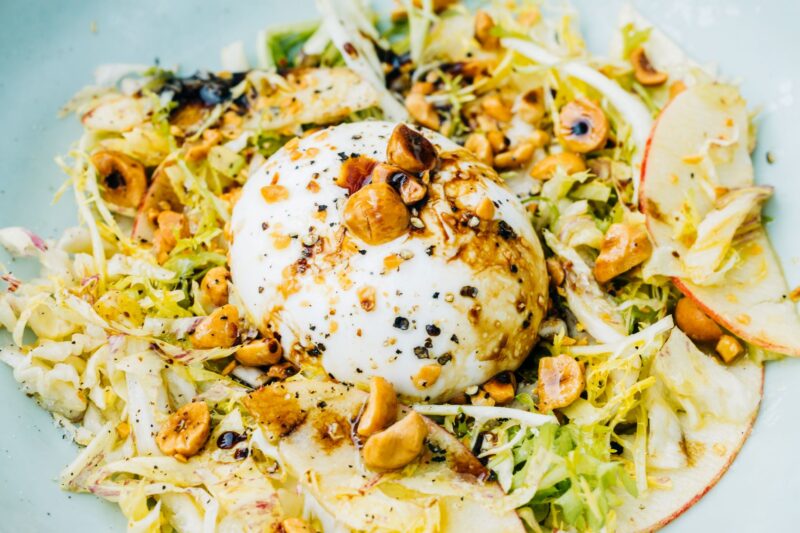 Local Apples & Imported Burrata
The perfect starter
Serving Size: 2
Ingredients:
½ cup Castelfranco Radicchio
1 medium apple, sliced
½ cup Frisée
¼ tsp kosher salt
1 tsp extra virgin olive oil
1 Burrata
1 tbsp Hazelnuts, toasted
1 tsp balsamic
1 tsp Brown Butter Vinaigrette (see below)
¼ tsp black pepper, fresh cracked
Ciabatta, cut and toasted for serving

Ingredients for Brown Butter Vinaigrette:
6 Tbsp Butter, browned
½ cup Canola Oil
2 Tbsp Sherry Vinegar
2 Tbsp Hazelnut Oil
¼ tsp black pepper, fresh cracked
½ tsp kosher salt

Method:
Brown Butter Vinaigrette Method:
1. In a thick-bottom skillet, melt butter over medium-low heat and allow to brown, swirling the pan occasionally. Remove from heat and allow to cool.
2. Add brown butter, canola oil, sherry vinegar, hazelnut oil, salt and pepper into a bowl and whisk to combine.
Toasted Hazelnuts
1. Preheat the oven to 350 degrees.
2. Line a baking sheet with parchment paper or foil and arrange hazelnuts in one single layer.
3. Toast until golden brown and fragrant, about 10-15 minutes, stirring occasionally.

Local Apples & Imported Burrata Method:
1. Place radicchio and frisée in a mixing bowl and season with salt and extra virgin olive oil.
2. Place burrata at the center of the bowl and sprinkle hazelnuts over top.
3. Drizzle balsamic vinegar and brown butter vinaigrette over the dish.
4. Finish with freshly cracked black pepper and serve with toasted ciabatta.

Download the recipe