Paella Mixta
Recipe by Cafe Ba-Ba-Reeba!
Paella is the perfect party dish. It's a shareable, one-pan meal where most of the cook time is hands off, giving you more time to enjoy the evening with your friends and family!
At Cafe Ba-Ba-Reeba!, Executive Chef Eric Jorgensen cooks up four varieties of Spain's national dish, from chicken to seafood to veggie versions. We asked our resident paella pro to share his recipe for Paella Mixta, along with tips on how to make the the perfect paella.
Click here to make a reservation at Cafe Ba-Ba-Reeba!
Order carryout or delivery from Cafe Ba-Ba-Reeba!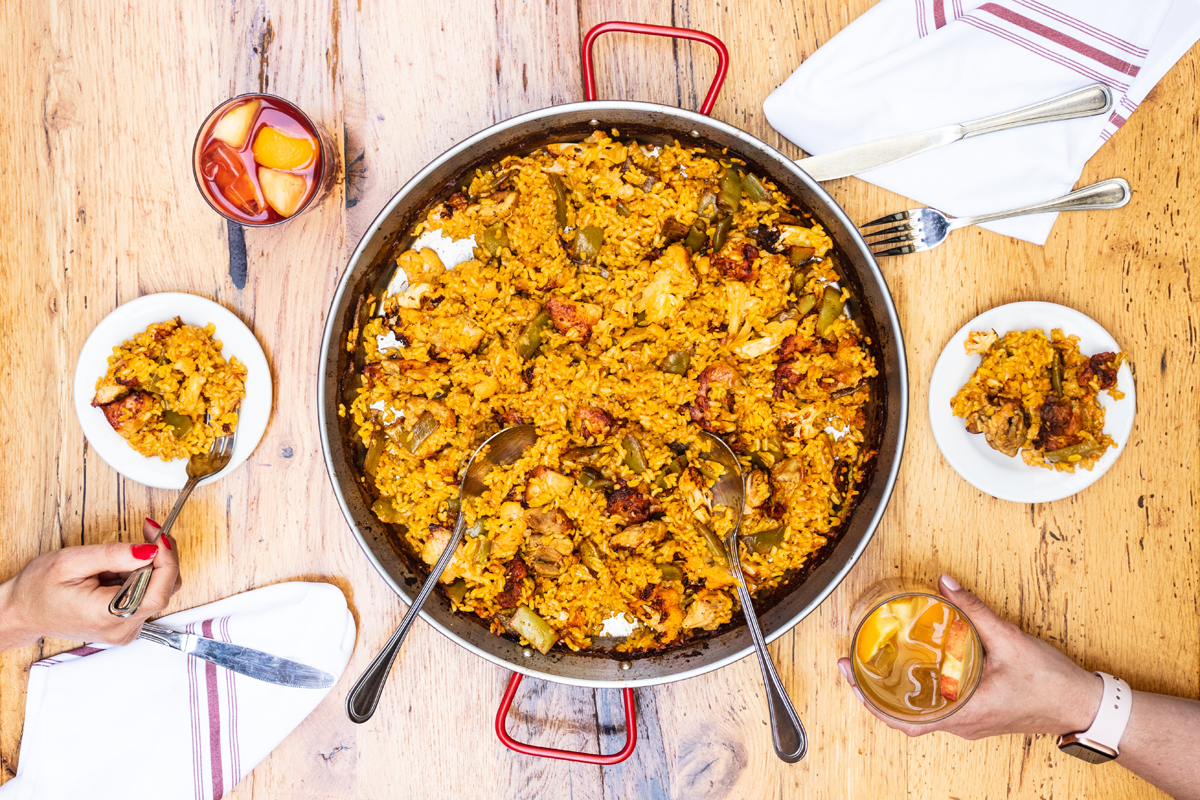 How do I find the right pan?
Normally, we're not a fan of single-purpose kitchen items (who has that kind of storage space!?), but a paella pan is an exception to this rule. "In order to achieve the socarrat, or the crispy rice crust that forms on the bottom that is a prized part of any properly made paella, you are going to need a carbon steel paella pan," says Jorgensen. They are thin and wide to allow as much rice as possible to have contact with the pan. The shape helps with heat distribution and evaporation to make sure your rice is fluffy, not soggy.
What about the rice?
Choose rice that is rounded and short, stays firm during cooking, and absorbs liquid and flavors well. Chef recommends looking for Bomba or Calasparra rice, but says Arborio is also an acceptable substitute. Avoid long grain rices like Basmati! Once the rice is added, stir to coat well with the pan mixture so that the rice absorbs the olive oil and is sealed before adding the liquid. This prevents the rice from releasing its starch and keeps it firm. "When done, the rice is should have separate grains glistening with oil and flavor, it shouldn't be creamy or mushy like risotto," says Jorgensen.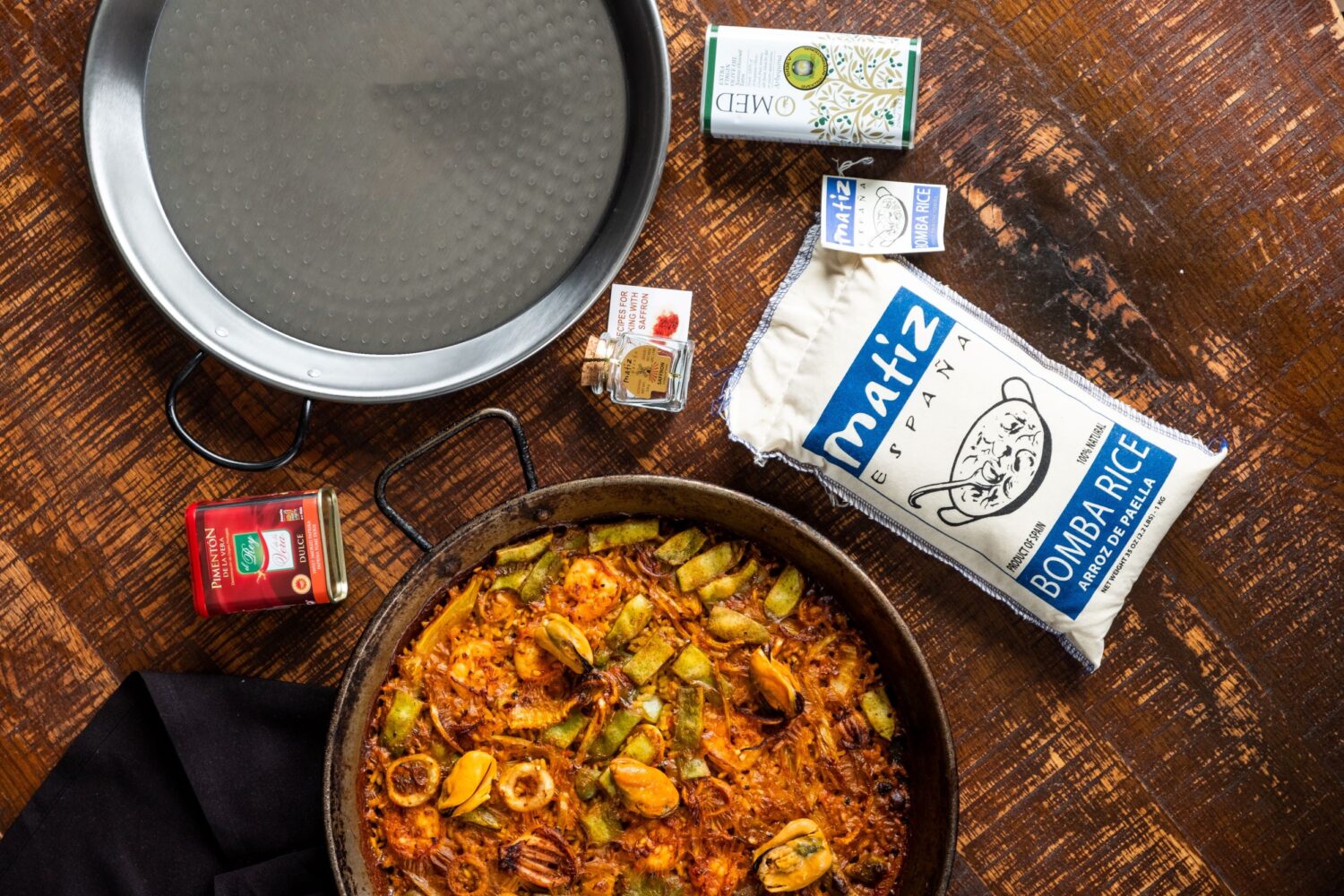 Do I really need to spring for Saffron?
The short answer is YES! Saffron, along with smoked sweet pimentón, are the integral spices that make up the flavor of traditional paella. For this recipe, you only need two threads of saffron, so try to find a store that sells it in smaller quantities instead of by-the-jar if you are trying to keep costs down. Chef advises to lightly toast the threads in a 350F oven for about 10 seconds before crushing them with a spoon into a powder. Add the saffron to the paella after adding the rice, as this allows its flavors to bloom in the oil.
Is there a one-stop-shop where I can buy my supplies?
We're so glad you asked! Let Cafe Ba-Ba-Reeba! do the sourcing for you with their Paella Kit & Cookbook. Priced at $85 plus tax, it includes an authentic paella pan, Bomba Valencia rice, La Mancha saffron, Spanish extra virgin olive oil, smoked sweet pimentón and a cookbook with tips and recipes from CBBR chefs. To purchase, visit the restaurant's Host Stand, call 773-935-5000 or email cbbrchgoparties@leye.com.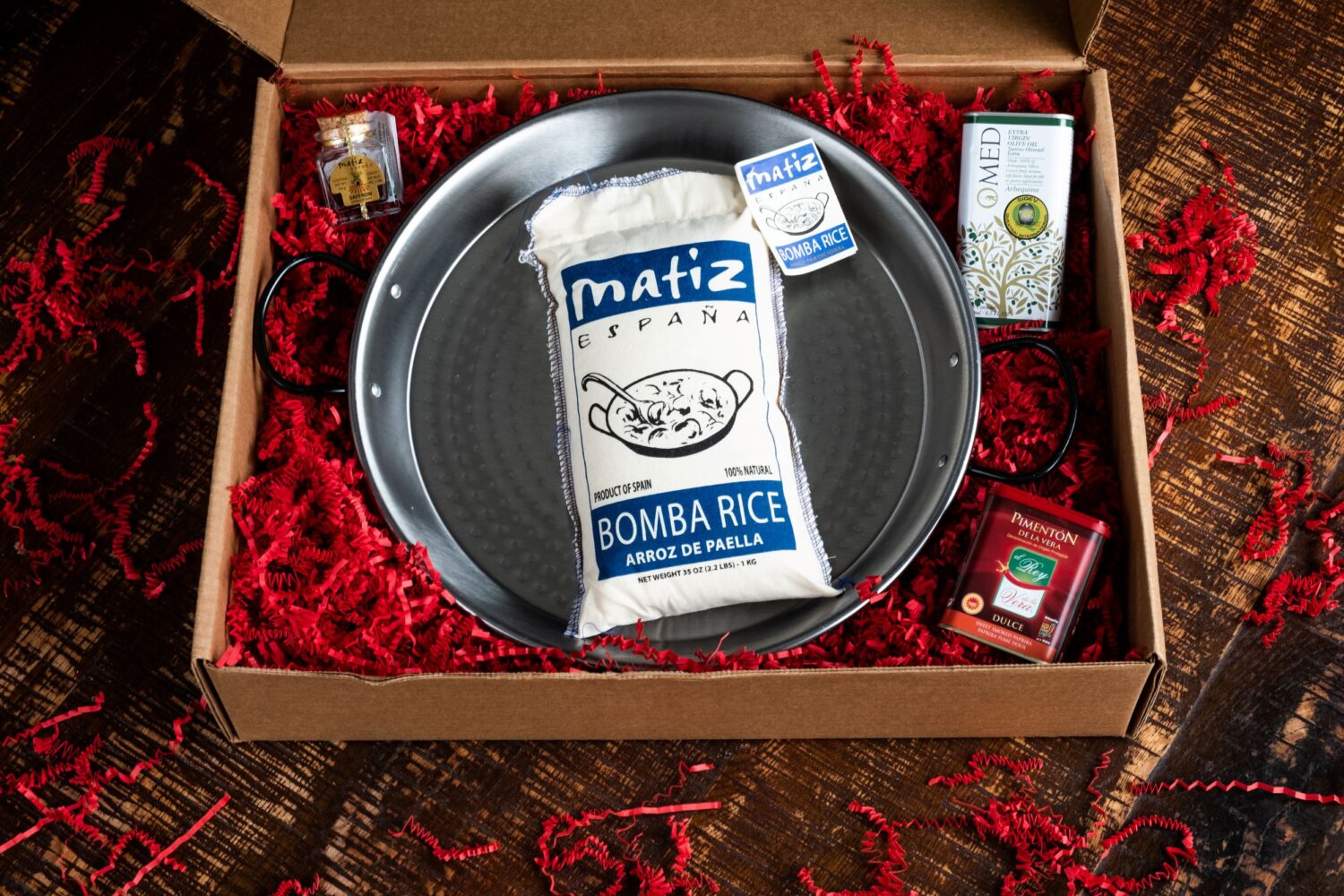 Paella Mixta
A shareable one-pan meal
Serving Size: 4 people
Ingredients:
4 tablespoons Spanish extra virgin olive oil
½ cup salchichón (spicy Spanish dried sausage), diced
½ cup chicken, cubed (preferably dark meat)
½ cup pork shoulder, cubed
1 teaspoon garlic, minced
1 teaspoon sweet pimentón (paprika), ground
3 ounces tomato purée
1 cup Bomba rice
2 threads saffron, toasted and crushed
½ cup snap peas, cut in half
1 cup chicken stock
1 cup fish stock
1 teaspoon salt (optional)
Method:
1. Preheat oven to 450F degrees.
2. On the stovetop, heat the olive oil in the paella pan over medium-high heat. Add the pork and chicken and sear until golden brown, stirring occasionally.
3. Add salchichón, garlic, pimentón and tomato purée and stir.
4. Add the Bomba rice, stir to coat. Add the saffron, stir again.
5. Constantly stirring, add snap peas and stock(s), and continue cooking on the stove until the rice begins to float. Season with salt (optional) and bring to a boil.
6. Place in the oven for 17 minutes. Before serving, let rest for at least 2 minutes so that the rice absorbs the liquid completely.
Download the recipe