Pressed Bikini Sandwich
Recipe by Cafe Ba-Ba-Reeba!
Inspired by Cafe Ba-Ba-Reeba!'s Executive Chef Eric Jorgensen's travels to Barcelona, enjoy this recipe for a pressed Bikini Sandwich made with Covap Ibérico Chorizo, Piquillo Peppers, Local Stracciatella, and Honey. The melty Spanish-inspired sandwich is a delicious take on a grilled ham and cheese. The lucious fat from the Ibérico Chorizo combined with gooey, melted cheese, the smokey pimenton and finished with the sweetness from a drizzle of the honey, is simply sandwich perfection.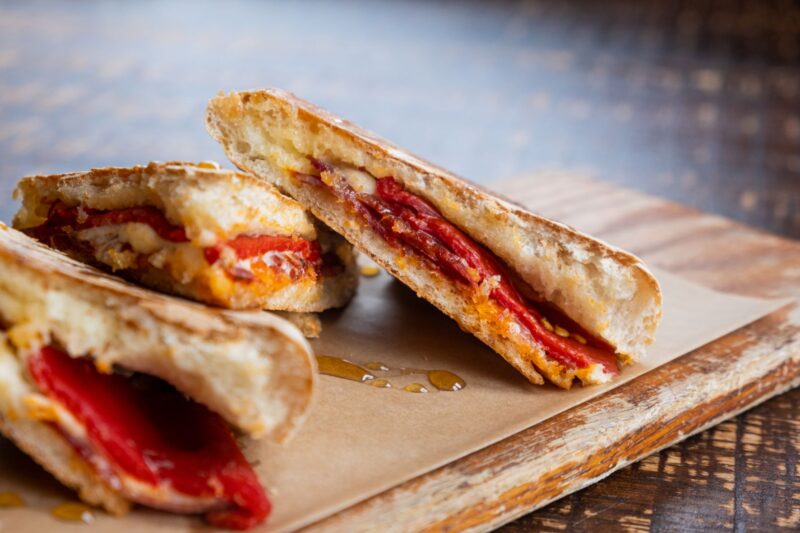 * Chef's note: Stracciatella can usually be purchased at stores like Whole Foods. You can substitute with burrata if you can't find stracciatella.
Pressed Bikini Sandwich
A Spanish-inspired Grilled Cheese, unlike anything you've ever tasted
Serving Size: 1 Sandwich
Ingredients:
1 Whole Cristal Bread or Ciabatta loaf 8 inches in length
12 slices Ibérico Chorizo
3 Piquillos, opened, seeds removed
4 Tbsp Stracciatella *
1 Tbsp Honey


Method:
1. Split a loaf of cristal or ciabatta in half lengthwise. Place the Ibérico Chorizo on one half and the piquillo peppers on the other.
2. Spread the stracciatella over the Ibérico Chorizo and close the sandwich.
3. Toast the sandwich on a flat griddle or panini press with olive oil, for 5 minutes on each side. The sandwich should be melty and crunchy.
4. Cut the sandwich into four triangles and arrange on the wood board lined with brown paper.
5. Drizzle liberally with honey.

Download the recipe