Prosciutto Bruschetta
Recipe by RPM Italian
RPM Italian's Prosciutto Bruschetta recipe is equal parts creamy, tangy and full of umami. It's also a low-stakes way of incorporating truffles into your home cooking. Ready to give it a try?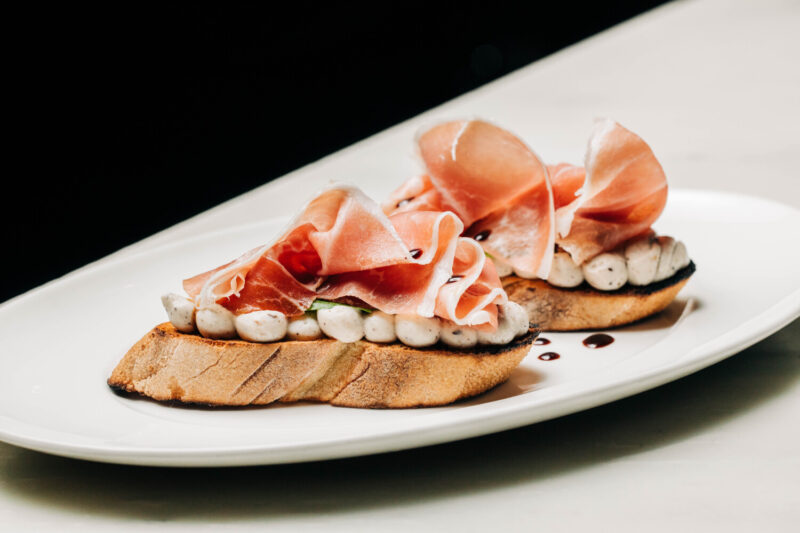 Prosciutto Bruschetta
With creamy truffle ricotta
Serving Size: 2 people
Ingredients:
4 prosciutto slices, thinly sliced
2 ciabatta slices, 1 inch thick
2 ⅓ cups ricotta, Chef recommends Bellweather Ricotta found at Whole Foods
½ cup mascarpone
2 ½ Tbsp. truffle paste, Chef recommends Savini Tartufi found at Eataly
¼ tsp. kosher salt
2 basil leaves
1 Tbsp. extra virgin olive oil
1 Tbsp. aged balsamic vinegar, Chef recommends any aged for 8+ years

Method:
1. Preheat your oven to 350° F.
2. In a stand mixer, combine the truffle paste, ricotta, and mascarpone. Whisk them together until the mixture is smooth and glossy. Season with a pinch of salt. Transfer the mixture into a piping bag. Set it aside for later use.
3. Toast the slices of ciabatta in the oven until they're golden brown and crisp, approximately 12 minutes. Set aside to cool.
4. Gently remove the pre-sliced prosciutto from its packaging, and separate the slices. Place them on a plate while you prepare the crostini.
5. Using the prepared piping bag, pipe enough of the truffle ricotta mixture onto the top of each toast. To make it visually appealing, hold the piping bag approximately a quarter inch above the toast and pipe the mixture in an S-curve motion.
6. Place a slice of prosciutto on top of the cheese mixture. Drizzle with extra virgin olive oil, pinch of salt and the balsamic vinegar, and top with a basil leaf.
Download the recipe