Pumpkin Tiramisu
Recipe by Saranello's
Inspired by Saranello's and fall, Chef Partner Mychael Bonner shares his twist on the classic with this Pumpkin Tiramisu.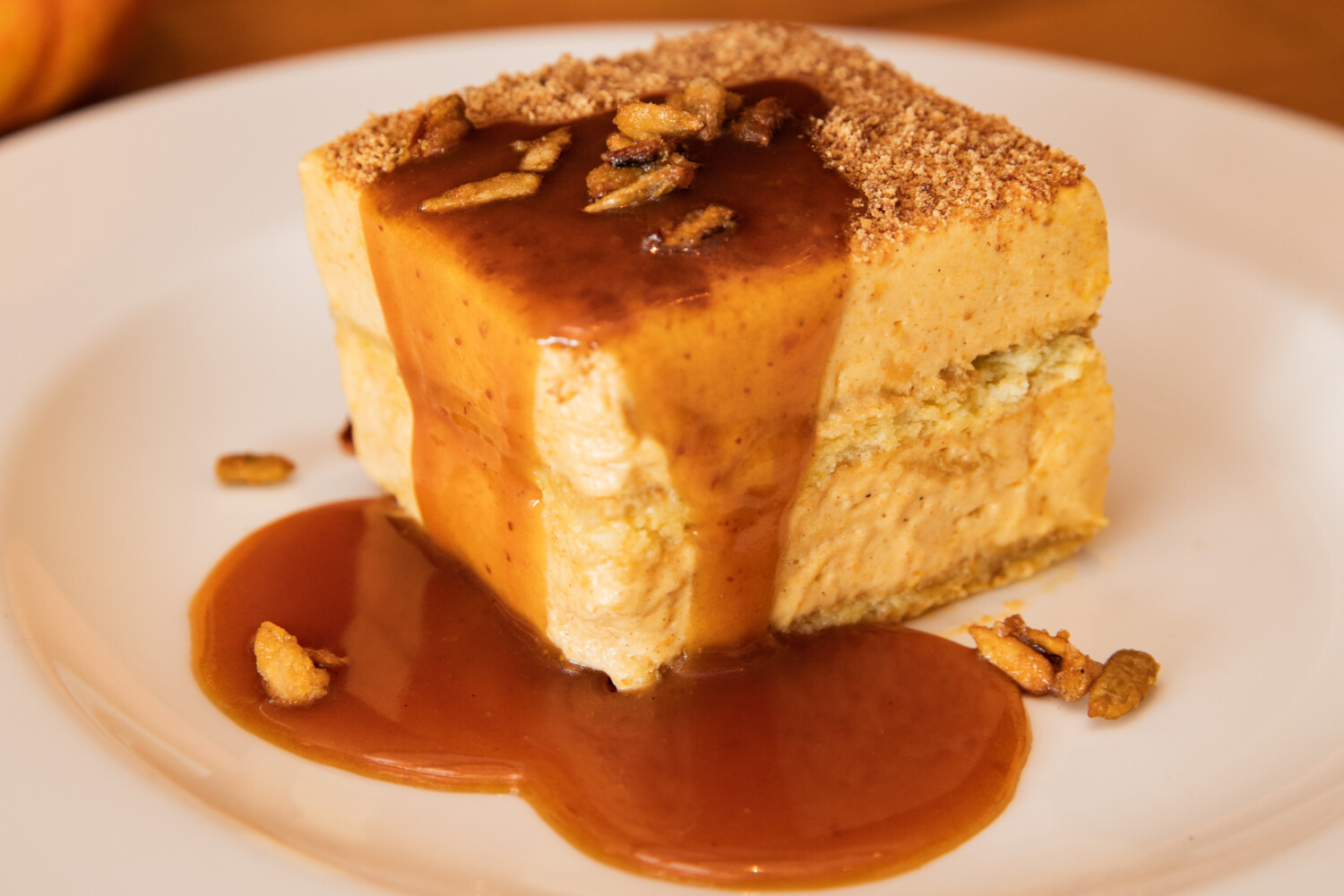 Pumpkin Tiramisu
A classic dessert with a seasonal twist
Serving Size: 10
Ingredients:
INGREDIENTS FOR TIRAMISU
• Two 7 oz. packages of ladyfingers (14 oz. total)
• 1⁄4 cup cocoa powder for dusting
Mascarpone Filling, recipe below
Espresso Rum Syrup, see recipe below

INGREDIENTS FOR MASCARPONE FILLING
• 1⁄2 cup light brown sugar
• 3⁄4 cup granulated sugar
• One can of pumpkin purée (15 oz.)
• 2 tsp. pumpkin spice
• 1 tsp. freshly grated orange zest
• 2 cups of mascarpone cheese
• 1 tsp. vanilla sugar
• 1⁄4 tsp. kosher salt
• 1 1⁄2 cups whipped cream
• 1 tsp. vanilla extract

INGREDIENTS FOR ESPRESSO RUM SYRUP
• 1 1⁄4 cups brewed espresso
• 1 1⁄4 cups coffee
• 1 cup rum
• 1⁄2 cup sugar
Method:
METHOD FOR TIRAMISU
1. Soak ladyfingers in Espresso Rum Syrup for approximately 2 seconds.
2. Using a deep, 9 x 9 baking dish, line the bottom of the dish with soaked ladyfingers.
3. Spread half of the mascarpone filling over the ladyfingers.
4. Line a second layer of soaked ladyfingers on top of the filling.
5. Cover the second layer of ladyfingers with the remaining filling.
6. Allow the dish to chill for 2 hours in the refrigerator or overnight .
7. Dust top of dish with cocoa powder.
8. Cut the Pumpkin Tiramisu into 10 portions and serve.

METHOD FOR MASCARPONE FILLING
1. In a large bowl combine brown sugar, granulated sugar, pumpkin puree, pumpkin spice and grated orange.
2. Add the mascarpone and heavy cream and using an electric mixer, beat the pumpkin mixture on medium speed until soft peaks form. Do not over mix.

METHOD FOR ESPRESSO RUM SYRUP
1. In a mixing bowl, combine brewed espresso, coffee, rum, and sugar.
2. Reserve.
Download the recipe