Butternut Squash Ravioli
Recipe by Antico Posto
The Butternut Squash Ravioli at Antico Posto is the perfect seasonal dish and the chef team is sharing their recipe on how to make it at home. Topped with candied walnuts and tossed in a brown butter sauce, it's the ultimate comfort food.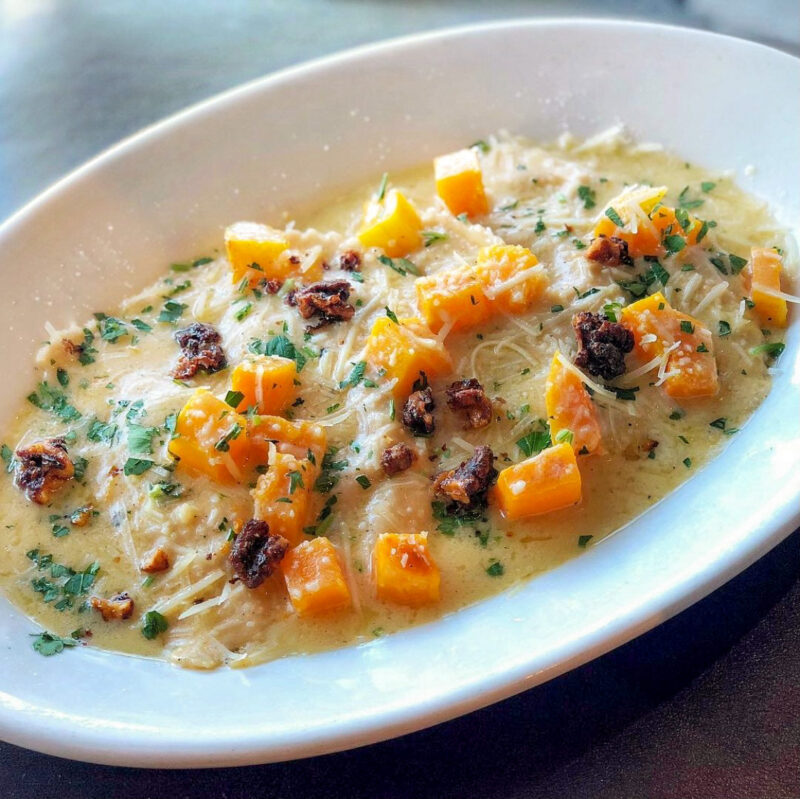 Butternut Squash Ravioli
The perfect fall pasta dish
Serving Size: 4 (approx. 32 pieces)
Ingredients:
INGREDIENTS FOR MAKING THE RAVIOLI:
Rolling Pin or Pasta Machine
Pasta Dough
Butternut Squash Filling
All Purpose flour for dusting
Egg Wash (one egg mixed whisked with 1 Tbsp. of water)

INGREDIENTS FOR PASTA DOUGH:
4 Cups All Purpose Flour
1 Cup Semolina Flour
3 Eggs
½ tsp. Salt
1 Cup Cold Water

INGREDIENTS FOR BUTTERNUT SQUASH FILLING:
1 - 2 Butternut Squash (cut in half with the seeds removed)
½ Cup Marsala Wine
14 oz. of Ricotta (drained with a coffee filter or cheesecloth)
10 oz. of Ground Parmesan
½ tsp. Nutmeg
1 tsp. Salt

INGREDIENTS FOR CANDIED WALNUTS:
½ lb Walnuts
1 Tbsp. Butter
⅓ Sugar
¼ tsp. Salt
¼ tsp. Black Pepper
½ tsp. Paprika

INGREDIENTS FOR SAUCING & SERVING:
2 Tbsp.of Brown Butter (2 Tbsp. butter, in a saute pan melt butter and cook till it has browned nicely in the pan, be sure not to burn)
3 oz. Chicken Broth
1 pinch Chopped Parsley
2 Tbsp. Chopped Candied Walnuts
Method:
METHOD FOR PASTA DOUGH:
1. In a food processor, mix the flour, semolina and salt.
2. Add the eggs slowly on low speed until well combined.
3. Slowly add water until dough comes together, mix to combine well.
4. Remove and keep wrapped well in plastic wrap and in the fridge until ready to use. Chilled dough is a bit easier to work with, chill for a minimum of 15 minutes.

METHOD FOR BUTTERNUT SQUASH FILLING:
1. Roast squash, skin side down in a large casserole dish, with approx ¼ cup of water and marsala at 350°F for 1 hour.
2. If the squash isn't tender after an hour, add ¼ more water and roast for up to 30 min more
3.  Squash, scrape and peel insides, discard skin.
4. Puree squash until smooth in a food processor.
5. Add the ricotta, parmesan, nutmeg and salt to the food processor and mix until combined
6. Add salt to taste.

METHOD FOR THE RAVIOLI:
1. Using your prepared pasta dough, roll out two sheets of equal thickness (about 1/16 of an inch), using a pasta machine or a rolling pin.
2. Place one sheet onto an all purpose dusted table top and spoon approx. 1 Tbsp. of filling onto the pasta sheet. Add as many spoons as the size of the pasta sheet will allow. Place them 1.5 -2 inches apart.
3. Brush a small amount of egg wash all around the filling.
4. Quickly add a pasta sheet on top and gently press around ravioli to form a mound.
5. Cut around raviolis to separate and transfer them to a different pan with flour to keep them separate (You may use a Ravioli Die to make this process easier!)
6. Keep them in the refrigerator until ready to cook

METHOD FOR THE CANDIED WALNUTS:
1. Bring 2 quarts of water to boil in a pot.
2. Add walnuts and boil for 1 ½ minutes.
3. Strain the walnuts and place in a large bowl.
4. Melt butter and pour over walnuts.
5. Sprinkle salt, sugar, paprika and black pepper over walnuts and toss well to combine.
6. Transfer them to a sheet tray and bake in a 325 degrees oven for 10 minutes.
7. Toss and turn walnuts and return to the oven and bake an additional 10 to 15 minutes, tossing and turning as needed till nuts are golden and mostly dry.
8. Remove from the oven, let cool and keep in an airtight container.

METHOD FOR SAUCING & SERVING:
1. Bring 4 quarts of salted water to boil in a pot
2. Cook the ravioli for 3 to 5 minutes (once they float they are done)
3. Heat the chicken broth with the brown butter in a saucepan, once heated add the cooked and drained ravioli and keep on high heat until the sauce is mixed together
4. Pour pasta and sauce in a bowl, sprinkle Candied walnuts over the top.
5. Sprinkle chopped parsley over the top and enjoy!
Download the recipe