Rhubarb Rose G&T
Recipe by Aba
The Rhubarb Rose G&T from Aba will transport your taste buds to a blooming garden with just one sip. This exquisite blend of rhubarb liqueur, Hendrick's Flora Adora gin, and rosebud tea creates a delicate yet tangy cocktail, perfect for celebrating the warmer days ahead. Plus, it makes for a great Mother's Day brunch cocktail!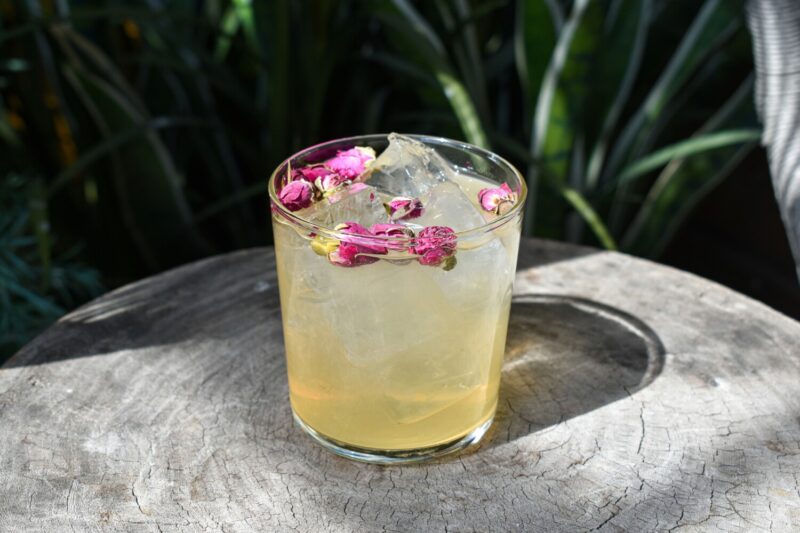 Rhubarb Rose G&T
A spring garden in a glass
Serving Size: 1 Cocktail
Ingredients:
• ½ oz. lime juice
• ¼ oz. honey syrup*
• ½ oz. Fruitful Mixology Rhubarb Liqueur
• ¾ oz. Brockmans Gin
• ¾ oz. Hendrick's Flora Adora
• 2 oz. tonic
• rosebud tea
Method:
1. Combine lime juice, honey syrup, Fruitful Mixology Rhubarb Liqueur, Brockmans Gin and Hendrick's Flora Adora in a shaker.
2. Add ice and shake until cold.
3. Add tonic to shaker, then strain over fresh ice in a double old-fashioned glass.
4. Garnish with rosebud tea.

*Bartender Tip: If you want to make your own honey syrup, combine 1 part water and 2 parts honey in a saucepan over medium heat. Stir until honey is dissolved. Allow to cool and transfer to an airtight container. The syrup will keep, refrigerated, for up to one month.
Download the recipe