Shaved Brussels Sprouts Salad
Recipe by Cafe Ba-Ba-Reeba!
What's not to love about the Shaved Brussels Sprouts Salad from Cafe Ba-Ba-Reeba!? Packed with flavor and crunch in every bite, from the tangy champagne vinaigrette to the perfectly toasted marcona almonds, this salad is anything but boring!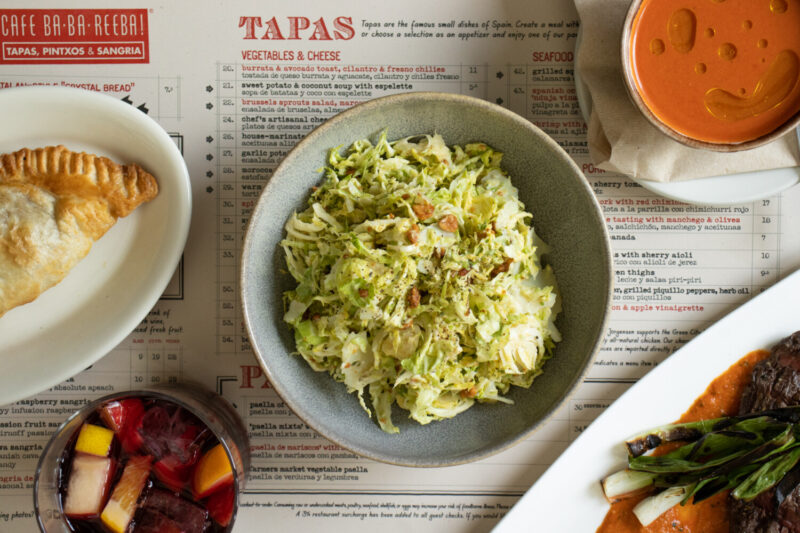 Shaved Brussels Sprouts Salad
Brighten up your table with this crunchy and flavorful recipe
Serving Size: 1 salad
Ingredients:
SHAVED BRUSSELS SPROUTS SALAD INGREDIENTS:
• 1 ¼ cup raw brussels sprouts
• ¼ cup Cava Dijon Vinaigrette (recipe below)
• ¼ cup chopped candied marcona almonds (recipe below)
• ¼ cup shaved manchego cheese plus a few pieces for garnish (see Chef Tip below)
• Kosher salt to taste
• fresh cracked black pepper to taste

CAVA DIJON VINAIGRETTE INGREDIENTS:
• ½ bottle or 1 small bottle (375 ml) Cava
• ½ cup extra virgin olive oil
• 2 Tbsp. canola oil
• ⅓ cup smooth Dijon mustard
• ¼ cup honey
• 1 Tbsp. parsley, minced
• 1 ½ Tbsp. white wine vinegar
• 1 Tbsp. shallot, minced finely
• ½ tsp. iodized salt

CANDIED MARCONA ALMONDS INGREDIENTS:
• 1 ½ cups marcona almonds
• ½ cup powdered sugar
• ¼ cup water
Method:
SHAVED BRUSSELS SPROUTS SALAD METHOD:
1. Using a mandolin, slice the brussels sprouts very thin. Be careful of your fingers, the mandolin blade is extremely sharp. Wash the brussels sprouts in cold water and spin dry in a salad spinner.
2. Place brussels sprouts, cava vinaigrette, candied marcona almonds, and the ¼ cup of manchego in a mixing bowl. Mix well and season with salt.
3. Place salad in a bowl, garnish with the rest of the manchego and a few turns of fresh cracked pepper.
* Chef Tip: For shaved Manchego cheese use a vegetable peeler and peel long strips of Manchego.

CAVA DIJON VINAIGRETTE METHOD:
1. Pour cava into a saucepan and boil for 5 minutes, remove from heat and cool completely.
2. In a blender cup, combine cooled cava, honey, Dijon mustard, white wine vinegar, shallot, and salt. Blend until smooth. Slowly drizzle in oil while blending.
3. Pour into a bowl, add the parsley and mix by hand.

CANDIED MARCONA ALMONDS METHOD:
1. Combine all ingredients in a saucepan and cook on medium heat stirring constantly to prevent burning. Cook until the almonds are a dark amber color.
2. Pour onto a baking sheet that has been sprayed with non-stick cooking spray and let the almonds cool completely.
3. Once cooled, chop almonds by hand.
Download the recipe