Spicy King Crab & Squid Ink Pasta
Recipe by RPM Italian
Elevate your home cooking with a touch of RPM Italian's culinary magic and their recipe for Spicy King Crab & Squid Ink Pasta. Looking to impress someone? This is definitely the dish to make.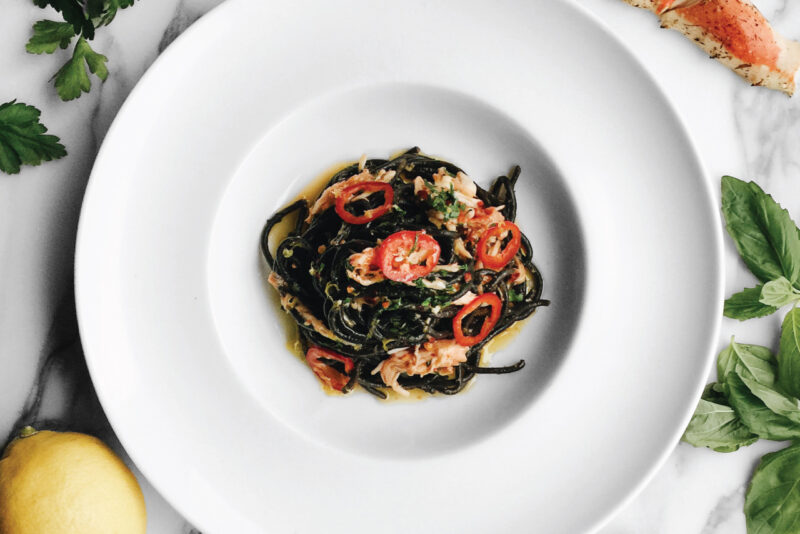 Spicy King Crab & Squid Ink Pasta
Recreate the flavors of RPM Italian at home
Serving Size: 4
Ingredients:
SQUID INK SPAGHETTI INGREDIENTS
2¾ cups semolina flour
2 large eggs
3¾ Tbsp. water
8 grams squid ink (optional)

SPICY KING CRAB INGREDIENTS
8 Tbsp. unsalted butter, at room temperature
1 pinch red pepper flakes
1½ cups homemade or store-bought lobster stock
½ cup marinara sauce
8 oz. fresh crab meat
2-3 Tbsp. fresh basil leaves, torn
1 Tbsp. extra-virgin olive oil*
½ tsp. lemon zest, freshly grated*
1 fresno chile, sliced into thin rings*
1 Tbsp. fresh parsley*
Method:
SQUID INK SPAGHETTI METHOD
1. Place flour on a large work surface; make a well in the center of the mound.
2. In a small bowl, whisk together eggs, water and squid ink (if using); pour into the center of well. Using a fork or your fingers, gradually incorporate flour into the mixture until a dough has formed.
3. Roll into a ball. Knead dough (adding more flour or water as needed) until smooth, about 10 minutes.
4. Divide dough in half; wrap in plastic and let rest for 30 minutes.
5. Roll out each piece until about 1/10" thick. Using a pasta machine or attachment on a stand mixer, cut out the spaghetti noodles.
6. Place noodles on a semolina-covered baking sheet; rest 20 minutes before cooking.

SPICY KING CRAB METHOD
1. In a large pot of boiling, salted water, cook the pasta until al dente. Drain pasta, reserving 1 cup pasta water.
2. In a large skillet over medium heat, melt the butter; add a pinch of red pepper flakes, lobster stock and marinara sauce. Stir to combine.
3. Add pasta to the skillet and toss to coat. Add in reserved pasta water as necessary. Fold in crab and torn basil; toss lightly.

FINISHING & PLATING*
Plate pasta and drizzle with olive oil. Garnish with lemon zest, fresno chile and parsley.
Download the recipe