Steak & Shrimp Fajita
Recipe by El Segundo Sol
The Steak & Shrimp Fajita recipe from El Segundo Sol in Las Vegas, NV is the ultimate surf and turf dish perfect for weeknight dinner!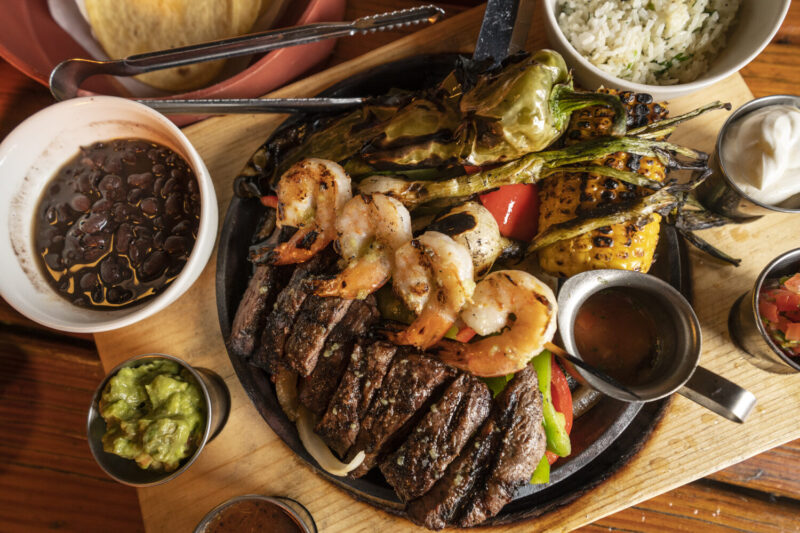 Steak & Shrimp Fajita
Give your weeknight fajita recipe a kick
Serving Size: 4
Ingredients:
2lb Skirt Steak in adobo marinade 4pc (8 oz. portions)
2lb 16/20 Shrimp, peeled and deveined in serrano garlic oil marinade
4 cups White Onions, julienne
4 cups Red and Green Bell Peppers, julienne
2-3 limes, halved
Wood Skewers for shrimp
Optional Garnishes for serving:
Green Onions
Corn on the Cobb
Chiles
Flour or Corn Tortillas
Pico de Gallo
Red Salsa
Guacamole
Sour Cream

INGREDIENTS FOR STEAK (ADOBO) MARINADE
10 Guajillo Chiles, dry
8 Ancho Chiles, dry
1.5 TBSP of Apple Cider Vinegar
2 TBSP Grapeseed Oil
3 TBSP Canned Chipotle in Adobo, chopped
½ TBSP Salt
5 Garlic Cloves
¼ tsp Ground Cinnamon
¼ tsp Ground Clove
1 Bay Leaf
½ TBSP Cumin
½ TBSP Mexican Oregano (can use regular oregano)
½ TBSP Thyme
Ground Black Pepper to taste

INGREDIENTS FOR SHRIMP (SERRANO GARLIC OIL) MARINADE
1. 5 cup Grapeseed Oil
1 Serrano Pepper, rough chop
2 Garlic Cloves
½ TBSP Kosher Salt

Method:
METHOD FOR STEAK (ADOBO) MARINADE:
Boil 3 cups of water
Toast the dried peppers in a 400F oven for 6 minutes until they "puff," then rest until cool.
Remove the stems and seed from the dried chiles and place them into a metal mixing bowl, pouring the hot water over them.
Let the dried chiles rehydrate for at least 10 minutes.
Place all the other ingredients in a blender.
Strain the chiles and save the water.
Add the chiles to the blender and add 1 cup of the chile water, blending on high for 1-2 minutes until smooth.
Add additional water to adjust consistency. The final marinade should be pourable and make about 3 cups.

METHOD FOR SHRIMP (SERRANO GARLIC OIL) MARINADE
Place all ingredients in the blender and blend on high for 1-2 minutes until completely smooth.


METHOD FOR FAJITAS
Marinate your steak and shrimp 1 day in advance and put in your refrigerator overnight.
Soak your wooden skewers in water for 20 minutes before skewering 5 shrimps onto each skewer.
Place cast iron skillets directly on a burner with a high flame. Wait for them to get red-hot before placing the steak and shrimp on the skillet to give it that classic sizzle.
While the skillets heat, season the steak and shrimp skewers with salt and pepper to desired doneness. About 2-3minutes per side for steak and 1 minute per side for shrimp.
After grilling the first side, flip to the grilled side and squeeze half a lime over the top. This will provide incredible flavor as the lime juice cooks into the protein.
Grill any of the other recommended additions: corn, green onions, peppers, etc. Toss the added vegetables in the garlic serrano oil for an amazing flavor.
Quickly saute your julienne peppers and onions in a high heat large skillet or saucepan, until translucent and slightly crunchy. The high heat prevents the peppers and onions from getting soupy.
It's time to plate! Divide the julienne peppers and onions evenly. Slice your steaks and lay one on top of each of the vegetables and add around the others. Top with 2 shrimp skewers.
For added effect, take juice from your favorite pico de gallo and splash it onto the hot platter for an amazing fajita steam.
Serve with hot tortillas, rice, beans, salsa and any other hot sauce or condiment of your choosing.

Download the recipe