Vietnamese Pork
Recipe by Sushi-san
Sushi-san's Master Sushi Chef and Partner Kaze Chan shares his family recipe for Vietnamese Pork, a flavorful dish that he first remembers his grandmother making at her restaurant in Saigon, Vietnam in the 1950s. This recipe has been in his family for generations, becoming Kaze-san's favorite comfort food from the time he was a young boy. These days, the recipe remains the same, but has been elevated at Sushi-san with Berkshire Pork, a heritage breed of pig that is common in Japan and served with fresno chili, green onion, cilantro caramelized over binchotan charcoal.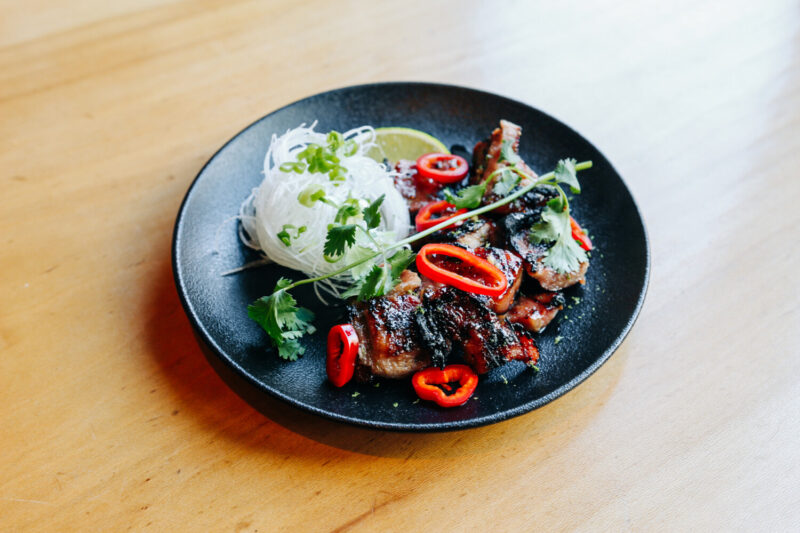 Vietnamese Pork
Chef Kaze Chan shares a special family recipe
Serving Size: 2
Ingredients:
2 cups sugar
1 cup fish sauce
3 tbsp minced lemongrass
3 tbsp minced garlic
3 tbsp minced shallot
4 minced Thai chilis
1 tsp of fresh cracked black pepper
½ lb pork shoulder, cubed
Zest of 1 lime
Grill-safe skewers

Method:
1. Combine all ingredients for the marinade in a mixing bowl ensuring all ingredients are well incorporated.
2. Add the cubed pork shoulder and the marinade into a plastic resealable bag. Seal and refrigerate for 1-3 hours.
3. Preheat the grill to medium-high for 3 minutes, and soak skewers in a shallow pan filled with water for 10 minutes to prevent scorching. 4. Once soaked, thread the marinated pork onto the skewers.
5. Place marinated pork on the grill and cook evenly on both sides until thoroughly cooked and caramelized, approximately 2 minutes per side.
6. Transfer to a plate. Finish with lime zest and serve immediately.
Download the recipe