Cafe Ba-Ba-Reeba! – Lincoln Park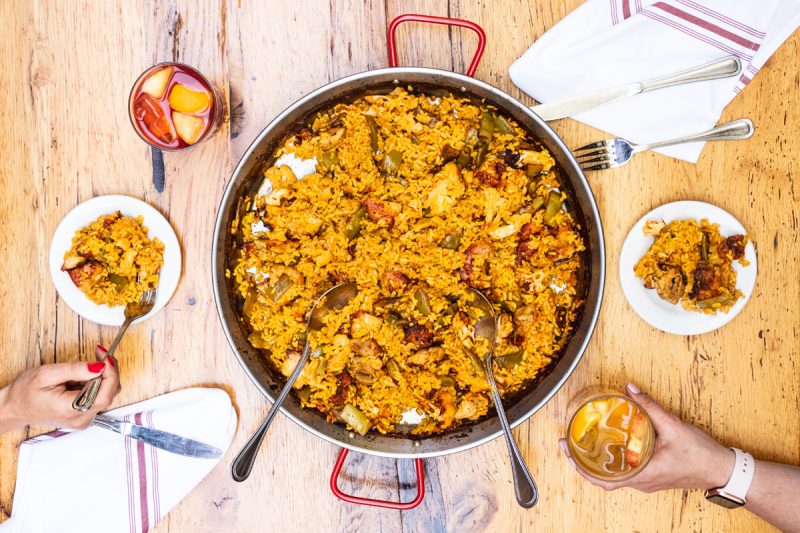 Hours
Monday - Thursday: 4:00 PM – 9:00 PM
Friday: 11:30 AM – 11:00 PM
Saturday: 10:00 AM – 11:00 PM
Sunday: 10:00 AM – 9:00 PM
Menus
Weekend Brunch
Brunch Pintxos
Waffle-battered Chicken Stickmaple syrup2.50
Brunch Tapas & Paella
Spinach & Artichoke Crepe6
Beef Tenderloin Benedict*housemade english muffin, poached egg & hollandaise9
Breakfast Paellabomba rice, spanish sausages & scrambled egg crustserves 2 ppl 28
Brunch Cocktails
Ba-ba-bellinipetit albet brut rosé, passion fruit, agave, pimentón9
Ba-ba Bloody Marytito's, housemade bloody mary mix, celery; served with vegetable skewer & spanish sausage skewer11
Pintxos
Pintxos: (peen-chõs) - the bite-sized tapas popular in the bars of Northern Spain
Chorizo- Wrapped Medjool Date & Cheesedátil con chorizo y queso2.50
Bacalao Croquettesherry aioli2.50
Seared Txistorra Sausagepickled mustard seeds2.50
Deviled Egg With Crispy Jamón Serranocrispy jamón serrano2.50
Stuffed Olivewhite anchovy & piparra pepper2.50
Tapas
Tapas are the famous small dishes of Spain. Create a meal with a variety of tapas, or choose a selection as an appetizer and enjoy one of our paellas as your main course
Vegetables and Cheese
Catalan-style "crystal Bread"tomato pureé, garlic, olive oil & shaved manchego cheese6
Garlic Potato Saladensalada de patatas con alioli6
Beef
Grilled Hanger Steak, Mushrooms, Piquillos & Mojo Picón*filete de colgante con setas, piquillos y mojo picón15
Seafood
Grilled Squid With Olive Oil & Garlic*calamares a la plancha11
Chicken and Pork
Grilled Ibérico Pork With Red Chimichurri*pressa de ibérico bellota a la parrilla con chimichurri rojo16
Spanish Ibérico Ham Tasting With Manchego Cheese & Olivesjamón ibérico, lomo ibérico, queso manchego y aceitunas17
Paella
Savor the flavors of valencia, the province of Spain that gives us the classic rice dish paella. Minimum two servings
Paella Of Chicken Thighs & Market Vegetablepaella con pollo y verdurasserves 2-3 28
'paella Mixta' With Confit Pork Shoulder, Salchichón & Chicken Thighspaella mixta con puerco confit, salchichón y polloserves 2-3 32
'paella De Mariscos' With Shrimp, Squid, Cod & Fennelpaella de mariscos con gambas, calamares, bacalao y hinojooserves 2-3 36
Farmers Market Vegetable Paellapaella de verduras y legumbresserves 2-3 26
Dessert
Chocolate Truffle Cakekahlua, whipped cream3.50
Natilla Flannatilla custard & saffron caramel3.50
Butterscotch Custardsalted caramel sauce3.50
Surcharge
A 3% processing fee is added to all guest checks. This fee may be removed upon request.
*Consuming raw or undercooked meats, poultry, seafood, shellfish, or eggs may increase your risk of foodborne illness
Drinks
Craft Cocktails
Saffron Sidecartorres 10 year brandy, apologue saffron liquor, magdala, demerara, lemon, orange peel13
Whiskey Ginger Smashwolf point "ba-ba-reeba" private barrel whiskey, ginger, peach, mint13
Cucumber Tequila Spritzespolon tequila blanco, callejuela manzanilla sherry, yellow chartreuse, cucumber, lime, basil, agave14
Lavender Fieldsflorence field gin, pama, rosemary, lavender water, lemon14
Espresso Martinirhine hall coffee liqueur, o'leary vodka, intelligentsia espresso, demerara syrup15
Classics
Ask your bartender about our carryout sangria & craft cocktails!
Sherry Old Fashionedkoval rye whiskey, palo cortado sherry, demerara syrup, orange bitters14
The Margaritaespolon reposado tequila, magdala, agave, lime, blackberry, orange bitters, black sea salt13
The Mojitoplantation 3-stars rum, mint, fresh lime & soda13
Cocktail De Vermutbodegas yzaguirre rojo, fever-tree mediterranean tonic, marques de caceres brut cava, orange bitters14
Sangria!
The traditional drink of Spain made with wine, liqueurs & diced fresh fruit
White Peach SangriaAbsolut PeachGlass 101/2 Pitcher 20Pitcher 29
Black Raspberry Sangriaskyy infusion raspberryGlass 101/2 Pitcher 20Pitcher 29
Passion Fruit Sangriasmirnoff passion fruitGlass 101/2 Pitcher 20Pitcher 29
Sangria Del Díaseasonal sangria, ask your serverGlass 111/2 Pitcher 22Pitcher 31
Cava Sangriaspanish cava, liquor 43, creme de cassisGlass 101/2 Pitcher 22Pitcher 31
Non- Alcoholic
Dry January
Blackberry Lavender Lemonade Mocktail6
Beer/Cerveza
Bottled
Miller Lite - Light LagerMilwaukee, WI5
Bell's Amber - Amber AleKalamazoo, MI6
Estrella Damm - LagerBarcelona, Spain6
1906 Black Coupage - Munich Dunkel LagerGalicia, Spain7
Lagunitas Ipa - India Pale AleChicago, IL7
Isastegi Natural Basque CiderTolosa, Spain9
Draught
Brewer's Kitchen Mañana De Mallorcaspanish tea ipa, chicago, il7
Estrella Galicia - LagerA Coruña, Spain6
Half Acre Tend- Winter IpaChicago, IL8
Revolution Freedom Of Speach- Session SourChicago, IL7
Flights
Sangria Flighta sampling of 412
Dry Sherry Flight"La Garrocha" Porto Fino Callejuela Manznilla Viña AB Amontillado "Peninsula" Palo CortadoDry 10
Sweet Sherry Flight"Old East India" Oloroso Capataz Deluxe Cream "San Emilio" Pedro Ximénez César Florido "Espécial" Moscatel14
Red Spanish Wine FlightMarques de Caceres "Excellens" Tempranillo Tres Picos Old Vine Garnacha Ultreia Saint Jacques MenciaRed 16
White Spanish Wine FlightFriend & Farmer Verdejo Martin Codax Albarino Inazio Urruzola Txakoli14
Vermouth
served on the rocks with orange, olives and a splash of soda
Lacuesta Blanco Pour11
Mata Tinto Reserva Pour12
Bodegas Yzaguirre Rojo Pour14
Wines by the Glass
Cava - Sparkling Wines
Juve Y Camps Brut Cava- Macabeu, Xarel-lo, Parellada, Nvripe white fruit, hints of toast and citrus, creamy mouthfeel with long finishGlass 11Bottle 44
Caves Naveran Brut Rosé - Pinot Noir/parellada, Cava D.o. '18strawberries and cherries in a light and bright sparkling roseGlass 14Bottle 56
Rosado - Rosé Wines
Muga Rosé - Viura/garnacha/tempranillo, Rioja 20raspberry, strawberry, potpourri & pink grapefruit; refreshing summer patio wineGlass 10Jarra 19Bottle 40
Gañeta Txakoli Rosé - Hondarrabi Beltza, Basque Country 20lean, dry rosé with a slight spritz; ripe strawberry & crisp grapefruitGlass 13Jarra 25Bottle 52
Blanco - White Wines
Friend & Farmer - Verdejo, La Mancha 19tropical fruit, melon & fresh lime; spain's answer to a light sauvignon blancGlass 10Jarra 19Bottle 40
Ermita San Felices, Viura, Rioja, 19Golden apple, banana skin and papaya flavors play out with sea spray freshnessGlass 14Jarra 27Bottle 56
Tinto - Red Wines
Ergo – Tempranillo Blend, Murcia 15strawberry, blackberry, white pepper; think merlot meets malbecGlass 10Jarra 19Bottle 40
Excellens – Tempranillo, Rioja 15a rioja exclusive to restaurants - black currants, notes of vanilla, well-balanced tanninsGlass 11Jarra 21Bottle 44
Tres Picos - Old Vine Garnacha, Campo De Borja '18plum, blackberry, tobacco, vanilla; juicy, syrah-like bombGlass 11Jarra 21Bottle 44
Ultreia Saint Jacques – Mencia, Bierzo 18medium-bodied with flavors of cherries and earth; think spain's answer to pinot noirGlass 13Jarra 25Bottle 52
Marqués De Cáceres Reserva – Tempranillo, Rioja 15renowned rioja producer - aged 18 months; ripe cassis & blackberry with balanced acidityGlass 14Jarra 27Bottle 56
Costers Del Priorat "petit Pissarres" – Garnacha / Samsòplush dark cherry & blackberry, licorice; toasty oak finishGlass 15Jarra 29Bottle 60
Surcharge
A 3% processing fee is added to all guest checks. This fee may be removed upon request.
Dining Menu
Housemade Tomato Bread
Pintxos
Pintxos: [peen-chõs] - the bite sized tapas popular in the bars of Northern Spain
Seared Morcilla Sausagegffig reduction2.50
Stuffed Olivegfwhite anchovy, piparra pepper2.50
Tapas
Tapas are the famous small dishes of Spain. Create a meal with a variety of tapas, or choose a selection as an appetizer and enjoy one of our paellas as your main course
Vegetables and Cheese
Garlic Potato Saladgfensalada de patatas con alioli6
Beef
Grilled Hanger Steak, Mushrooms, Piquillos & Mojo Picón*gffilete de colgante con setas, piquillos y mojo picón15
Seafood
Grilled Squid With Olive Oil & Garlicgfcalamares a la plancha11
Chicken and Pork
Grilled Ibérico Pork With Red Chimichurri*gfpresa de iberico bellota a la parrilla con chimichurri rojo16
Paella
Savor the flavors of Valencia, the province of Spain that gives us the classic rice dish paella
'paella Mixta' With Confit Pork Shoulder, Salchichón & Chicken Thighsgfpaella mixta con puerco confit, salchichón y polloServes 2-3 32
Farmers Market Vegetable Paellagfpaella de verduras y legumbresServes 2-3 26
Surcharge
A 3% processing fee is added to all guest checks. This fee may be removed upon request.
*These items are cooked-to-order. Consuming raw or undercooked meats, poultry, seafood, shellfish, or eggs may increase your risk of foodborne illness. Please alert your server if you have special dietary restrictions due to a food allergy or intolerance.