Cafe Ba-Ba-Reeba! – Lincoln Park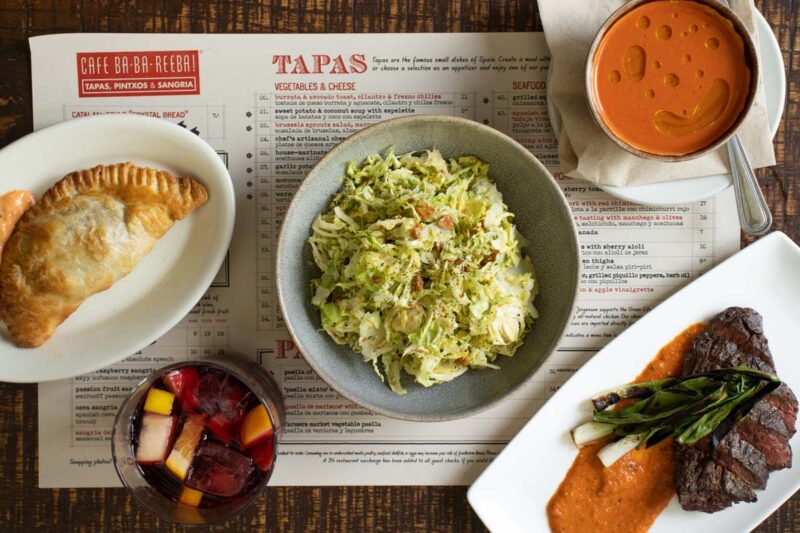 Hours
Monday - Thursday: 4:00pm - 9:00pm
Friday: 11:30am - 11:00pm
Saturday: 10:00am - 11:00pm
Sunday: 10:00am - 9:00pm

Please Note: Holiday Hours May Differ
Menus
Happy Hour
Pintxos
bite-sized tapas popular in the bars of Northern Spain
Potato & Egg Bitegfpatata y huevo1.50
Tapas
Garlic Potato Saladgfensalada de patatas con alioli2.50
Ibérico Ham Croquetas With Sherry Aliolicroquetas de jamón ibérico con alioli de jerez2.50
Meatballs With Sherry Tomato Saucealbondigas al jerez3.50
Featured Drinks
+pitcher Of Classic Red Sangria20
Estrella Damm Bottle4
Mañana De MallorcaSpanish tea ipa5
Surcharge
A 3% restaurant surcharge has been added to all guest checks. If you would like this removed, please let us know.
Weekend Brunch
Brunch Pintxos
Brunch Tapas & Paella
Morcilla Sausage Toast, Roasted Apple Butter, Fried Egg And Mustard Aioli*tostada de morcilla, mantequilla de manzana, huevo frito y alioli de mostaza12
Brunch Cocktails
Pintxos
Pintxos: [peen-chõs] - the bite sized tapas popular in the bars of Northern Spain
Chorizo-wrapped Datemedjool date, cheese3.50
Stuffed Oliveanchovy, pippara pepper2.50
Tapas
Tapas are the famous small dishes of Spain. Create a meal with a variety of tapas, or choose a selection as an appetizer and enjoy one of our paellas as your main course
Vegetables & Cheese
Warm Potato & Onion Omelettetortilla española10
Beef
Seafood
Chicken and Pork
Dessert
Sorbet Del DíagfAsk your server about our current flavor!3.50
Surcharge
A 3% restaurant surcharge has been added to all guest checks. If you would like this removed, please let us know.
*Consuming raw or undercooked meats, poultry, seafood, shellfish, or eggs may increase your risk of foodborne illness
Sangria • Cocktails • Beer
Craft Cocktails
Sangria!
The traditional drink of Spain made with wine, liqueurs & diced fresh fruit
+sangria Del Díaseasonal sangria, ask your serverGlass 121/2 Pitcher 25Pitcher 39
Cava Sangriaraspberry liqueur, brandyGlass 111/2 Pitcher 23Pitcher 38
Non- Alcoholic
Beer/Cerveza
Bottled
Miller Lite - Light LagerMilwaukee, WI5
Estrella Damm- LagerBarcelona, Spain6
Stone Buenaveza Salt & Lime LagerEscondidio, CA7
1906 Black Coupage - Munich Dunkel LagerGalicia, Spain8
Lagunitas Ipa - India Pale AleChicago, IL7
+isastegi Natural Basque CiderTolosa, Spain9
Draught
+brewer's Kitchen Mañana De MallorcaSpanish Tea IPA, Chicago, IL7
+estrella Galicia - LagerA Coruña, Spain6
Dovetail Vienna LagerChicago, IL8
Half Acre TomeHazy Pale Ale, Chicago, IL7
Flights
Sangria Flighta sampling of 412
Sweet Sherry Flight"Old East India", Capataz Andrés Deluxe Cream, "San Emilio" Pedro Ximénez, César Florido Moscatel Dorado15
Dry Sherry FlightManuel Aragón "Fino Granero" Palomino Fino, Callejuela Manzanilla, Viña AB Amontillado, "Peninsula" Palo CortadoDry 17
Red Spanish Wine FlightMarques de Caceres "Excellens" Tempranillo, Tres Picos Old Vine Garnacha, Ultreia MenciaRed 16
White Spanish Wine FlightNisia Verdejo, Martin Codax Albarino, "Lasalde Elkartea" Hondarrabi Zuri14
Vermouth
served on the rocks with orange, olives and a splash of soda
Lacuesta BlancoA slightly liquoris, cinamon and ginger in the palate9
El Bandarra Rojofeatures over 50 extracts of herbs, flowers and spices such as cinnamon, ginger, vanilla, liquorice, aniseed, chamomile, rosemary, bay leaf, hops, bitter orange9
Mata BlancoThe vinified wine macerates for approximately 40 days with various flowers and herbs, including bitter orange peel, sage, thyme and star anise10
Bodegas Yzaguirre Rojohighly aromatic, velvety and pleasant on the palate, with woody, herby and spicy notes11
Surcharge
A 3% restaurant surcharge has been added to all guest checks. If you would like this removed, please let us know.
Dining Menu
Pintxos
Pintxos: [peen-chõs] - the bite sized tapas popular in the bars of Northern Spain
Tapas
Tapas are the famous small dishes of Spain. Create a meal with a variety of tapas, or choose a selection as an appetizer and enjoy one of our paellas as your main course
Vegetables & Cheese
Beef
Seafood
Chicken and Pork
Paella
Savor the flavors of Valencia, the province of Spain that gives us the classic rice dish paella
Desserts
Seasonal SorbetgfAsk your server for the flavor of the day!3.50
Surcharge
A 3% restaurant surcharge has been added to all guest checks. If you would like this removed, please let us know.
*These items are cooked-to-order. Consuming raw or undercooked meats, poultry, seafood, shellfish, or eggs may increase your risk of foodborne illness. Please alert your server if you have special dietary restrictions due to a food allergy or intolerance.
Spanish Wines
Wines by the Glass
Cava - Sparkling Wines
Avinyó Reserva Brut Cava- Macabeo, Xarel-lo, Parellada, 19bright white fruits combine with toast notes. the palate is fresh and vibrant.Glass 11Bottle 44
Caves Naveran Brut Rosé - Pinot Noir/parellada, Cava D.o. '18strawberries and cherries in a light and bright sparkling roseGlass 14Bottle 56
Raventos Blanc De Blancs Xarel-lo/macabeo/parellada, Penedès 18white floral notes on the nose. impeccably balanced with marked minerality, soft and fresh fruit notes. light nuttiness. slightly creamy texture.Glass 15Bottle 60
Rosado - Rosé Wines
Ameztoi Rubentis Rosé - Hondarrabi Beltza/hondarrabi Zuri, Basque Country 21zesty notes of blood orange, ruby red grapefruit, crushed green herbs, and white pepper, which mingle delicately with seaspray, salty citrus, and streaks of chalky minerality.Glass 13Jarra 25Bottle 52
Muga Rosé-viura/garnacha/tempranillo, Rioja 20raspberry, strawberry, potpourri & pink grapefruit; refreshing summer patio wine12 Glass21 Jarra48 Bottle
Blanco - White Wines
Nisia- Verdejo, Rueda 21aromas of passionfruit, pineapple, and minerality dance on the nose; on the palate, a rich texture is balanced by bright acidity and flavors of lemon curdGlass 10Jarra 19Bottle 40
Akarregi Txiki "lasalde Elkartea"- Hondarrabi Zuri , Getariako Txakolina 21notes of white fruit and apple on the nose and palate; slight salinity on the finish11 Glass21 Jarra44 Bottle
Bodegas Emilio Moro "polvorete"-godello, Bierzo 20nose highlighs white flowers; the palate is fresh with balanced acidityGlass 13Jarra 24Bottle 52
Akemi- Viura, Rioja 18subtle oaking; bright tropical fruit, vanilla & grapefruitGlass 14Jarra 26Bottle 54
Tinto - Red Wines
+excellens – Tempranillo, Riojaa rioja exclusive to restaurants - black currants, notes of vanilla, well-balanced tanninsGlass 11Jarra 21Bottle 44
+tres Picos - Old Vine Garnacha, Campo De Borja '18plum, blackberry, tobacco, vanilla; juicy, syrah-like bombGlass 11Jarra 21Bottle 44
Avancia "cuvée De O" - Mencia, Valdeorras 20light-medium bodied wine native to northwest spain; a good selection for pinot noir drinkers - juicy raspberries & blackberries with herbaceous notesGlass 13Jarra 25Bottle 52
Marqués De Cáceres Reserva – Tempranillo, Rioja 15renowned rioja producer - aged 18 months; ripe cassis & blackberry with balanced acidityGlass 14Jarra 27Bottle 56
Costers Del Priorat "petit Pissarres" – Garnacha / Samsò 19plush dark cherry & blackberry, licorice; toasty oak finishGlass 15Jarra 29Bottle 60
Triton - Tinta De Toro, Toro 18ripe red and black fruits, peppery herbs, spicy wood, and hints of sandalwoodGlass 16Jarra 31Bottle 65
Non-Alcoholic Wine
Tostall-natural, delicious, dry, sparkling, alcohol-free beverage with white tea, white cranberry, and ginger9
Wines by the Bottle
Cava - Sparkling Wine
Poema, Cava Brut Metodo Tradicional Rosé- Trepat, Catalonia, NvPale pink color with a bright strawberry nose; fresh and juicy with lively bubbles and a tangy, crisp style40
Mestres, Coquet Gran Reserva Brut Macabeo/xarel-lo/parellada, Cava 12floral, with notes of stone fruit. citrus on the nose,70
Segura Viudas Brut Reserva "heredad" Macabeo/xarel-lo/parellada, Penedès, Nvmade using methode champenoise. aromas of a light smokiness and a touch of biscuit. palate is fruity and full bodied, slight notes of honey75
Rosé
Marqués De Cáceres- Tempranillo/garnacha Tinta, Rioja 20Notes of redcurrants anise and lilies; Deliciously full in the mouth, where this wine delivers its fleshy, juicy and versatile character42
Liquid Geography- Mencia, Bierzo 20Aromas and flavors of strawberries, red-currant and white pepper; nicely acidic with a hint of minerality and an echo of red berry on the finish 100% of the profits go to cancer research50
Reserva De La Tierra Curious Rosé- Tempranillo/garnacha- Castilla, 20Intense aromas of red fruits as cherries and strawberries, with slight tropical notes, conferring complexity to the wine. Fresh, balsamic and well balanced, with a long and persistent after taste.40
Light White Wines
Avinyo "petillant" Muscat Blanc/macabeo, Penedès 18spritzy, dry and crisp with floral, citrus and melon notes45
Bodegas La Caña Albariño, Rías Baixas 20gentle and peachy on the palate with lingering mineral notes. finish shows yellow apple and some tropical notes52
Txomin Etxaniz Hondarrabi Zuri/hondarrabi Beltza, Basque Country 20aromas of dough and citrus, slightly spritzy. apple and citrus notes with a light creaminess69
Medium White Wines
Ladera Sagrada "castelo Do Papa" Godello, Valdeorras 19aromas of rosemary, thyme, and oregano, underscored by a firm mineral character. tightly focused lemon and pear scents are complemented by deeper melon and peach notes. offering vibrant citrus and orchard fruit flavors and a gingery nuance that adds back-end spiciness. finishes featuring lingering suggestions of bitter lemon pith and dusty minerals.48
Pazo Das Bruxas Albariño, Rías Baixas 20delicate and fragrant, with fine floral, lime blossom and lemon marmalade notes. silky and savory on the palate, elegantly structured.50
Torres Celeste Verdejo, Rueda 19potently aromatic nose displaying varietal notes of fennel and green almond with white floral undertones; silky and firm on the palate, with fine, elegant acidity conferring great length52
Montrubí White Xarel-lo, Penedès 18sweet, herbal nose. full fruit flavors: tart green apple, pear, faint notes of spanish jasmine58
Full White Wines
Muga Blanco Viura, Rioja 20floral, reminescent of almond blossom. citrus notes of lime. nice acidity and golden delicious apple notes54
Do Ferreiro Albariño, Rías Baixas 18complex aromas of salinity, exotic fruits and herbaciousness. palate has excellent texture and acidity74
Light Red Wines
Brezo Tinto Mencia, Bierzo 19aromas of cassis, raspberry and smoke. on the palate, full-bodied with notes of earthy red fruits40
La Bicicleta Voladora Tempranilo, Rioja 19unoaked rioja, bright fresh fruit dominates48
A Portela Mencia, Valdeorras 14mineral and floral qualities. unoaked, which emphasizes the pure, delicate flavors of the grape52
Motor America Callet, Mallorca 17bright red fruit, light on the palate60
Medium Red Wines
Torres Ibericos Crianza Tempranillo, Rioja 15damascus rose and strawberry/raspberry on the nose. spicy/smoky notes on the palate. oak aging leads to a nice velvety mouthfeel41
Atteca Old Vine Garnacha, Calatayud 18morello cherry and plum flavors, accented by mint, orange peel and sassafras notes. smoky finish43
Can Blau Cariñena/syrah/garnacha, Montsant 18aged 12 months in french oak, notes of smoke, spice, lavender, black cherry and plum46
Bodega Los Bujeos "a Pasos" Syrah/garnacha, Malaga 14woody aromas on the nose, red fruit on the palate.50
Sardón Tempranillo/garnacha/albillo, Castilla Y León 19notes of black cherry and sour cherry with spiced undertones from barrel aging. nicely balanced tannins and acidity52
Bodegas Viñátigo Listan Negro, Canary Islands 19black pepper, fig leaves and black plum. soft tannins60
Roda "sela" Tempranillo/graciano/garnacha, Rioja 18red cherries, undertones of cedar and sage. fine, silky tannins for a persistent finish62
Vara Y Pulgar Tintilla, Cádiz 14smoky aroma with candied flowers, herbs and black and blue fruit on the nose. juicy and focused on the palate with boysenberry, bitter cherry and violet flavors64
Palacios "petalos" Mencia, Bierzo 19aromas of blackberry and violet. herbal freshness with a dry palate and a long, crisp mineral finish67
Lindes De Remelluri "labastida" Tempranillo, Rioja 16fresh fruit on the nose and palate with a long finish78
Scala Dei Prior Garnacha/cabernet/syrah, Priorat 17aromas of jammy black and purple fruit, spice, minerals and wood. bright black fruit and chocolate on the palate80
Marques De Vargas Reserva Tempranillo/mazuela/garnacha Tinto, Rioja 16sweet spiciness, hints of balsamic, aged in french, american and russian oak96
Anime An/2 Monte Negra/callet/syrah, Mallorca 18aromas of savory spices, wild raspberries, dark cherry fruit. hints of smokiness and violet. silky and elegent with intense flavors of mature fruit.98
Full Red Wines
Juan Gil Monastrell, Jumilla 18aromas of ripe currant, red berries and smokiness. on the palate are notes of creme de cassis with a spicy, well-balanced finish including toasted notes provided by french wood43
Giné Giné Garnacha/cariñena, Priorat 18dry & extremely fruity on the palate56
Márques De Murrieta Reserva Tempranillo/graciano, Rioja 15dried berries & floral notes. full bodied, silky tannins73
Lopez De Heredia "cubillo" Crianza Tempranillo/garnacha, Rioja 13fresh licorice aroma on the nose. smooth and persistent finish75
Emilio Moro, Tempranillo, Ribera Del Duero 19baking spices and aged fruit on the nose; on the palate you'll find sweet tannins and a long finish85
Remelluri Reserva Tempranillo, Rioja 14aromas of wild herbs and tobacco/sandalwood. balsamic wild strawberries. well balanced palate with an excellent finish99
Torres "salmos" Garnacha/cariñena/syrah, Priorat 17notes of black olive and forest bramble on the nose with tart cherry and red plum flavors. orange peel acidity keeps the wine perky and light on the palate120
Hacienda Monasterio Tinto Fino/cabernet Sauvignon, Ribera Del Duero 16floral nose with mineral aromas. light minerality and cinnamon on the palate124
Quinta Sardonia Tempranillo/cabernet/merlot, Castilla Y León 15red fruit, hints of violets and blackberries. rosemary and pepper. mouthfeel is smooth and elegant. silky tannins. very mineralistic180
Torres "mas La Plana" Cabernet Sauvignon, Penedes 16aromas of black currant, blackberries, and ripe almonds. notes of cedar. made in the classic Bordeaux style220
Muga "prado Enea" Tempranillo/cariñena/graciano-rioja 15nose of black fruits mingling with spices, gingerbread and licorice. Creamy, vanilla notes come through in the finish with ripe fruit.245
Surcharge
A 3% restaurant surcharge has been added to all guest checks. If you would like this removed, please let us know.
Events at Cafe Ba-Ba-Reeba! – Lincoln Park