Di Pescara – Northbrook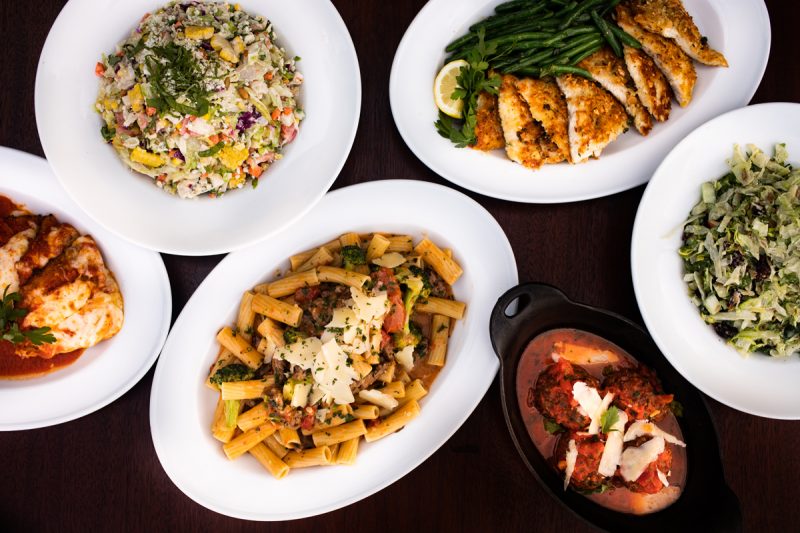 Hours
Sunday - Thursday: 11:30 AM - 8:00 PM
Friday - Saturday: 11:30 - 9:00 AM
Menus
All-Day Dining Menu
Appetizers
Braised Chicken Meatballs(2) marinara sauce8
Grilled Artichokelemon aïoli, balsamic glaze11
Double-dip Shrimp Cocktailcocktail sauce, remoulade14
Grilled Calamari Giardinierapickled peppers, arugula14
Fried Calamari Marinaracrispy zucchini, pickled peppers14
Tuna Tartaresoy-ginger vinaigrette, avocado, wonton chips15
Jumbo Lump Crab Cakemustard sauce15
Sushi & Poké
Freshly hand-rolled for the highest quality & cleanest of flavors. Substitute Soy Paper on Any Roll For $1
Sweet Potato Rollavocado, tempura sweet potato8
Spicy Tuna Rollahi tuna, spicy mayo13
California Rollcrab, avocado, cucumber14
Tuna & Salmon Poké Bowlsticky rice, avocado, crunchy asian slaw, soy-ginger-sesame vinaigrette20
Shrimp Tempura Rollcucumber, lettuce, masago, spicy mayo13
Sandwiches
Served with fries, or choice of vegetable (vegetables may have a small upcharge)
Special Recipe Hamburgerbrioche, raw or grilled onions14
Grilled Turkey Burgerswiss cheese, roasted red pepper mayo, whole wheat bun14
Salads
dressings: caesar, italian, blue cheese vinaigrette, green goddess, ranch, balsamic vinaigrette, rémoulade
Traditional Caesarromaine, parmesan cheese, croutons, caesar dressingStarter 8Small 12Large 15
Quinoa & Arugulaarugula, almonds, avocado, anjou pears, migas, parmesan, white balsamic, quinoa, golden raisinsStarter 8Small 12Large 15
Our Choppedblue cheese, wasabi peas, roasted corn, carrot, tomato, jicama, cabbage, blue cheese-lemon vinaigretteStarter 8Small 12Large 15
Orchardsunflower seeds, jicama, cucumber, apple, pear, dried cranberries, green goddess dressingStarter 8Small 12Large 15
Classic Seafood Chopblue crab, salmon, gulf shrimp, hearts of palm, tomato, green beans, avocado, hard boiled egg, rémoulade dressing30
Salad Add-Ons
add to your salad:
Grilled Chicken5
Grilled Shrimp7
Grilled Salmon7
Fresh Fish & Seafood
Di Pescara takes great pride in the freshness of our fish. We work closely with local and national purveyors to procure the best-quality seafood
Oven-roasted Lake Superior Whitefishroasted cauliflower, roasted fingerling potatoes, tartar sauceLunch 19Dinner 26
Almond-crusted Whitefishroasted brussels sprouts, carrots, lemon butterLunch 19Dinner 26
Horseradish-crusted Whitefishsautéed spinach, tomato, white wine sauceLunch 19Dinner 26
Macadamia Crusted Floundersautéed broccolini, soy-caper butter sauceLunch 29
Barbecued Ginger Salmonblistered sesame green beansLunch 19Dinner 28
Oven-roasted Salmonroasted cauliflower, roasted fingerling potatoes, tartar sauceLunch 19Dinner 28
Shrimp Oreganataangel hair pasta, sautéed broccolini24
Jumbo Lump Crab Cakesroasted corn, chilies, lime, mustard sauceDinner 32
Chicken
Chicken Alla Parmigianamozzarella & parmesan, marinaraLunch 18Dinner 22
Chicken Milanesearugula saladLunch 18Dinner 22
Chicken Giardinieraspicy vegetable relishLunch 18Dinner 22
Pasta
add two meatballs to pasta for $5
Spaghetti With Marinarafresh basilLunch 12Dinner 15
Housemade Potato Gnocchitomato-vodka sauce, parmesanLunch 14Dinner 18
Steaks
Chopped Steaksautéed peppers & onions19
Skirt Steakbalsamic marinated, au jus, hand-cut fries12 oz. 38
Petite Filet Mignoncrispy onions, au jus8 oz. 39
Sides
Roasted Cauliflower6
Sesame Green Beans6
Roasted Brussels Sprouts & Carrots6
Roasted Sweet Corn W/ Chilies & Lime6
Sautéed Asparagus6
Fries6
Baked Sweet Potato6
Parmesan-mashed Potatoes6
Mushroom & Parmesan Risotto W/ Truffle Oil8
Dessert
Key Lime Pie8
Chocolate Mousse Cake8
Apple Crostata8
Drink Menu
Tea, Soda & Mocktails
Fresh-brewed Iced Tea3.25
Ginger Beer3.50
Sprecher Root Beerlow calorie available3.50
Italian Orchardraspberry, peach, apple & cranberry juices5
Bellini Hurricanepeach, orange & pineapple juices4
San Pellegrino Sparkling Natural Mineral Water500 ml 41 Lt 6
Fiji Water500 ml 4
Real Lemonade
Made fresh daily. First refill is free
Classic "made-from-scratch" Lemonadesugared rim4
Ginger Lemonadefresh mint & ginger5
Pomegranate Lemonadepomegranate juice5
Coffee, Tea & Espresso
Harney & Sons Herbal Tea3.25
Big Shoulders CoffeeDecaffeinated available. First refill is free3.25
Espresso3.50
Caffè Latte4
Cappuccino4
Signature Cocktails
Mediterranean Muletito's vodka, fig syrup, ginger beer, lime10
Pomegranate Mojitobacardí, pomegranate, mint, lime11
Cosmopolitanketel one citroen, cointreau, cranberry; served up12
Cucumber-basil Smashbombay sapphire gin, st-germain elderflower, muddled cucumber11
Bellinitinipeach liqueur, peach purée, moscato; served up12
Manhattanbuffalo trace bourbon, carpano antica vermouth, angostura, tillen farms bada bing cherry; served up12
Housemade Sangria
Housemade Sangriared wine, fresh fruit, moscato float, basic, vodkaGlass 8Pitcher 28
Beer & Cider
Heineken 0.0 (n/a)4
Miller Lite4
Blue Moon5.50
Amstel Light5.50
Left Hand Milk Stout6
Revolution Seasonal6
Heineken5.50
Peroni5.50
Stella Artois5.50
Lagunitas India Pale Ale6
Great Lakes Edmund Fitzgerald Porter6
Right Bee Cidergf6
Wine
Ask your server about vintages
Whites & Rosé
Sparkling
light-bodied bubbly
La Marca Prosecco - ItalyGlass (6 oz.) 11Bottle 44
Villa Sandi Il Fresco Rosé Prosecco - ItalyGlass (6 oz.) 10Bottle 40
Moët & Chandon "imperial", Brut - ChampagneBottle 89
Light Whites & Rosé
light-bodied crisp
Baron De Ley Rosé - RiojaGlass (6 oz.) 10Bottle 40
Delle Venezie Canaletto Pinot Grigio - ItalyGlass (6 oz.) 9Bottle 36
Farmhouse White Blend - CaliforniaGlass (6 oz.) 11Bottle 44
Chasing Venus Sauvignon Blanc - MarlboroughGlass (6 oz.) 13Bottle 52
Sweet Whites
medium-bodied fruity
Hirschbach Riesling - GermanyGlass (6 oz.) 8Bottle 32
Heavy Whites
full-bodied buttery
William Hill Chardonnay - Central CoastGlass (6 oz.) 11Bottle 44
Reds
Light Reds
light-bodied fruity
Raeburn Pinot Noir - Russian River ValleyGlass (6 oz.) 14Bottle 56
Smooth Reds
medium-bodied velvety
Da Vinci Chianti - TuscanyGlass (6 oz.) 10Bottle 40
Castello Di Monsanto Chianti - TuscanyBottle 52
Spicy Reds
full-bodied jammy
Matchbook Wine Company "the Arsonist" Red Blend - CaliforniaGlass (6 oz.) 13Bottle 52
Big Reds
full-bodied textured
Gascon Malbec - Mendoza, ArgentinaGlass (6 oz.) 12Bottle 48
R Collection By Raymond Cabernet Sauvignon - Napa ValleyGlass (6 oz.) 13Bottle 52
Miner Cabernet Sauvignon - CaliforniaBottle 60
Chappellet Mountain Cuvée - Napa ValleyBottle 75
COVID-19 Surcharge
A 3% surcharge is added to all checks to offset government mandates on employers. This surcharge may be removed upon your request.
Events at Di Pescara – Northbrook