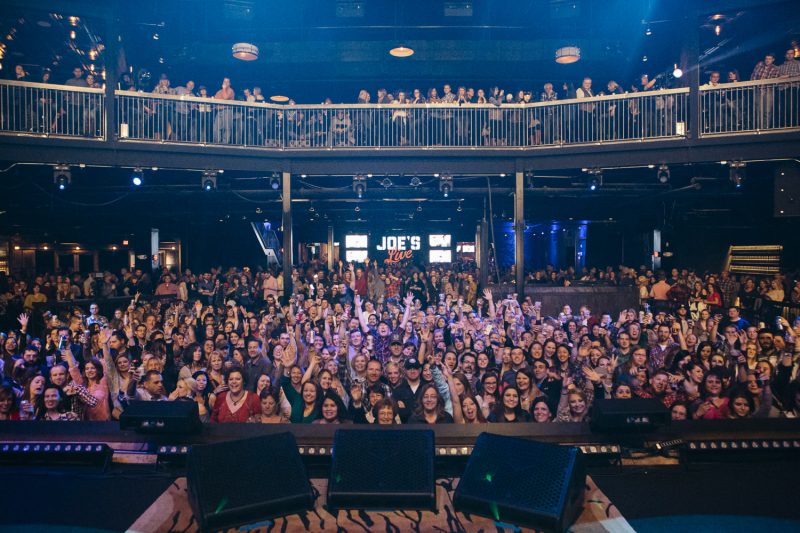 Menus
Suites / Concerts Menu
Bar Packages
By The Hour
energy drinks, shots and neat pours are not included in bar packages
House Beer & Winedomestic beer and house wines2 Hours 283 Hours 354 Hours 42
Premium Beer & Winecraft beers and wines2 Hours 353 Hours 454 Hours 55
House Barwell mixed drinks & house specialty cocktails, domestic beers and house wine2 Hours 443 Hours 544 Hours 64
Premium Barpremium beer & wine, joe's cocktails, premium mixed drinks2 Hours 503 Hours 604 Hours 70
More Options
Custom packages and cash bar options are available - just ask!
Vip TreatmentAdd a bottle of liquor for $250 (upcharges may apply). Hanks Vodka, Corazon Tequila, Bacardi Rum, Beefeater, Jack Daniel's, Evan Williams, Johnnie Walker Black
Food & CateringPackages available through Bub City. Small bites to full buffet options. Speak with one of our catering managers to create the perfect party
Suite Menus
Sandwiches
Served on a Martin's Potato Bun and Wrapped Individually
10 Pack Fried Chicken Sandwiches99.95
10 Pack Pulled Pork Sandwiches109.95
10 Pack Chopped Brisket Sandwiches139.95
Double-Barrel Burgers
Double-barrel Burgers2 Smashed All-Beef Patties with American Cheese. All American: Ketchup, Mustard, Pickle, Onion. Cali: Lettuce, Tomato, Onion, Special Sauce10 Pack 99.95
Wings
Hickory Smoked Chicken WingsServed with Buffalo and White Lightning Sauce50 Jumbo Wings 119.95100 Jumbo Wings 170.95
Fried Chicken Tenders
Fried Chicken TendersButtermilk Brined and Served with Buffalo, Nashville and Ranch Dressing30 Pieces 89.95
Nacho Party
Build Your Own Bbq NachosFresh Corn Tortilla Chips, Atomic Cheese Sauce, Guacamole, Roasted Tomato Salsa, Sour Cream, Hot Sticky Sweet BBQ Sauce and JalapenosChopped Brisket 139.95Chipotle Pulled Pork 119.95BBQ Black Beans 89.95
Barbecue
Quality Meats, Smoked Daily
Build Your Own Sandwich Sliders
Served with Martin's Potato Buns, Pickles, Cole Slaw and BBQ Sauce. Add a Slab of Dry Rubbed Hickory Smoked St Louis $31.95
3 Lbs Pulled Pork Shouldergf99.95
3 Lbs 18-hr Smoked Natural Brisketgf129.95
Sides
Full Pans
Mac N' Cheesy45.95
Brisket Mac N' Cheesy69.95
Pulled Pork Mac N' Cheesy65.95
Waffle FriesServed with Ketchup & Ranch29.95
Tater TotsServed with Ketchup & Ranch29.95
Passed on a Platter
Priced by the Dozen
Bourbon Glazed Bacon Bites26.95
Fried Pickles15.95
Mini Cheese Burgers24.95
Mini Grilled Cheese18.95
Mini Fried Chicken Sliders24.95
Pulled Pork Sliders24.95
Brisket Sliders26.95
Desserts
Priced by the Dozen
Petite Pies47.95
Full Size Chocolate Chip Cookies29.95
Please advise the restaurant of any dietary restrictions and allergies when dining in or placing a carry out order. Consuming raw or undercooked meats, poultry, seafood, shellfish, or eggs may increase your risk of foodborne illness. All items are subject to availability. | As a way to offset rising costs associated with the restaurant (food, beverage, labor, benefits, supplies), we have added a 3% surcharge to all checks. We do this in lieu of increased menu prices. You may request to have this taken off your check, should you choose.
Events at Joe's Live – Rosemont