Mon Ami Gabi – Bethesda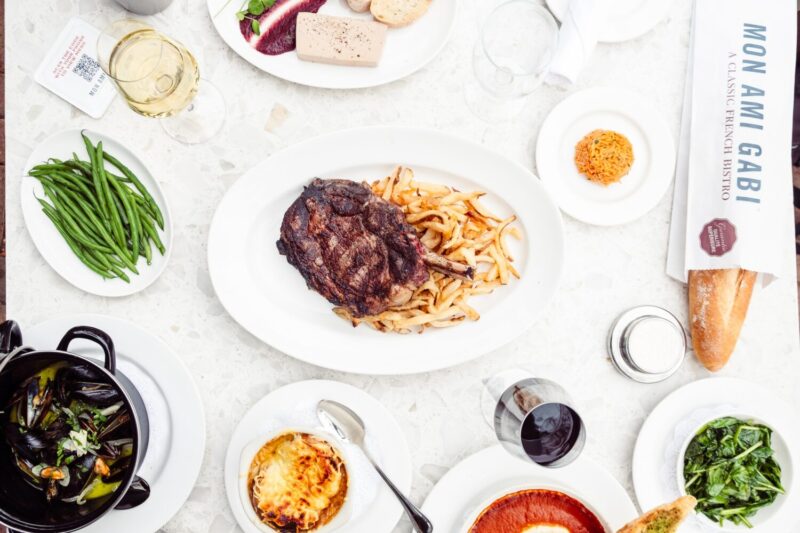 Hours
Monday - Thursday: 11:30 AM – 9:00 PM
Friday: 11:30 AM – 10:00 PM
Saturday: 11:00 AM – 10:00 PM
Sunday: 11:00 AM – 9:00 PM
Please Note: Holiday Hours May Differ
Menus
Weekend Brunch
Eggs Benedict
toasted english muffin, two poached eggs & hollandaise served with breakfast potatoes & onions
The Classic*choice of: canadian bacon, smoked salmon or steak18.95
Eggs Florentine*spinach & artichoke18.95
Brunch Specialties
3 Eggs Your Way*breakfast potatoes, choice of bacon or sausage13.95
Ham & Cheese Crêpescrambled eggs, smoked ham, jarlsberg, greens14.95
Quiche Lorrainethick-cut bacon, jarlsberg, caramelized onions16.95
Belgian Wafflebananas foster or nutella13.95
Brioche French Toastblueberries, chantilly cream, blueberry sauce14.95
Croque Monsieur & Fritessmoked ham & jarlsberg cheese, mornay sauce15.95
Croque Madame & Frites*ham, cheese, mornay sauce, egg16.95
Cocktails
Bloody Maryour house blend with choice of vodka12.95
Mimosachilled champagne with fresh orange juice11.95
Bellinichilled Champagne with peach puree11.95
Kir Royalechilled champagne with chambord liqueur12.95
Surcharge
A 3% restaurant surcharge has been added to all guest checks. If you would like this removed, please let us know
*Consuming raw or undercooked meats, poultry, seafood, shellfish, or eggs may increase your risk of foodborne illness. Please alert your server if you have special dietary restrictions due to a food allergy or intolerance
Drinks
Cocktails de Maison
GabitiniGrey goose, blue cheese olives, gabi's favorite!14.95
French Martinigrey goose citron, chambord, pineapple, champagne14.95
Classic Manhattanbulleit rye, sweet vermouth, bitters, brandy soaked cherries, aged in house in small batch casks to perfection13.95
French Manhattanmakers mark, grand marnier, sweet vermouth, brandy soaked cherries14.95
L'orange Crushgrey goose l'orange, triple sec, orange juice, splash of sprite11.95
Chambord Brambleplymouth gin, fresh lemon juice, chambord, simple syrup, crushed ice13.95
Bière
Stella Artois - Belgium7.95
Miller Lite - Wisconsin4.95
Loose Cannon Ipa - Maryland7.95
Kronenbourg 1664 - France7.95
Leffe Belgian Blonde Ale - Belgium8.95
Lagunitas Ipa - California7.95
St. Pauli Girl Non-alcoholic - Germany6.95
Wines by the Glass
Sparkling/Champagne
Marquis De La Tour - Loire, NvGls. 11Btl. 40
Marquis De La Tour Rosé - Loire, NvGls. 11Btl. 40
Vollereaux Champagne - Brut, NvGls. 30Btl. 120
Rosé & White Wine
Rosé - Château De Campuget, 17/18Gls. 11Btl. 44
Chardonnay - Mon Ami Gabi, 16/17Gls. 11Btl. 44
Sauvignon Blanc - Mon Ami Gabi, 17Gls. 11Btl. 44
Riesling - Emile Beyer, 16/17Gls. 14Btl. 56
Vouvray Demi Sec - Domaine Gautier, 16/17Gls.. 14Btl. 56
Pinot Blanc - Gustave Lorentz, 17/18Gls. 14Btl. 56
Sancerre - Domaine Roger Moreux, 16/17Gls. 19Btl. 76
Red Wine
Pinot Noir - Mon Ami Gabi, 15/16Gls. 11Btl. 40
Merlot - Mon Ami Gabi, 15/17Gls. 10Btl. 40
Moulin-À-vent - Domaine Les Fines Graves, 20Gls. 15Btl. 60
Pinot Noir - Hob Nob, 17/18Gls. 11Btl. 44
Bordeaux - Chateau Mouliniere, 19Gls. 13Btl. 52
Côtes Du Rhône - Vidal-fleury, 15/16Gls. 15Btl. 60
Bord. Supérieur - Château Barreyre, 15/16Gls. 15Btl. 60
Malbec - Château Armandière, 16/17Gls. 15Btl. 60
Surcharge
A 3% restaurant surcharge has been added to all guest checks. If you would like this removed, please let us know
Lunch Prix Fixe
Hors d'Oeuvre
choice of:
Caesar Saladgrana padano cheese, baguette croutons, chili oil
Petite Onion Soup Au Gratinthe french classic baked with gruyère
Soup Du Jourseasonally inspired
Entrée
choice of:
Lunch Cut Steak Frites*gfmaître d'hôtel butter
Roast Salmon*gfbutternut squash oil, creamed spinach, calabrian chili
Warm Chicken & Brie Sandwichcaramelized onions & apple
Croque Monsieurham, gruyère cheese, mornay sauce; add egg* for $1
Dessert
choice of:
Profiterolevanilla ice cream & hot fudge
Chocolate Moussesemi-sweet chocolate, whipped cream & chocolate pearls
Sorbet Du Jour
Surcharge
A 3% restaurant surcharge has been added to all guest checks. If you would like this removed, please let us know
*These items are cooked-to-order. Consuming raw or undercooked meats, poultry, seafood, shellfish, or eggs may increase your risk of foodborne illness. Please alert your server if you have special dietary restrictions due to a food allergy or intolerance
Dining Menu
Hors d'oeuvres
Warmed French Baguettesweet cream butter, amuse bouche2.95
Soup Du Jourseasonally inspiredMP
Melted Briebrown butter chestnuts, cranberry, orange15.95
Wild Escargots De Bourgogneoven-roasted snails, garlic-herb butter16.95
Jumbo Shrimp Cocktailgfserved ice cold23.95
Smoked Salmon*brioche, crème fraîche, egg, red onion, capers19.95
Les Salades
Add: chicken $8.95, salmon* $12.95, steak* $16.95
Frisée & Lardon Salad*thick-cut bacon, soft-poached organic egg, champagne dijon vinaigrette14.95
Petite Green Saladgfavocado, herbs, verjus vinaigrette13.95
Salmon & Baby Spinach*gfavocado, blueberries, walnuts, lemon vinaigrette25.95
Entrées
Cavatelli Pastaconfit celery root, truffle cream, pepato cheese24.95
Roast Salmon*gfbutternut squash oil, creamed spinach, calabrian chili31.95
Fish Du Jour*seasonally inspired, daily selectionMP
Our Famous - Roast Chicken A La Grand-mèregfcrispy free range half chicken, thick-cut bacon, sautéed mushrooms, pommes purée, chicken au jus30.95
Prime Steak Frites
The finest midwest grain-fed beef hand selected for exquisite marbling and unmistakable flavor. Served with our signature hand-cut frites
Béarnaise*gfclassic béarnaise sauce34.95
Classic Cuts
3 Petite Filets*gftruffle butter, bordelaise sauce39.95
Côte De Boeuf*gf22 oz bone-in ribeye smothered in leek & shallot beef butter, served with whipped horseradish crème74.95
Burgers & Sandwiches
Prime Steak Sandwich*caramelized onions & peppercorn aioli21.95
Accompagnements
Sides are great on their own, but even better when shared!
Hand-cut Fritesgf4.95
Surcharge
A 3% restaurant surcharge has been added to all guest checks. If you would like this removed, please let us know
*Contains (or may contain) raw or undercooked ingredients. Consuming raw or undercooked meats, poultry, seafood, shellfish or eggs may increase your risk of foodborne illness. Please alert your server if you have special dietary restrictions due to a food allergy or intolerance
Events at Mon Ami Gabi – Bethesda