RPM Steak – Chicago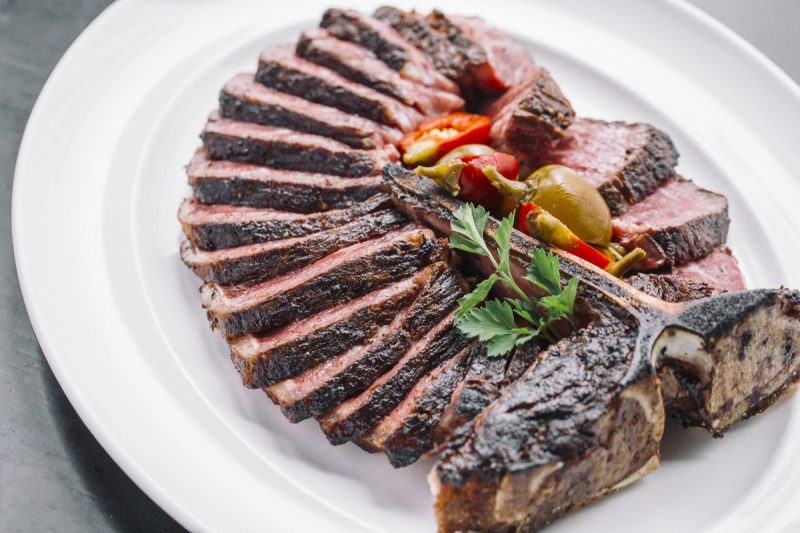 Hours
SUNDAY - WEDNESDAY: 3:00 PM – 9:00 PM
THURSDAY - SATURDAY: 3:00 PM - 10:00 PM
Menus
Dinner
Featured Daily Specials
Prime Rib French DipGruyere, Au Jus, Horseradish Cream26
Hokkaido Snow Beef*Chateau Uenae, Hokkaido, Japan; 3oz A5 Striploin, Wood Grilled, Black Garlic Soy & Wasabi180
White Truffle TajarinKing Crab, White Truffle Butter, Chive52
White Truffle RisottoParmigiano-Reggiano D.O.P. Bruna Alpina, Alba White Truffle, 3g75
White Truffle Butter14
APPETIZERS
Blue Fin Tuna Sashimi*Yuzu Koshō, Fennel Pollen, Single Estate Olive Oil24
FROM OUR COLD BAR
Colossal Tiger PrawnPer prawn21
Rpm Grand Seafood PlatterAlaskan King Crab Legs, Lobster, Oysters, Prawn225
Bread Service
SOUP & SALAD SERVICE
French Onion SoupBlack Truffle, Garlic Croutons, Fontina, Gruyere24
CLASSICS
Truffle BurgerRed Onion Jam, Foie Butter24
STEAKS & CHOPS
At RPM Steak, we are dedicated to sourcing & serving the highest quality ingredients the world has to offer. We have spent years choosing the best farmers, ranchers, butchers & aging houses. Our ongoing mission is to search out & partner with the world's finest purveyors of the best beef to bring to your table.
RPM SIGNATURES
CREEKSTONE FILET
Center-cut Filet*10 oz68
Bone-in Filet*14 oz75
BEEMAN RANCH WAGYU
Bone-in New York Strip*18 oz90
Akaushi Porterhouse36 oz210
Sakura Wagyu
28-DAY PRIME DRY-AGED
Cowboy Steak24 oz105
Grass-Fed Beef
Bone-in Bison Filet*12 oz, High Plains62
SAUCES & BUTTERS
Peppercorn Sauce6
Black Truffle Bearnaise8
FISH & SEAFOOD
Ora King Salmon*Cherry Tomato, Fennel Oil42
VEGETABLES, POTATOES & SIDES
Hen Of The Woods15
Roasted CarrotsLemon Yogurt, Pistachio14
Potato GratinRaclette, Chive18
Rosemary FriesSea-Salt11
*Please advise the restaurant of any dietary restrictions and allergies when dining in or placing a carry out order. Consuming raw or undercooked meats, poultry, seafood, shellfish, or eggs may increase your risk of foodborne illness. All items are subject to availability. | A 3% processing fee is added to all guest checks. This fee may be removed upon your request.
Drinks
COCKTAILS
Spritz & GigglesGiuliana Prosecco, Basic. Vodka, Raspberry15
Mt. FresaCasamigos Blanco Tequila, Strawberry, Montenegro, Lemon15
Fall Old FashionedSazerac Rye, Orchard Demerara, Cinnamon Bitters16
The 749erKaiyo Whisky, Honey, Yuzu18
Barrel Select ManhattanWeller Antique 107, RPM Single Barrel "Pure Success", Carpano Antica, Brovo Vermouth, Cocchi Amaro, Angostura24
GIN & TONICS
Gin And BlossomsJunipero Gin, Lemon, Orange, Juniper Berries, Mint, Rosemary, Fever Tree Premium Indian Tonic16
Legindary AromaticsHendrick's Gin, St-Germain Elderflower, Cucumber, Lime, Fever Tree Mediterranean Tonic17
Thyme Of DayMonkey 47 Gin, Pampelmousse, Grapefruit, Thyme, Fever Tree Aromatic Tonic18
NON-ALCOHOLIC
Seaside CoolerYuzu, Lime, Mint10
WaitlistElderflower, Rose, Lemon10
BOTTLED BEER
Stella ArtoisPilsner, 12oz8
Moody Tongue, "aperitif"Pilsner, 12oz8
Pipeworks, "lizard King"American Pale Ale, 16oz12
Allagash"White" Belgian Style Whitbier,8
Ba Stout, Goose Island, Bourbon County, 201624
WINES BY THE GLASS – SPARKLING
ProseccoGiuliana, Extra Dry, NV13
Brut RoséGraham Beck, Cap Classique, NV15
Charles Heidsieck"Reserve", Brut, NV29
WINES BY THE GLASS – WHITE
Pinot GrigioArtiglio Bianco, Friuli Grave, '1913
Riesling KabinettEugen Müller, "Vom Basalt", Pfalz, '2014
Sauvignon BlancPonga, Marlborough, '2015
Pessac-léognanLes Hauts de Smith, '1425
RiojaGómez Cruzado, '1813
ChablisJean-Paul et Benôit Droin, 201521
ChardonnayCèpe d'Été, Edna Valley, '2014
ChardonnayWalter Hansel, "Meadow", Russian River Valley, '1921
WINES BY THE GLASS – RED
Pinot NoirThree Kings, Edna Valley, '1915
Pinot NoirGeorge, "Hansen", Russian River Valley, '1926
Côtes Du RhôneJean-Louis Chave, "Mon Coeur", '1915
BaroloFranco Molino, 'Cascina Rocca', '1523
MerlotMarina Danieli, Friuli Colli Orientali, '1813
MalbecAngulo Innocenti, "Nonni", Mendoza, '1814
SyrahAndrew Murray, "Tous les Jours", Santa Ynez Valley, '1815
Rioja ReservaLópez de Heredia, "Viña Tondonia", '0821
HermitageM. Chapoutier, "Sizeranne", '1249
MargauxChâteau Paveil de Luze, 20125
Châteauneuf-du-papeDomaine la Consonnière, '1634
Cabernet SauvignonNapa Cellars, Napa Valley, '1819
Cabernet SauvignonAmici, Napa Valley, '1831
A 3% processing fee is added to all guest checks. This fee may be removed upon your request.
Dessert
Featured Daily Special
Peppermint Gelato SundaeMocha Sauce, White Chocolate Peppermint Bark13
Housemade Ice Cream
Our Ice Cream is prepared from Kilgus Farmstead Milk
Cookies & CreamGanache Ripple, Sweet Cream Ice Cream, Magic Chocolate Shell13
Ice Cream SandwichesChocolate Chip Cookie, Vanilla Gelato16
SIGNATURES
14k Chocolate CakeMilk & Dark Chocolate15
Vanilla Sugar DoughnutsBoston Cream13
Rpm CheesecakeSour Cherry, Vanilla Whipped Cream13
Espresso Cloud CakeCoffee Caramel, Cocoa13
Chocolate Peanut Butter PieFeuilletine Crust, Whipped Cream13
TABLESIDE SERVICE
Baked AlaskaSalted Caramel, Vanilla, Warm Chocolate Sauce Flaméed Tableside, Serves 2-421
Dessert Wine
Moscato D'asti"Elio Perrone, "Sourgal" 20201456
Tokaji AszúChâteau Pajzos, "5 Puttonyos", 20061998
SauternesChâteau d'Yquem, 200562248
Late Bottled Vintage PortQuinta do Noval, 201315120
COFFEE & TEA
Featuring La Colombe Coffees & Organic Loose Leaf Teas & Tisanes
A 3% processing fee is added to all guest checks. This fee may be removed upon your request.
Events at RPM Steak – Chicago