RPM Steak – Chicago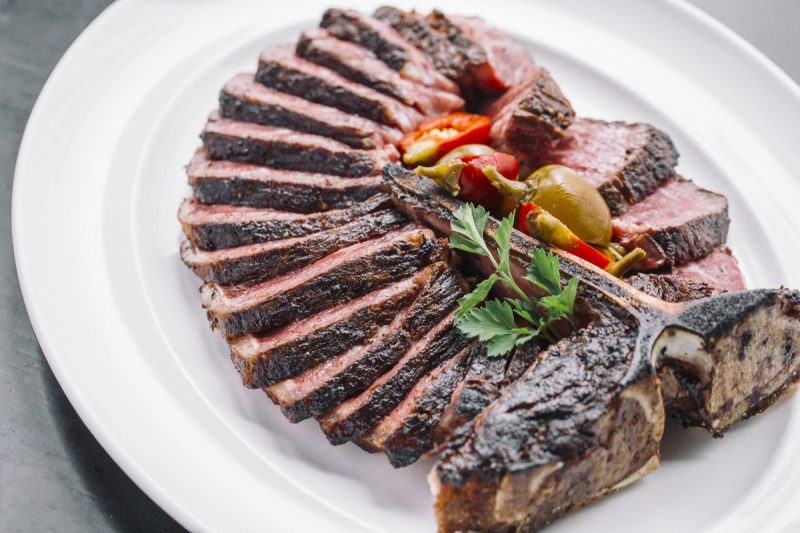 Hours
SUNDAY - WEDNESDAY: 3:00 PM – 9:00 PM
THURSDAY - SATURDAY: 3:00 PM - 10:00 PM

Menus
Dining
FEATURED DAILY SPECIALS
Fall Harvest SaladLolla Rosa, Marcona Almonds, Honey Crisp Apples16
Seared Foie GrasBrioche, Roasted Apples, Cider Jus24
Chanterelle RisottoSaskatchewan, Parmigiano-Reggiano D.O.P. Bruna Alpina36
Cauliflower GratinBraised Leeks, Tillamook White Cheddar12
APPETIZERS
FROM OUR COLD BAR
Colossal Tiger PrawnPer prawn21
Chilled Lobster Cocktail1/2 47Whole 93
CHILLED OYSTERS
East Coast: Rpm Pearl*New Brunswick, Canada, Jalapeño, Cucumber21
West Coast: Coromandel*New Zealand21
HOUSEMADE BREADS
Gruyere PopoversHouse Nordic Butter10
SALAD SERVICE
Heirloom Tomato SaladDunbarton Cheddar, Pickled Onion, Basil16
Shredded KaleCrispy Shitake Mushroom, Bacon, Parmesan14
CLASSICS
Wagyu Smash Burger*Yuzu Kosho Aioli26
Roasted ChickenPommes Puree, Truffle Jus34
STEAKS & CHOPS
At RPM Steak, we are dedicated to sourcing & serving the highest quality ingredients the world has to offer. We have spent years choosing the best farmers, ranchers, butchers & aging houses. Our ongoing mission is to search out & partner with the world's finest purveyors of the best beef to bring to your table.
RPM SIGNATURES
28-DAY PRIME DRY-AGED
Porterhouse*48 oz295
WESTHOLME WAGYU
JAPANESE WAGYU
Priced Per Ounce, 2 Ounce Minimum
Chateau Uenae Snow Beef*The Rarest Imported Beef, Ribeye, Hokkaido, Japan58
Kobe Beef*100% Tajima Cattle, Strip Loin, Hyōgo, Japan64
Kumamoto*Japan's Only Free-Grazing Wagyu, Tenderloin, Kumamoto, Japan35
Takamori "drunken Wagyu"*Fattened on Rice From The Dassai Sake Brewery, Flat Iron, Yamaguchi, Japan26
BEEMAN RANCH WAGYU
Bone-in New York Strip*18 oz95
Delmonico Ribyeye*16 oz.98
CREEKSTONE FILET
Center-cut Filet*10 oz68
GRASS-FED BEEF
SAUCES & BUTTERS
Peppercorn Sauce6
Black Truffle Bearnaise8
FISH & SEAFOOD
VEGETABLES, POTATOES & SIDES
Roasted Sweet CornLemon Garlic, Feta, Fresno Chili13
Japanese Sweet PotatoesSweet Soy, Fresno Chili13
Rosemary FriesSea-Salt11
*Please advise the restaurant of any dietary restrictions and allergies when dining in or placing a carry out order. Consuming raw or undercooked meats, poultry, seafood, shellfish, or eggs may increase your risk of foodborne illness. All items are subject to availability. | A 3% restaurant surcharge has been added to all guest checks. If you would like this removed, please let us know.
Drinks
COCKTAILS
Barrel Select ManhattanJourneyman Featherbone, RPM Single Barrel, Poli Vermouth, Nardini Rabarbaro27
Paloma SwizzleCasamigos Blanco Tequila, Grapefruit Soda, Lime16
Spritz & GigglesGiuliana Prosecco, Basic Vodka, Raspberry15
Fall Old FashionedSazerac Rye, Orchard Demerara, Cinnamon Bitters16
The 749erKaiyo Whisky, Honey, Yuzu18
GIN & TONICS
Gin And BlossomsFords Gin, Lemon, Orange, Juniper, Mint, Rosemary, Q Spectacular Tonic16
Legindary AromaticsHendrick's Gin, Elderflower, Cucumber, Lime, Q Elderflower Tonic17
Shiso LovelyNordés Gin, Pampelmousse, Shiso, Grapefruit Tonic20
ZERO-PROOF
Seaside CoolerQ Tropical Ginger Beer, Calamansi, Mint10
WaitlistElderflower, Rose, Lemon10
BEER
Alter Brewing, "heavy Squeeze"Unfiltered Lemon Wheat Ale, 12oz10
Moody Tongue, "aperitif"Pilsner, 12oz8
Pipeworks, "lizard King"American Pale Ale, 16oz12
Stella ArtoisPilsner, 12oz8
WINES BY THE GLASS – SPARKLING
ProseccoGiuliana, Extra Dry, NV14
Brut RoséGraham Beck, Cap Classique, NV15
Charles Heidsieck"Reserve", Brut, NV29
WINES BY THE GLASS – WHITE
Pinot GrigioArtiglio Bianco, Friuli Grave, '2013
Riesling KabinettBollig-Lehnert, "Trittenheimer Apotheke", 201615
Sauvignon BlancPonga, Marlborough, '2115
Sauvignon BlancMatthew Wallace, "Hardin Ranch", Napa Valley, 202021
SancerreTerre de Princes, '1921
ChablisDomaine Louis Moreau, '2021
ChardonnayCèpe d'Été, Edna Valley, '2014
ChardonnayMaldonado, "Los Olivos", Napa Valley, 202021
WINES BY THE GLASS – RED
Pinot NoirThree Kings, Edna Valley, '2115
Pinot NoirGeorge, "Hansen", Russian River Valley, '2026
Côtes Du RhôneJean-Louis Chave, "Mon Coeur", '2015
BaroloBergadano, '1623
NaoussaDomaine Karydas, '1621
MalbecMalbec, DiamAndes, "Perlita", Uco Valley, '1815
MargauxChâteau Paveil de Luze, '1625
Châteauneuf-du-papeDomaine la Consonnière, '1634
Cabernet SauvignonAmici, Napa Valley, '1931
Cabernet SauvignonMemento Mori, "Vanitas", Napa Valley, '1949
Cabernet SauvignonNapa Cellars, Napa Valley, '1919
A 3% restaurant surcharge has been added to all guest checks. If you would like this removed, please let us know.
Dessert
Housemade Ice Cream
Our Ice Cream is prepared from Kilgus Farmstead Milk
Cookies & CreamGanache Ripple, Sweet Cream Ice Cream, Magic Chocolate Shell13
SIGNATURES
14k Chocolate CakeMilk & Dark Chocolate15
Vanilla Sugar DoughnutsBoston Cream13
Rpm CheesecakeMichigan Blueberries, Vanilla Whipped Cream13
Chocolate Peanut Butter PieFeuilletine Crust, Whipped Cream13
TABLESIDE SERVICE
Baked AlaskaSalted Caramel, Vanilla, Warm Chocolate Sauce Flaméed Tableside, Serves 2-421
Dessert Wine
Moscato D'asti"Elio Perrone, "Sourgal" 20211456
Tokaji AszúTokaji Aszú, Royal Tokaji, "Déli Fekvés - 5 Puttonyos", 201825125
SauternesChâteau d'Yquem, 200562248
Tawny PortWarre's, "Otima", 20 Year1785
Late Bottled Vintage PortQuinta do Noval, "Unfiltered", 201415120
Vintage PortDow's, 199439312
COFFEE & TEA
Coffees & Organic Loose Leaf Teas & Tisanes
A 3% restaurant surcharge has been added to all guest checks. If you would like this removed, please let us know.