Tallboy Taco – Chicago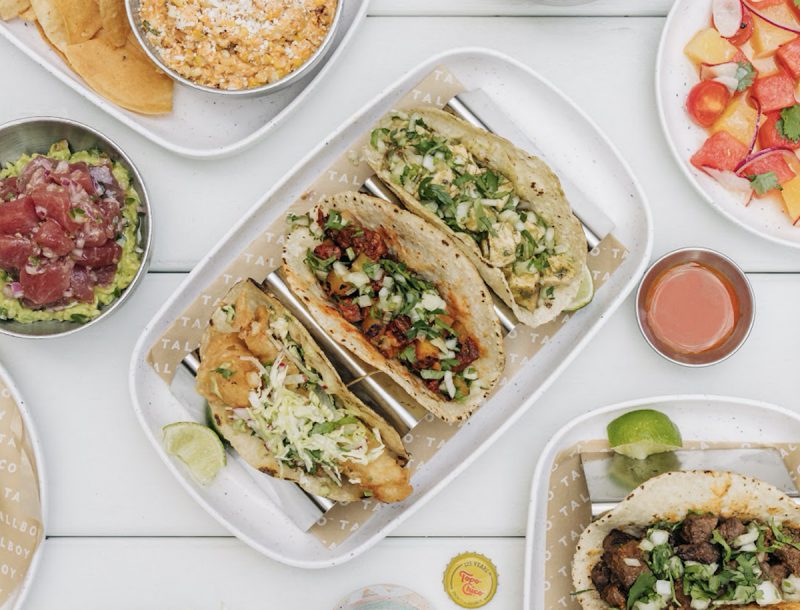 Hours
Monday - Thursday: 11:00 AM - 7:00 PM
Friday: 11:00 AM - 8:00 PM
Saturday: 12:00 PM - 8:00 PM
Sunday: 12:00 PM - 7:00 PM
Menus
Main Menu
Ceviches & Salads
Ahi TunagfAvocado, lime, yuzu6.95
ShrimpgfAvocado, Orange, Serrano7.95
A Great Little Saladgfcharred corn, cheddar, guac, citrus-tomatillo dressing5.95
Tacos
all of our tacos are served on hand-made corn tortillas using local white corn masa. Artisan flour tortillas and crispy lettuce cups are available upon request.
Carne Asada Tacogfmarinated center-cut skirt steak, onion, cilantro5.25
Chicken Chimichurri Tacogfchar-grilled Harrison's farm chicken, onion, cilantro4.50
Fresh Ground Beef Tacogflettuce, tomato, crema, tillamook cheddar cheese4.75
Crispy Fish Tacogfmasa-crusted Atlantic cod, avocado crema, cabbage5.25
Masa-crusted Avocado Tacogfavocado crema, cabbage, onion, cilantro4.50
Grilled Baja Shrimp Tacogfcabbage, radish, onion, cilantro, avocado crema5.50
Pork Al Pastorgfmarinated pork, onion, cilantro, pineapple4.75
Birria Short Ribgfbraised beef, adobo, braising consome5.25
Tallboy Combochoose any three tacos - served with chips & guacamole15.95
Chips & Dips
Chips & Salsagf3
Guacamolegf4
Corn Funditogf4.50
Queso Blancogf5
Nachitosgfqueso blanco, guacamole, pico de gallo6.95
Sweets
Cinnamon Toast Crunch Treat2.50
Sea Salt Chocolate Chip Cookie2.50
Churroscinnamon sugar, sea salt caramel / 5 pieces4.50
Pineapplepineapple soft serve, lime zest3
Cinnamon Churro Crunchcinnamon soft serve, sea salt caramel3
Please advise the restaurant of any dietary restrictions and allergies when dining in or placing a carry out order. Consuming raw or undercooked meats, poultry, seafood, shellfish, or eggs may increase your risk of foodborne illness. All items are subject to availability. | A 3% processing fee is added to all guest checks. This fee may be removed upon your request.
Drinks
Bottles & Cans
Mexican Coke12 oz3
Diet Coke8 oz1.50
Sprite12 oz3
Topo Chico12 oz3
La Colombe Cold BrewBold & Rich with Notes of Cocoa5
AGUAS FRESCAS
3.50
Horchata, Hibiscus Lemonadeadd rum, tequila or vodka - $5
Beer
PacificoMexico7
Margaritas
Margaritalime, organic agave14
Casamigos Margarita KitINCLUDES A 375ML BOTTLE OF CASAMIGOS, LIMES, TWO HOUSE-MADE MIXES; YUZU SOUR AND HIBISCUS LEMONADE, AND A TIN OF LIME-TAJIN SALT. MIX AND SIP YOUR MARGARITAS ANYWHERE - THE KIT ALSO INCLUDES A COCKTAIL JIGGER AND COLLECTABLE CANTARITOS GLASSWARE.65
Coffee by Beatrix
Signature Light Roast1.95
$1 Drip Coffeewith any purchase
A 3% processing fee is added to all guest checks. This fee may be removed upon your request.
Taco Bars
Taco Bars For Two or Four
Taco Bar For Two - 59.95
Taco Bar For Four - 99.95
Call 312-584-3192 To Order For Pick-up.one hour notice requested. pretty please.
Margaritas anyone?
Casamigos Margarita KitOur kit includes a 375ml bottle of Casamigos, limes, two house-made mixes; Yuzu Sour and Hibiscus Lemonade, and a tin of lime-tajin salt. Mix and sip your margaritas anywhere - the kit also includes a cocktail jigger and collectable Cantaritos glassware.65
A 3% processing fee is added to all guest checks. This fee may be removed upon your request.
Events at Tallboy Taco – Chicago