Tokio Pub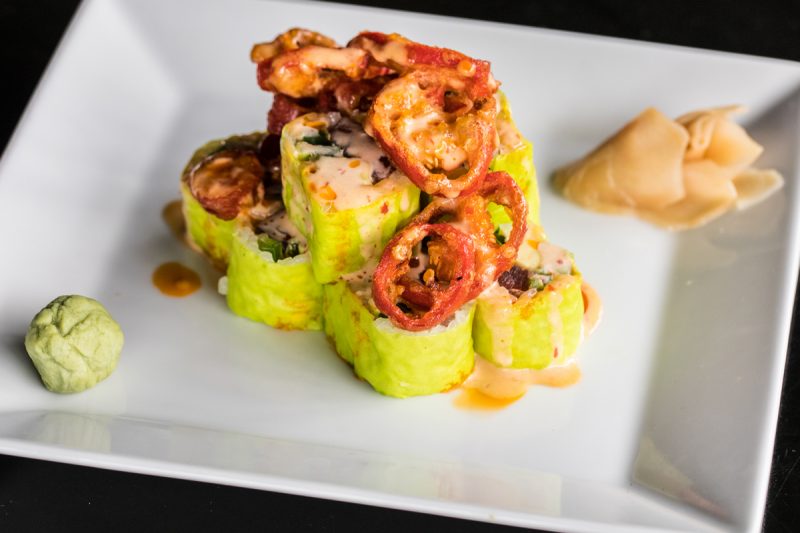 Hours
MONDAY: 4:00 PM - 8:00 PM
TUESDAY - THURSDAY: 11:30 AM - 8:00 PM
FRIDAY - SATURDAY: 11:30 AM - 9:00 PM
SUNDAY: 11:30 AM - 8:00 PM

Menus
All Day Food Menu
Starters
Miso Souptofu, shiitake mushrooms, green onions (GF)5
Edamame Bowlchoice of spicy or ginger garlic (GF)6
Potstickers (5)choice of chicken and pork or vegetable, sesame ginger garlic sauce8
Shrimp Crispy Ricepanko breaded sushi rice, spicy shrimp, tobanjan, cilantro10
Bang Bang Calamarifried, tobanjan sauce, fresno peppers, cilantro15
Bbq Pork Nachoschihuahua cheese, sour cream, guacamole, cilantro, fresnos15
Filet Mignon Hot Rockwith soy chili marinade and cooked over a river rock, house-made marinades, cucumber salad, sesame ginger garlic sauce *Dine in Only* (GF)13
Ahi Tuna Hot Rockwith soy ginger marinade and cooked over a river rock, house-made marinades,cucumber salad, sesame ginger garlic sauce *Dine in Only* (GF)13
Hand Rolled Maki
Caterpillar Rolleel, avocado, cucumber, bbq eel sauce14
Tokio Spicy Tuna Rolltuna, cucumber, tobanjan sauce, soy mustard, chili oil (GF)15
Rangoon Rolltempura fried roll, spicy shrimp, cream cheese, scallions, chili oil, sweet & sour sauce15
Spicy Shrimp, Salmon & Lemonspicy shrimp, cucumber & avocado inside; salmon & lemon outside16
Volcano Rolltuna, avocado, cilantro, tempura fresnos, chili oil16
Red Dragon Rollshrimp tempura, jalapeno, cucumber, spicy tuna and avocado on top, eel sauce, tempura crumbs16
Rainbow Rolltuna, salmon, yellowtail, crab, avocado, cucumber, soy mustard16
Pub Originals
Crying Tiger Shrimp Tacosjumbo butterflied shrimp, avocado, sriracha chili sauce, house slaw, cilantro12
Steamed Asian Bunscrispy breaded chicken breast, buffalo sauce, giardinara aioli, sliced pickles, lettuce12
Nacho Tacosbbq pulled pork, chihuahua cheese, sour cream, guacamole, fresno pepper, cilantro, house slaw13
Soy Ginger Chickengrilled chicken breast, crispy rice noodles, soy ginger vinaigrette, scallions, candied peanuts16
Ramen
Roasted Tofu & Shiitake Mushroombok choy, menma, sesame seed, wakame, scallions, soy marinated egg, fried garlic14
Chicken Potsticker Or Vegetable Dumplingfried chicken potstickers, menma, sesame seed, wakame, scallions, soy marinated egg, fried garlic15
Tempura Shrimpred fresno peppers, menma, sesame seed, wakame, scallions, soy marinated egg, fried garlic15
Seared Filet & Shiitake Mushroombok choy, menma, sesame seed, wakame, scallions, soy marinated egg, fried garlic16
Braised Pork Bellyshredded carrots, menma, sesame seed, wakame, scallions, soy marinated eggs, fried garlic16
Tokio's Famous Ramen Burgerangus beef, soy "molasses,"mizuna, green onion,ramen noodle bun, french fries15
Dessert
Beignetssweet chocolate filled pastry puffs rolled in sugar6
Restaurant Surcharge
A 3% restaurant surcharge has been added to all guest checks. If you would like this removed, please let us know.
Beverage Menu
Wine & Sake
Brutjean louis, franceglass 11bottle 44
Brut Rosealbert bichot, franceglass 14bottle 56
Pinot Grigioalverdi, italyglass 12bottle 48
Sauvignon Blancles silex, franceglass 12bottle 48
Rosésummer water, californiaglass 12bottle 48
Pinot Noira to z, oregonglass 13bottle 52
Cabernet Sauvignonsilver palm, californiaglass 14bottle 56
Ozeki Hot Sakeglass 7bottle 12
Sho Chiku Bai Nigoriglass 7bottle 21
Hakutsuru Excellent Junmaiglass 7bottle 28
Awa Yukon Sparkling Junmaiglass 9bottle 27
Sangrias
Mango Sangriapinot grigio, mango rum, mango puree, fresh fruitglass 12
Mixed Berrycabernet, berry liqueurs, berry purees, fresh fruitglass 12
Cocktails
Ginger Mojitobacardi, canton ginger liqueur, ginger syrup, fresh mint & lime11
Berry Bluesvedka raspberry, island punch pucker, sweet & sour11
In Bloombacardi mango, st. germain, orange juice, cranberry, pineapple12
Passionfruit Margaritael tequileño reposado, passionfruit, dry curaçao, lime juice, simple syrup12
The Flingsuntory roku gin, st. germain, fresh lemon& lime juice, simple syrup13
Orange Blossomsmirnoff orange, billet blanc, simple syrup, lemon juice, sparkling sake13
Sumida Sunrisesuntory toki whisky, licor 43, agave nectar, lemon juice, orange bitters13
Kioto Old Fashionedmars iwai whisky, demerara, bitters, black cherry13
Japanese Whisky
[any way you want it]
Akashi10
Mars Iwai10
Suntory Toki12
Ichiro's Malt & Grain All World14
Bottles & Cans
Saugatuck Blueberry Lemonadeshandy6
Goose Island 312wheat6
Maplewood Pulaski Pilspilsner6
Kona Longboardsour6
Begyle Brewing Hophazardly Ipaipa6
Three Floyds Gumballheadwheat7
Yoho Brewing Sorry Umamijapanese ipa7
Sapporo Blackdark lager7
Bell's Officialhazy ipa7
Draft
Miller Litelager5
Sapporojapanese lager7
Pacificomexican lager7
Blue Moon Belgian Whitewheat7
Stella Artoispilsner7
Revolution Pilspilsner7
Bell's Two Hearted Aleipa7
Sam Adams Summer Alewheat7
Pipeworks Ninja Vs. Unicorndouble ipa8
Three Floyds Zombie Dustipa8
Restaurant Surcharge
A 3% restaurant surcharge has been added to all guest checks. If you would like this removed, please let us know.
Lunch Specials
Pub Originals
Bbq Pork Nacho Tacospulled pork, chihuahua cheese, bbq sauce, roasted tomato salsa, sour cream, guacamole, cilantro, fresno peppers12
Tempura Shrimptempura battered jumbo shrimp & green beans, togarashi fries, tobanjan12
Angry Tuna Poke Bowljasmine rice, edamame, avocado, cucumbers, red cabbage, green onions, cilantro, sesame seeds, soy ginger vinaigrette, chili oil, tobanjan15
Maki Express Lunch
choose any maki and add on as many sides as you would like
Edamame3
Cucumber Salad3
Tuna Nigiri Or Sashimi6
Salmon Nigiri Or Sashimi5
Miso Soup1
Asian Chopped Salad4
Potstickers4
Chips & Salsa2
Chips & Guacamole3
Rotating Pub Special
Steamed Asian Bunsbraised pork belly, bahn mi slaw, hoisin sauce14