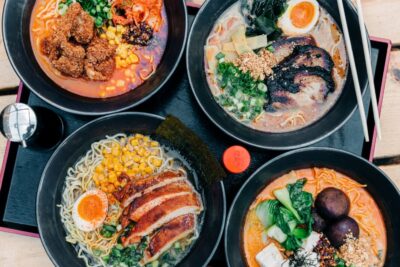 Let's Build the Perfect Bowl of Ramen
What's better than a cozy bowl of ramen
'Tis the season for a hearty bowl of ramen to keep you warm and cozy. But what exactly goes into that umami-filled dish that makes it so satisfying? Executive Chef Kevin Marquardt and his team at Ramen-san break down all the components for building the perfect (and soul-soothing!) bowl of ramen.
Make a reservation or order carryout and delivery from the Ramen-san location nearest you.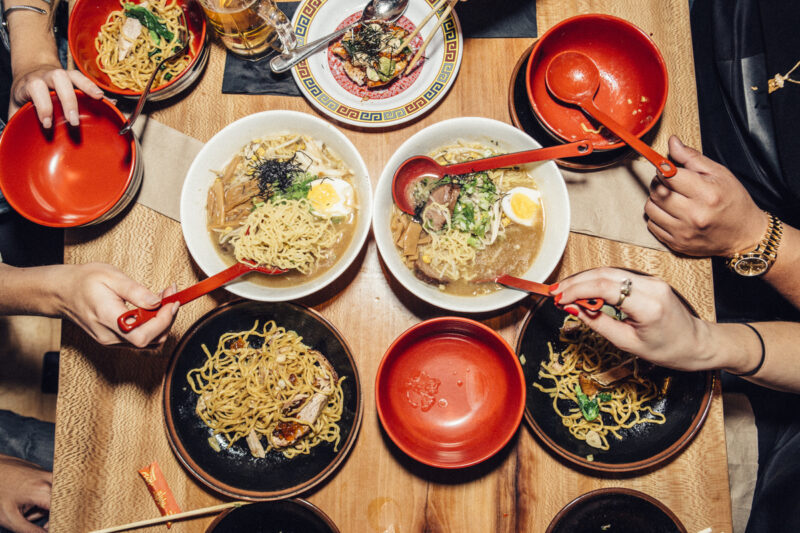 It Begins with Broth
A great bowl of ramen starts with flavor-packed broth, simmered for hours to perfection. Let's explore Ramen-san's traditional and modern takes: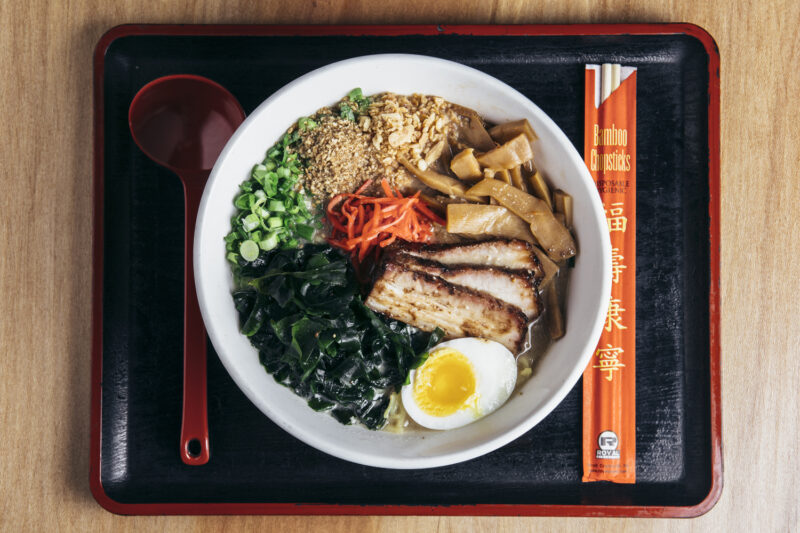 Tonkotsu:  Traditional Hakata-style broth is composed of pork bones that are brought to a hard rolling boil for 10-hours until a rich, soulful broth emerges, then topped with chashu pork and a molten egg.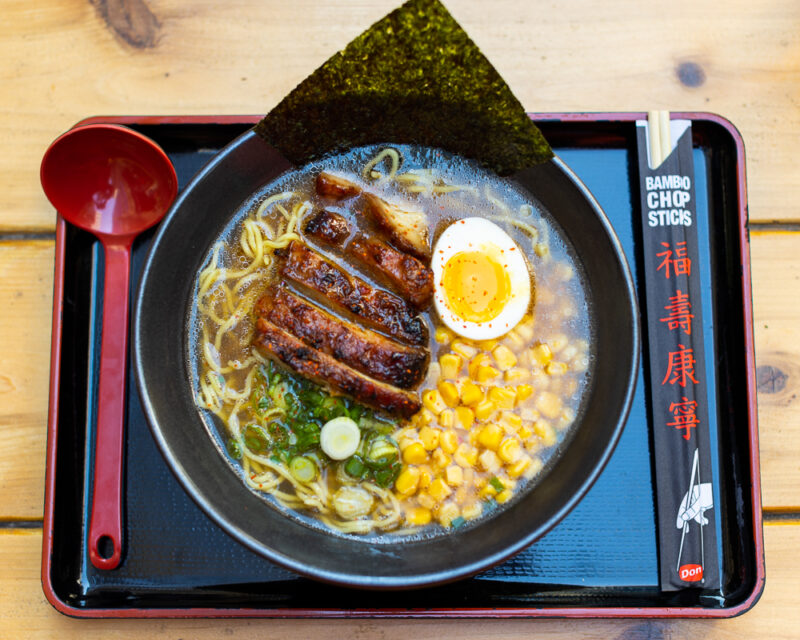 Shio: Translating to "salt", this salt-based chicken broth is a classic, clear broth with a touch of Szechuan pepper. Chicken Chashu, a molten egg, buttered corn and nori round out the bowl.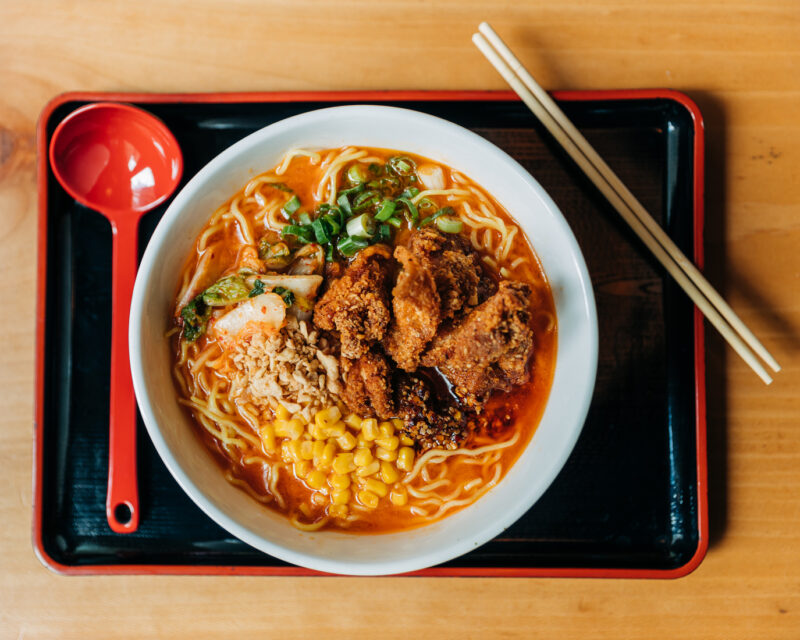 Kimchi: Ramen-san's top-ordered bowl highlights unconventional ingredients. Kimchi isn't native to Japan, but who really cares when you have a delicious spicy bowl of ramen topped with fried chicken, buttered corn and fried garlic in front of you?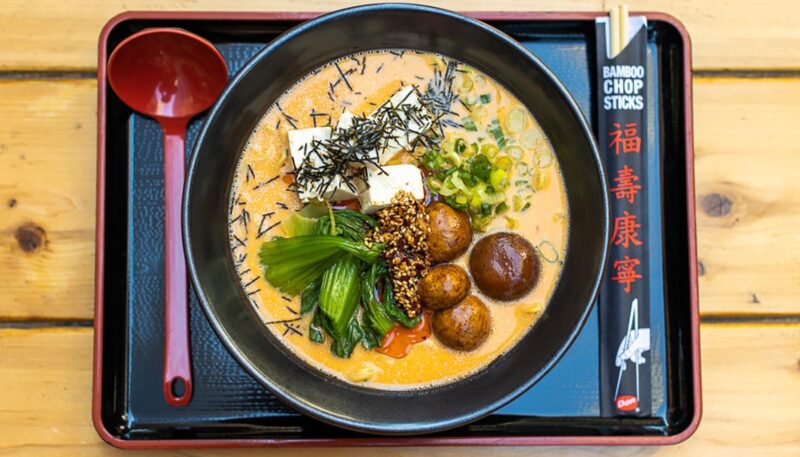 Tantan-San: Don't let the bone broth movement fool you! Ramen-san offers a roasted mushroom-based broth with tofu, braised mushrooms, and bok choy for vegetarians (or if you're just in the mood for a lighter bowl!). Pro tip: If you want to make this bowl vegan, sub the egg noodles with the gluten-free noodles.
The Noods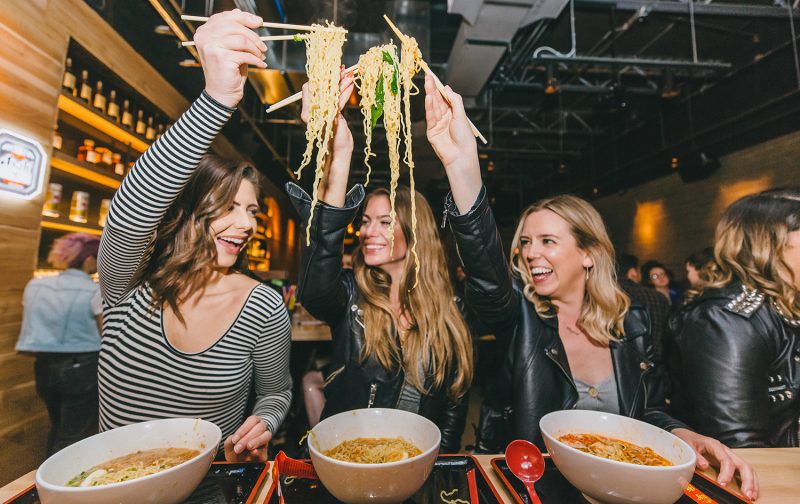 At Ramen-san we use a classic Tokyo style wavy egg noodle that is made for us by Sun Noodle. This style is best for carrying the deep flavor of the ramen broth, ensuring it is present for every bite. Gluten-free? No problem, gluten-free rice noodles are available upon request at all Ramen-san locations.
Love on Top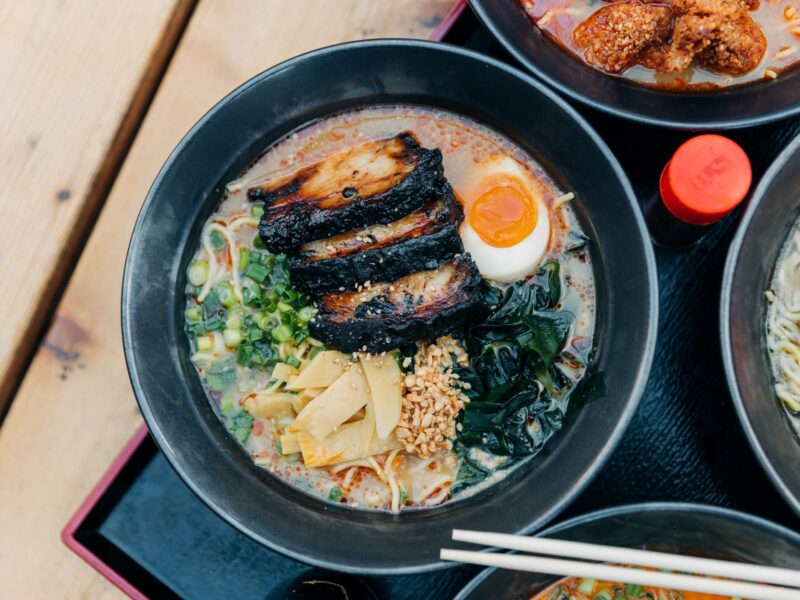 You've got your broth bases covered, now let's explore all of those toppings. (fried garlic, molten eggs, nori, rayu and more!). These additions are endless, so we've included a few of our favorites that pair perfectly with the broth.
The Tonkotsu ramen is a deep, rich broth that is made by simmering pork for 10+ hours. Topped with pork belly that has been cured with Chinese five spice, glazed with hoisin sauce, then slow roasted until caramelized.
The Kimchi & Fried Chicken Ramen, is a spicy take on the 10+  hour broth. The flavor is enhanced with a spicy miso paste, kimchi and housemade karaage fried chicken and buttered corn.
The Chicken Shio is a lighter style broth that is topped with flavorful Char-siu marinated chicken thighs, buttered corn, a molten egg and green onions.
The broth is the true standout TanTan ramen, as it's made with vegetables and roasted mushrooms to achieve its rich umami flavor.  The shredded nori extends that balanced umami to complement the mushroom flavor.
Some add-ons that go perfectly with any bowl of ramen you choose?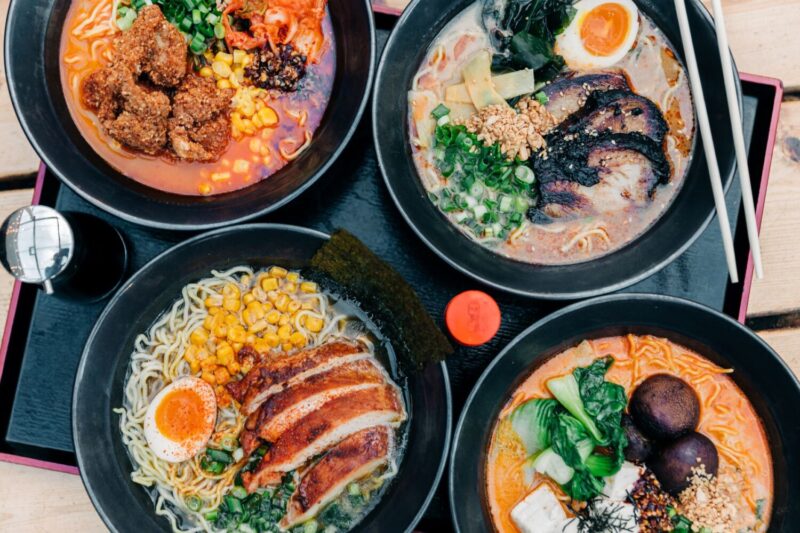 The molten egg is an egg that is cooked until soft so the white is fully cooked and the center is slightly cooked until the center is still molten.
The fried garlic is added to many dishes to help balance with crunch and caramelization.
The rayu is a spicy sesame oil that adds a slight kick and roasted sesame flavor.
Come warm up at the Ramen-san in River North, Fulton Market or Streeterville. Make a reservation or order carryout and delivery from the Ramen-san location nearest you.
Looking for more piping hot bowls of soup to warm you up this winter, check out these soup options at Lettuce restaurants near you.