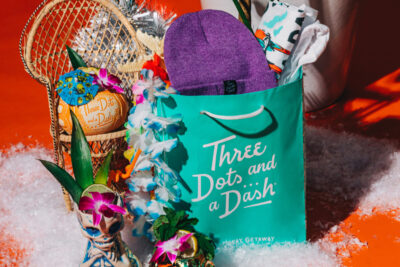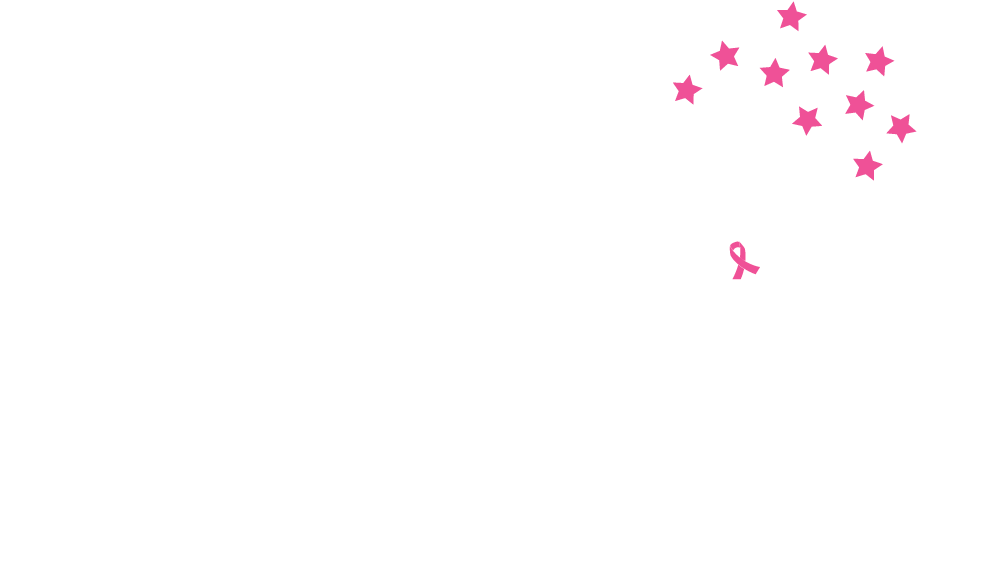 Your Lettuce Entertain You Gift Guide is Here!
The perfect gift for food lovers
We'll admit it, shopping for the perfect gift is hard. We're here to make it easier. From specialty sauces and salts to Windy City Smokeout Tickets and more, we have something for all of your gifting needs.
You can now get your favorite Lettuce Entertain You dishes shipped nationwide, check them out.
For when you procrastinated…
LETTUCE ENTERTAIN YOU GIFT CARDS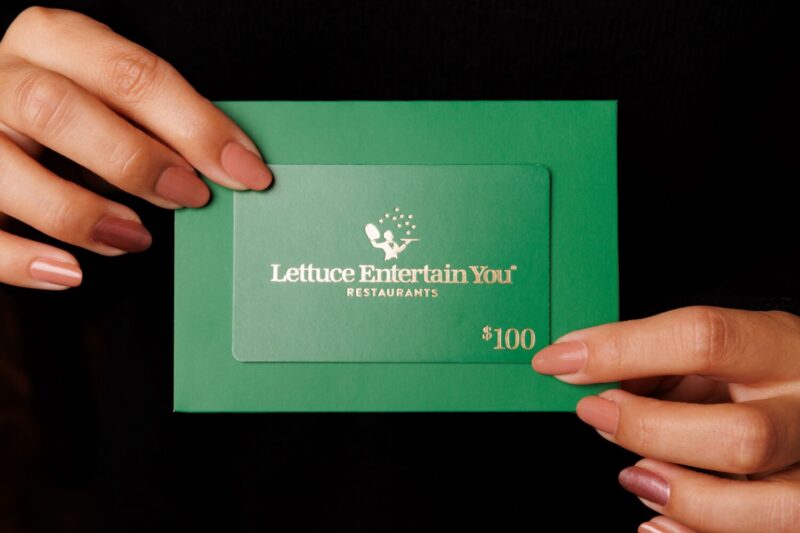 The perfect gift for anyone with an appetite. Lettuce Gift Cards are redeemable at 100+ Lettuce Entertain You Restaurants nationwide, and they never expire!
Order Lettuce Entertain You Gift Cards today on Lettuce.com or purchase through the LettuceEats App.
Pro-tip: Lettuce Entertain You eGift Cards can be purchased last-minute and they will hit the inboxes of your loved ones almost immediately. Whether buying for a sushi-lover or steak fanatic, we've got you covered. Purchase Lettuce Entertain You Gift Cards today.
For the Forever Traveler…
'MEDITERRANEAN SUMMER' CANDLE FROM ABA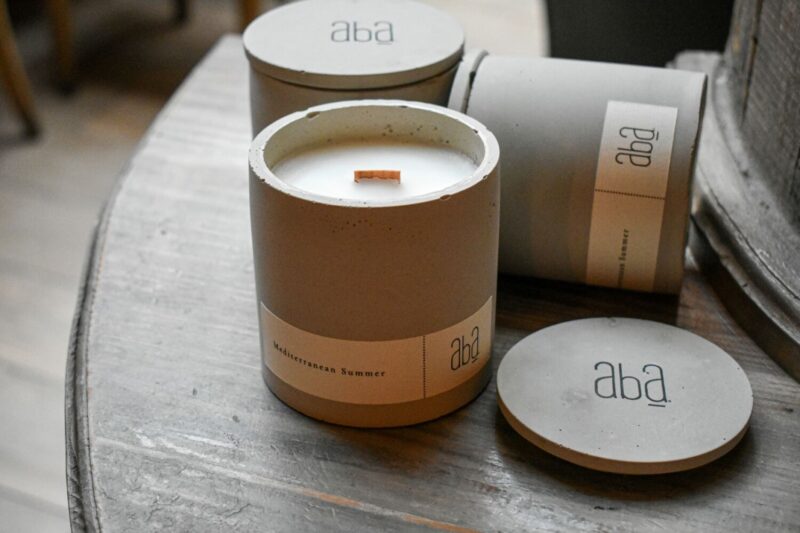 Gift the gift of a staycation to the Mediterranean anytime. This is not just a candle, it's an evening spent under the glowing lights and olive trees, laughter and memories made over your favorite mezze on the patio. It's toasting to friends with a hand-crafted cocktail amidst the scent of Mediterranean spices lingering in the air. It's everything Aba is, brought to your home with the swipe of a match in Aba's 'Mediterranean Summer' candle. Crafted locally in Chicago by TEN|4 Candle Co, each vegan, non-toxic candle is composed of coconut soy wax and a wooden wick. The custom scent will transport you back to Aba with notes of sandalwood, cedarwood, orange, patchouli and coconut milk, poured into a hand-made concrete canister for a gift that tickles almost all of the senses. Purchase the Mediterranean Summer candle at the Aba Chicago or Austin host stands or order for same-day pick-up through Tock. Order a candle from Aba in Chicago. Order a candle from Aba in Austin.
For the Aspiring Chef…
SALAD DRESSINGS, MARINADES AND COFFEE FROM WILDFIRE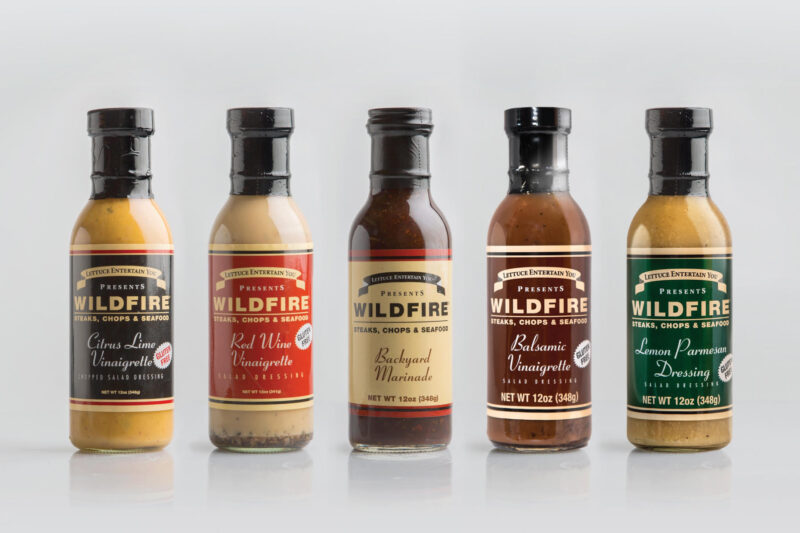 You can now re-create the iconic Wildfire Chopped Salad and other signature dishes at home. Purchase Wildfire Citrus Lime Vinaigrette, Red Wine Vinaigrette, Lemon Parmesan Dressing or the Backyard Marinade or grab a bag of ground Wildfire blend coffee. The Wildfire Blend Coffee is made exclusively for Wildfire by Intelligentsia, using direct trade coffee beans from Honduras and Brazil and is available in regular or decaf (12 oz. ground). Dressings and marinades are available to purchase at all Wildfire locations, all Chicagoland Mariano's and Sunset grocery stores and Lund's & Byerly's in Minnesota or online and the coffee is available to order online with your carryout and delivery order from all Wildfire locations. Order Wildfire dressings marinades and coffee online.
Pricing for dressings, marinades and coffee blend varies.
STEAK SALTS FROM RPM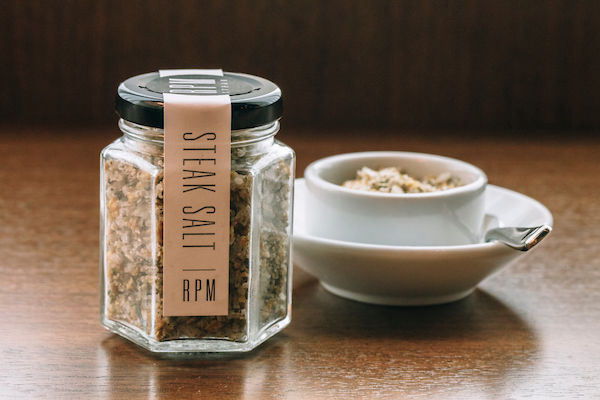 Composed of classic steakhouse spices – including sel gris, rosemary, thyme, garlic, onion powder, oregano, coriander and long pepper – RPM's Steak Salt is the ideal gift for anyone who loves to cook. Season raw steaks with this salt before cooking, which will ensure optimal flavor, or use it to finish any type of meat (or fish, or chicken, or vegetables!) and you'll look like a pro every time. RPM's Steak Salt comes wrapped in a sleek black box and tied with a black and white RPM ribbon, which makes an elegant gift.
$8 + shipping || Purchase RPM Steak Salt by calling the restaurant directly at 312-284-4990.
SHAW'S LOBSTER ROLL KIT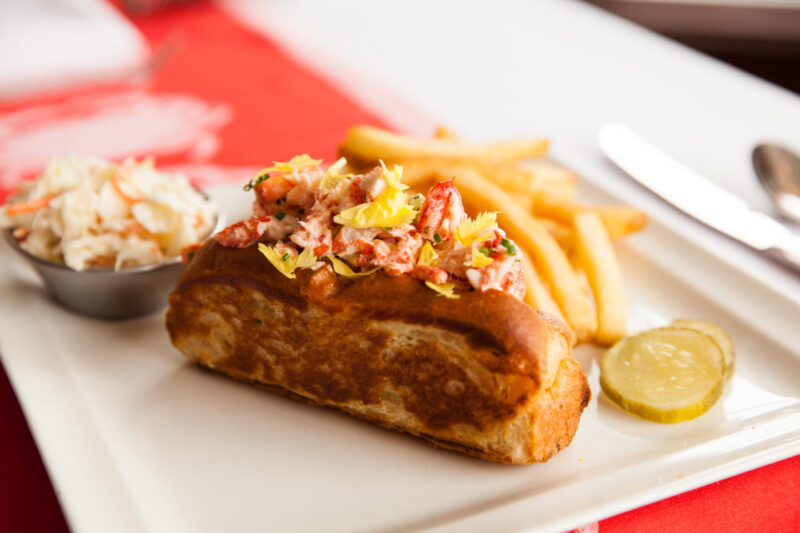 Shaw's Crab House has been known for bringing in the freshest seafood from coast to coast and now, you can enjoy Shaw's New England Lobster Roll Kit shipped nationwide. This is the perfect gift to send someone a taste of Chicago.  Shaw's Lobster Roll Kits include six rolls for $128.99, plus tax (shipping included). Order Shaw's Lobster Roll Kits. In addition to the Lobster Roll Kits, choose combinations of Shaw's Lobster Roll Kit, Maryland Style Crab Cakes, and Lobster Mac & Cheese.  Mix and match with other Chicago institutions like Lou Malnati's and Wildfire. To order Shaw's Crab House combinations on Tastes of Chicago, click here.
EIFFEL TOWER RESTAURANT COOKBOOK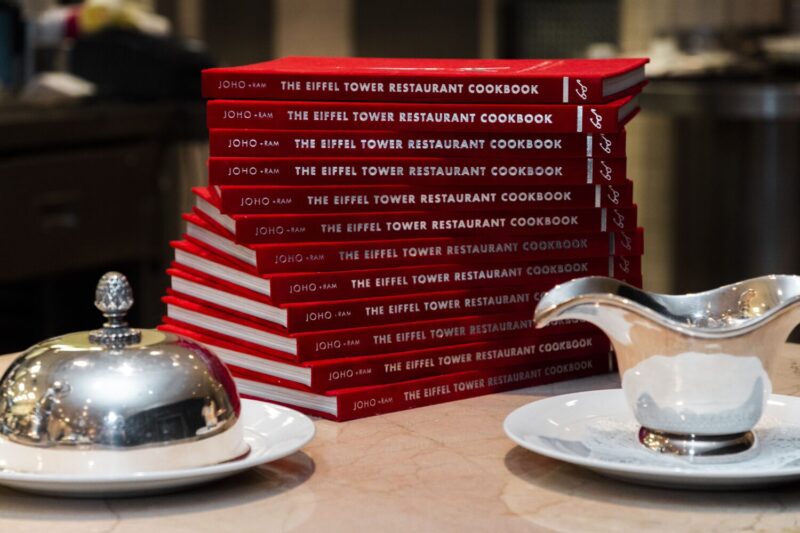 Acclaimed Chef J. Joho takes readers into his kitchen, where he shares 50 of his signature dishes from Eiffel Tower Restaurant in Las Vegas. Explore recipes like The Everest Spoons, a delicate amuse bouche, to elegant desserts like Alsace Apple Strudel and an assortment of signature soufflés. With over 75 photos capturing the food and ambiance of Las Vegas's most romantic restaurant, The Eiffel Tower Cookbook brings a touch of Parisian magic back to the home kitchen and is $50, plus tax. Buy the Eiffel Tower Restaurant Cookbook here.
For the fashionista…
'ZA HATS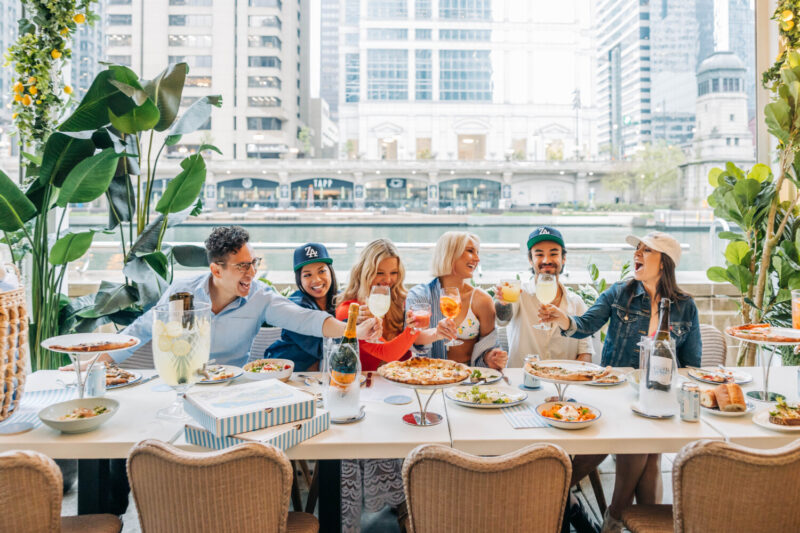 A lover of all things pizza? We've got the perfect accessory for you, the new, exclusive Za Hats for $39.95, plus tax. Order a Za Hat online.
R.J GRUNTS TIE-DYE SHIRTS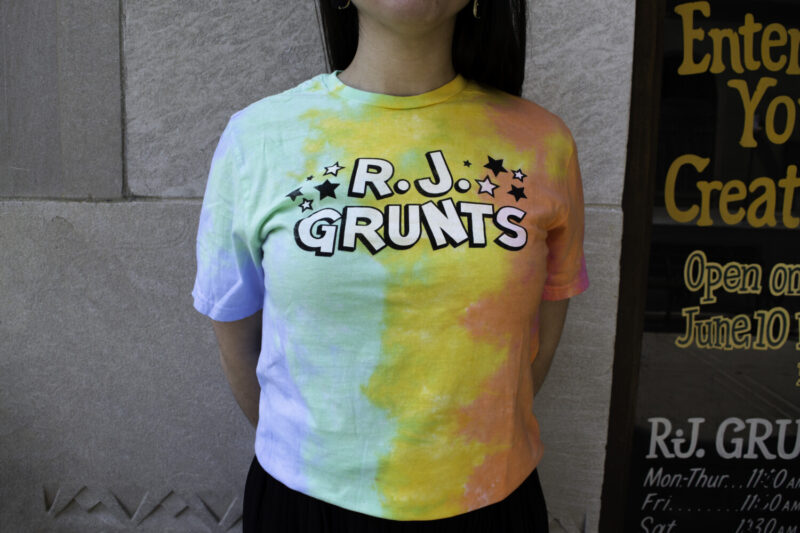 R.J. Grunts Tie-Dye shirts are here to add a splash of color to the wardrobe of Lettuce lovers. The T-shirts can be purchased at the restaurant for $35, plus tax.
L. WOODS MERCH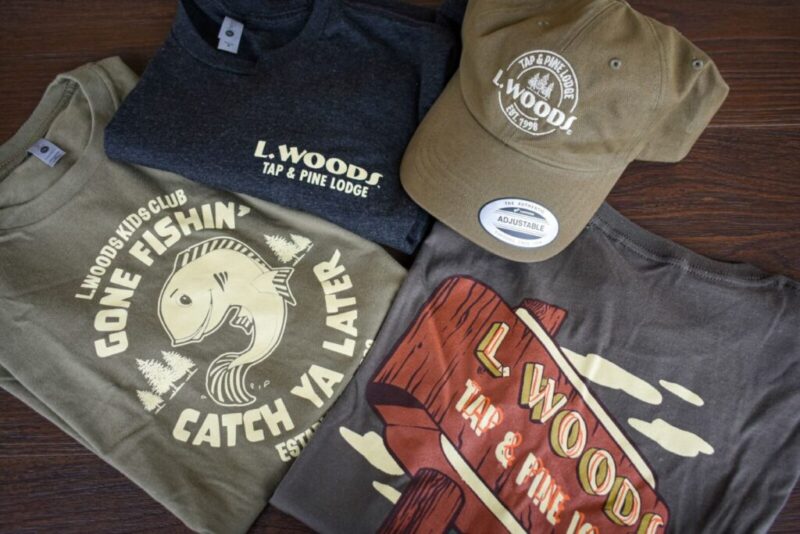 Fans of L. Woods can represent everywhere they go! Shop the exclusive merchandise today, offering adult and kid sized shirts as well as hats. Purchase in store or order L.Woods' mech online here.
THREE  DOTS AND A DASH MERCH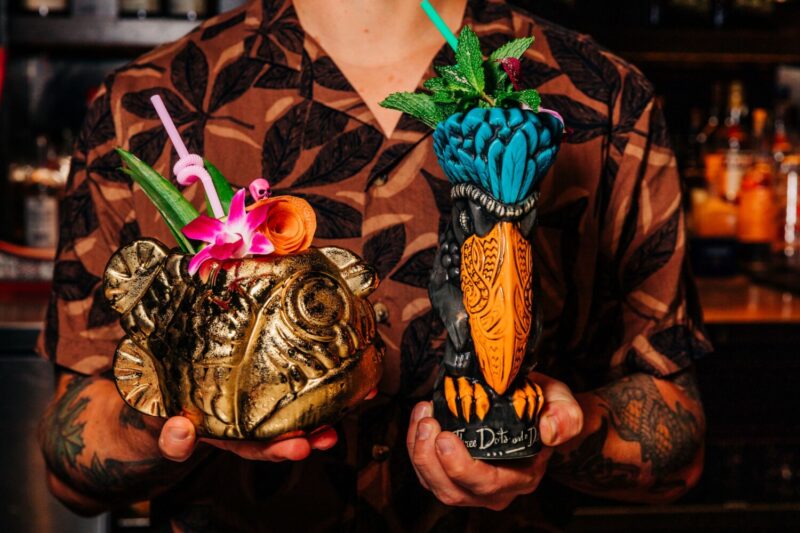 Three Dots and a Dash custom merchandise is here! Check out our latest mugs: The Gilded Angler Fish & Enchanted Toucan. Purchase these limited-edition mugs and more on the online mug shop, then have 'em shipped (nationwide) right to your front door. Or come on by the merch store, located inside Three Dots and a Dash, and shop from selected mugs, hats, snow globes, and more during the bar's hours of operation.
SUSHI-SAN HOODIES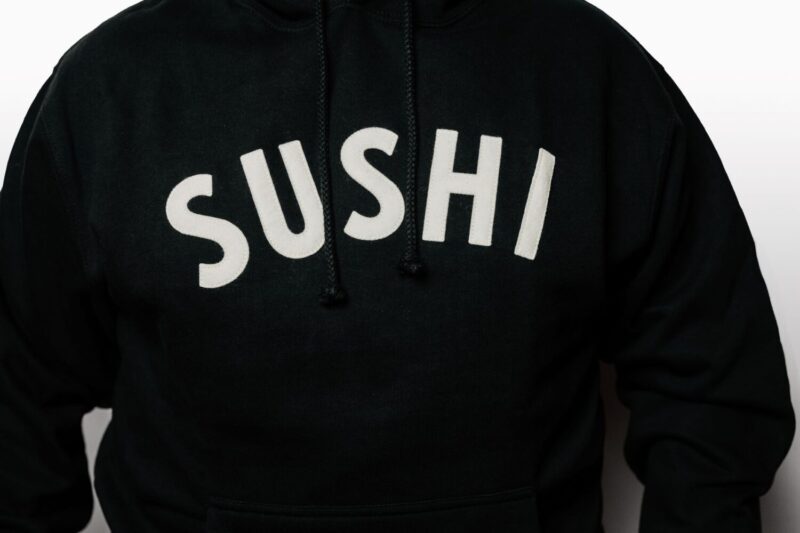 Show your love for Sushi with Sushi-san's custom Sushi sweatshirt. These hoodies are $65, plus tax and are available for purchase at Sushi-san on Grand Ave and through Sushi-san's online store.
For your food loving friends and family…
THE OMAKASE ROOM AT SUSHI-SAN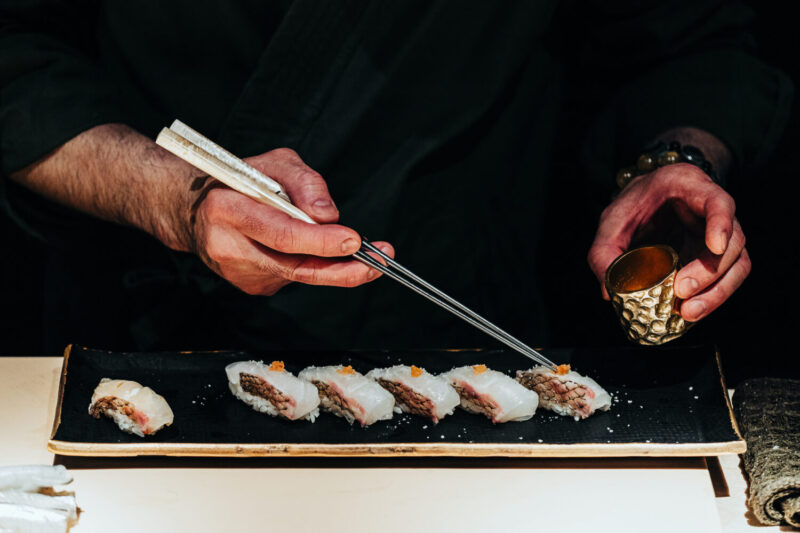 Give the gift of a one-of-a-kind omakase experience from The Omakase Room at Sushi-san. For your food loving friends and family, you can now purchase a customized experience from The Omakase Room. Each experience starts at $250, plus tax (gratuity not included) per person for the 18-course menu from Master Chef Kaze Chan. You can also opt to add on (or purchase on its own) a beverage pairing such as the non-alcoholic pairing ($65, plus tax), sake pairing ($95, plus tax), wine pairing ($150, plus tax) or wine and sake pairing ($175, plus tax).  To purchase the omakase experience, email theomakaseroomevents@leye.com and the team will help you personalize your gift.  The Omakase Room at Sushi-san is open Thursday, Friday and Saturday for 5:30 PM and 8:30 PM seatings.
WILDFIRE, SHIPPED TO YOUR DOOR BY TASTES OF CHICAGO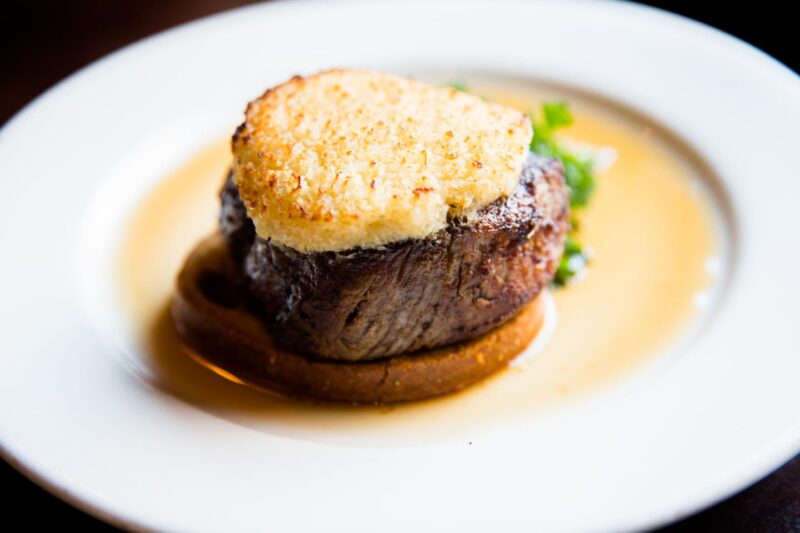 Feeling nostalgic for midwestern mainstays? Tastes of Chicago is making it easier than ever to get your hands on Wildfire favorites – order it a la carte or packaged a la carte with Lou Malnati's iconic deep-dish pies!
Filets: 8-oz filets with both horseradish and blue cheese crusts || $90.99 – $224.99 (includes shipping) || Purchase Wildfire's Filets
Seasonal Pie of the Month: Highlighting the freshest and most flavorful fruits of the season, delicious hand-made pies are available year-round and can be bundled with Lou Malnati pizzas – an epic gift for your favorite foodie || Prices vary || Purchase Wildfire's Seasonal Pies
For the at-home Barista…
BEATRIX COFFEE ROASTERS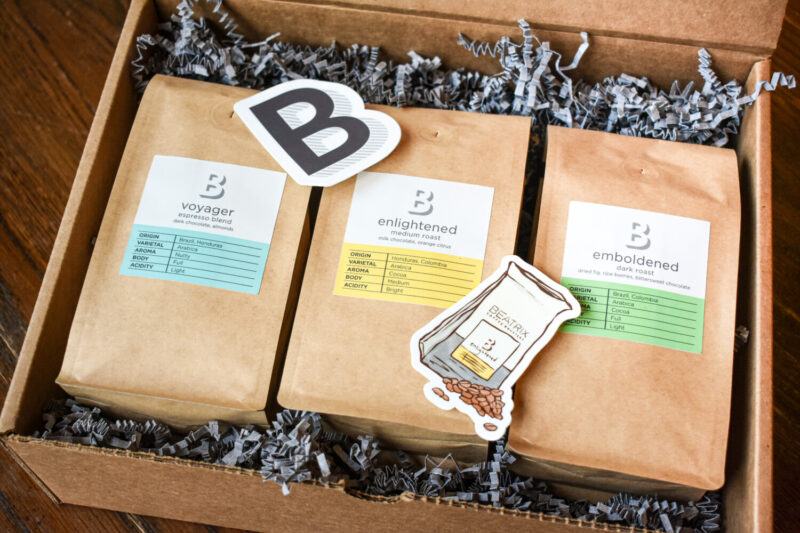 Give the gift of coffee with Beatrix Coffee Roasters, a coffee line from the team behind the coffee bar at Beatrix. Beatrix Coffee Roasters features Medium, Dark, Espresso and Decaf Roasts, bringing great tasting, quality coffee to your neighborhood, one mug at a time. Beatrix Coffee Roasters offers nationwide shipping and is also sold at each Beatrix location (River North, Loop, Streeterville, Fulton Market and Oak Brook). Send the coffee-lover in your life a Gift Set for $32.95, plus tax and shipping. Each set includes three, 8 oz. bags of Enlightened, Emboldened and Voyager roasts, and can be ordered whole bean or ground.
Purchase coffee from Beatrix Coffee Roasters
BEATRIX YETI RAMBLER HOTSHOT BOTTLE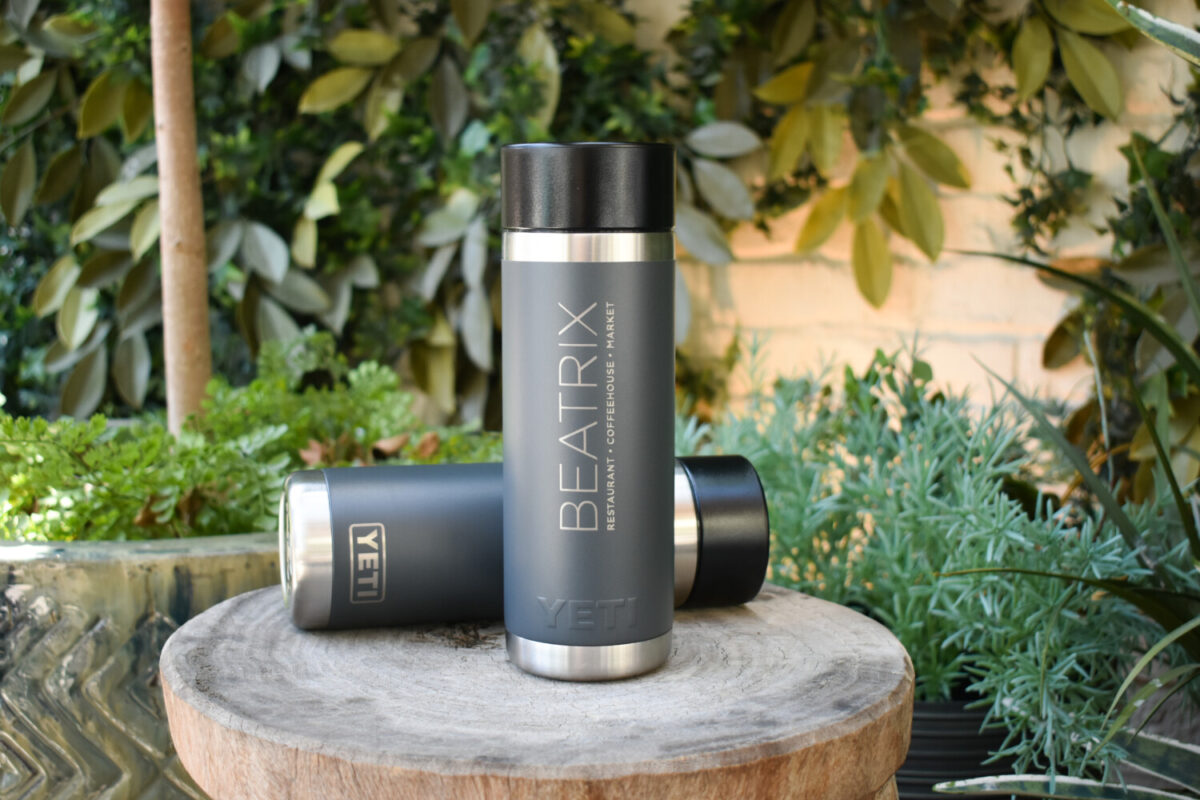 Perfect for any hot or cold brew beverage the Beatrix Yeti Rambler Hotshot Bottle will safely hold up to 18 oz, perfect for coffee lovers on the go all year long. Available for $32.95, plus tax and shipping
For the Wine Connoisseur…
GIULIANA PROSECCO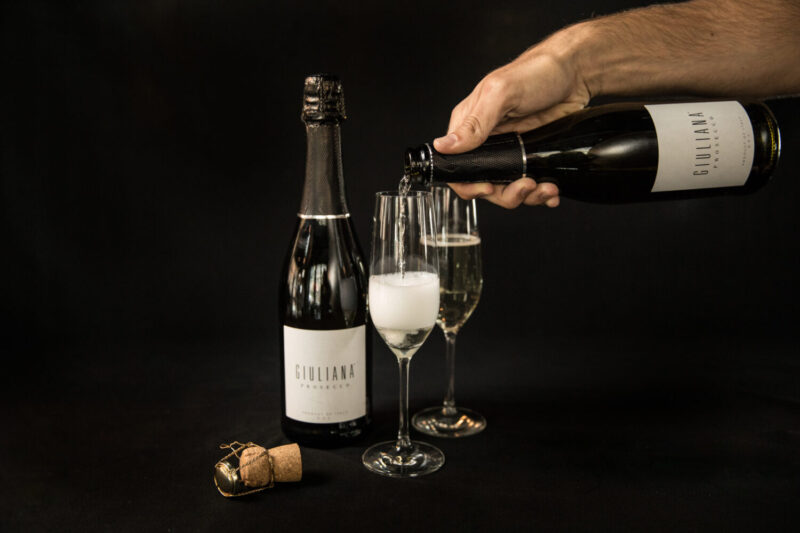 Giuliana Prosecco, from RPM partner Giuliana Rancic, is produced in the heart of Italy's Veneto region and boasts well-balanced structure and a dry nature. Its brut style – combined with notes of soft peach and white petal – instantly brightens and elevates any libation, making it an affordable favorite among even the most discerning palates.
$18.99 || Purchase Giuliana Prosecco here.
WINE TASTING AT THE OAKVILLE GRILL & CELLAR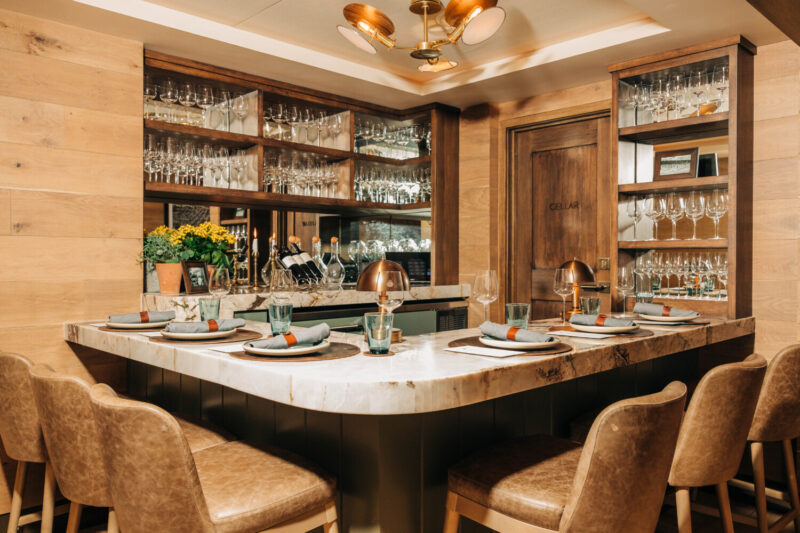 Whisk your loved ones away to Wine Country with a comparable wine tasting experience right in Chicago! The Cellar Door at the Oakville Grill & Cellar emulates the rustic feel of Napa Valley's exquisite vineyards, rotating five unique wine pours each month sourced directly from a featured California winery.
Reserve the Cellar Door Experience at The Oakville Grill & Cellar.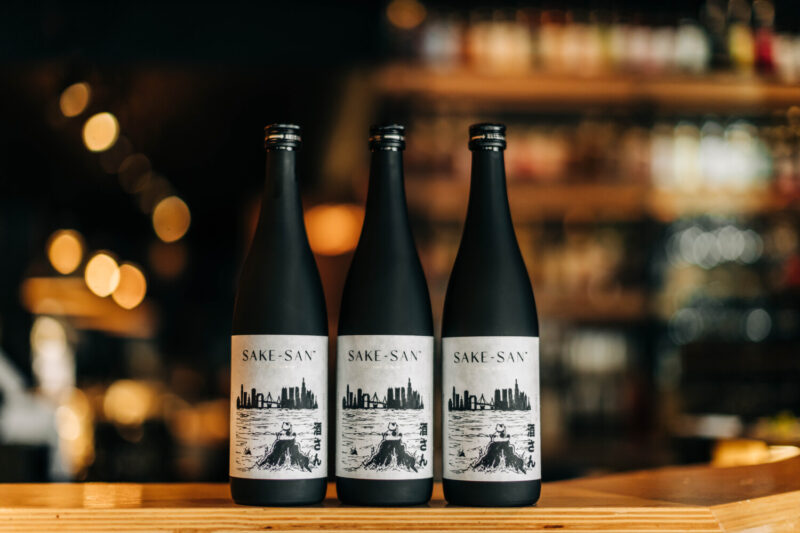 Bring home a bottle of Sake-san now available for purchase for $38, plus tax at Sushi-san in River North or Konbini and Kanpai, a specialty liquor store in Chicago focusing on Asian spirits and alcohol.
For the At-Home Mixologist…
BUB CITY WHISKEY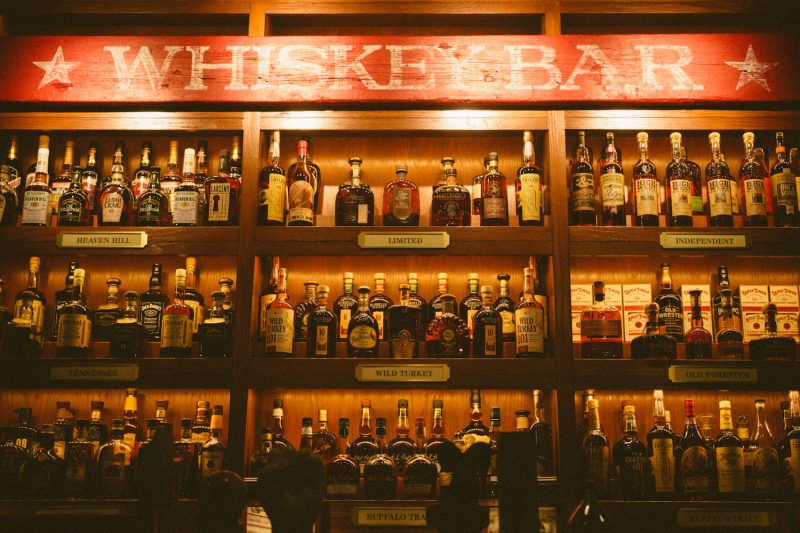 Bub City has the perfect gift for the whiskey lover in your life. Select bottles from their private whiskey collections in River North and Rosemont are available for purchase. The collections include whiskeys from well-known and independent distilleries. The star of the show is their Single Barrel Collection which features bottles hand-selected by their team from distilleries like High West, George Remus, Maker's Mark and more. To check on available inventory and pricing, call the restaurant directly at 312- 610-4220 for River North and 847-261-0399 for Rosemont. Orders are for pick-up only.
To feed that Sweet Tooth…
COOKIE BOX FROM BEATRIX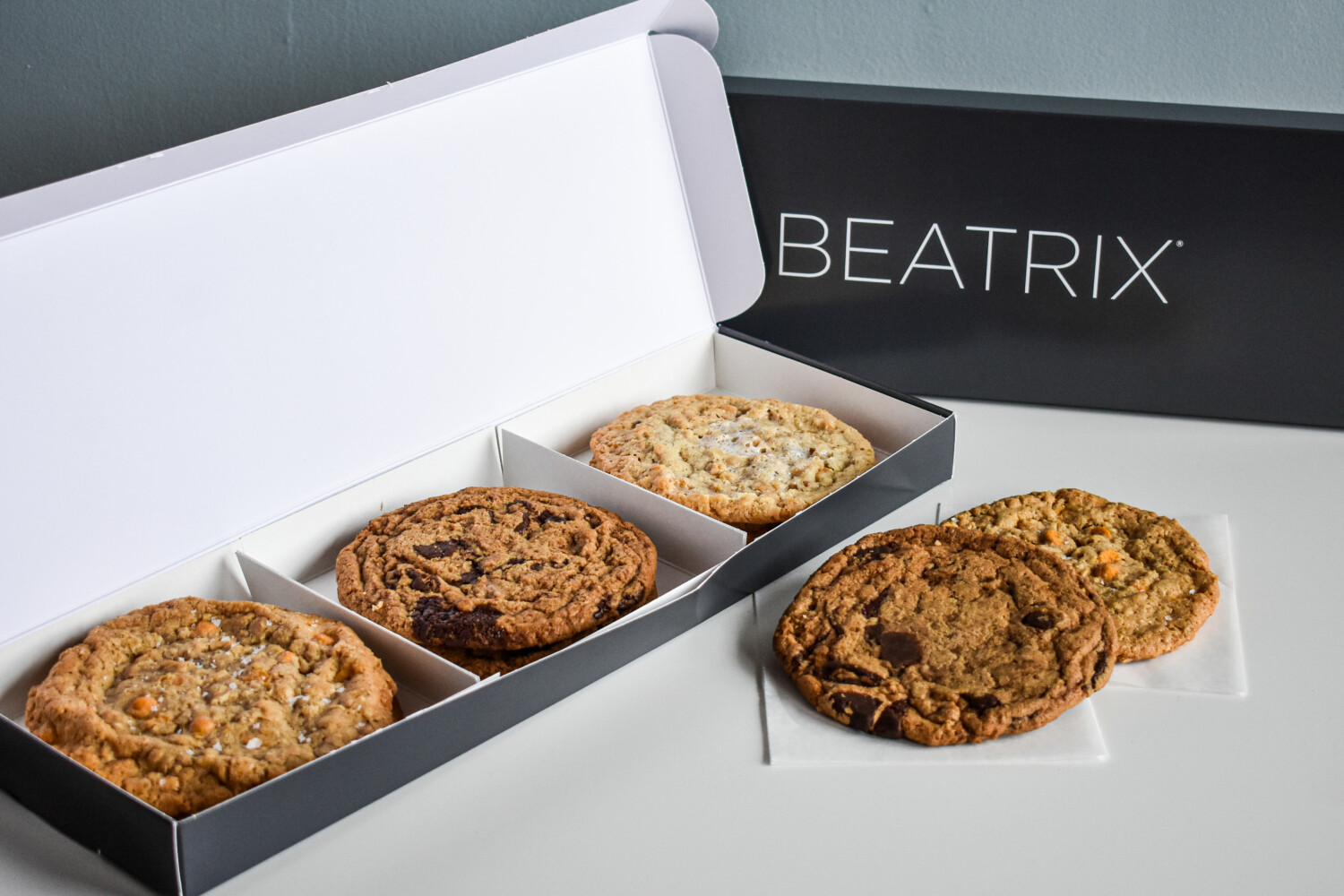 Beatrix is offering a Cookie Box 6-Pack at all pastry counters for $19.95, plus tax. Stop by the Beatrix nearest you to pick-up a box.
SUMMER HOUSE COOKIES FROM THE MARKET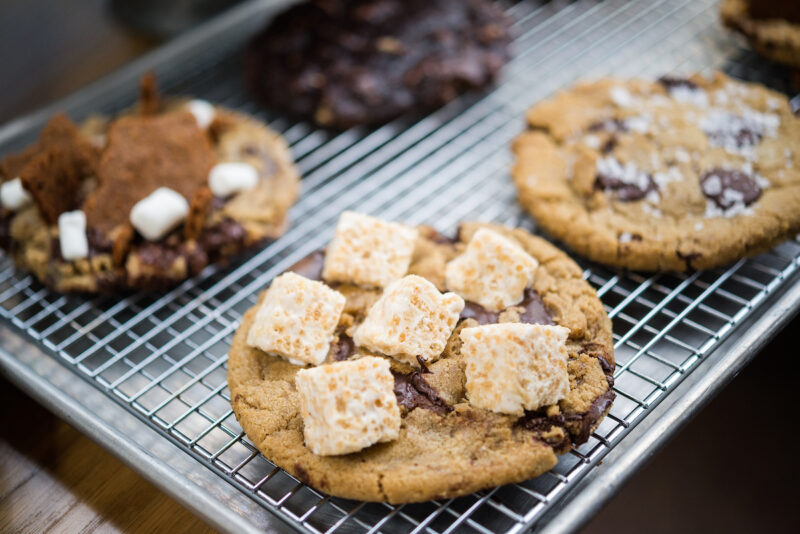 Summer House is known for their signature oversized cookies and unique flavors. With rotating options including Malted Chocolate Chip, Apple Oatmeal, Rice Krispy Chocolate Chip, Gingersnap and more, giving a sweet treat to a loved one has never been easier. Stop by our Chicago (1954 N. Halsted) or North Bethesda (Pike & Rose at 11825 Grand Park Ave) market to pick up a few of their faves.
JOE'S WHOLE PIES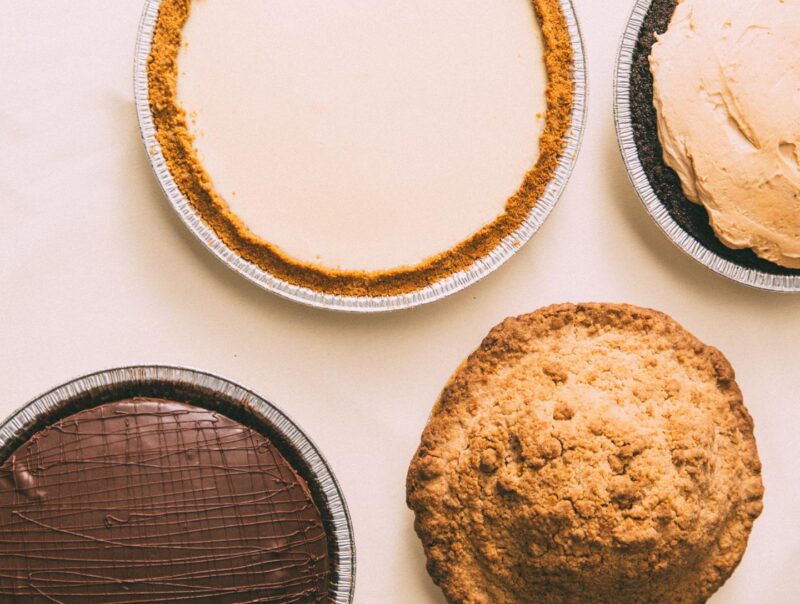 From Key Lime to Banana Cream, Peanut Butter to Havana Dream, no meal at Joe's is complete without a slice of our famous pie. Enjoying Joe's pie doesn't have to be reserved for dining at the restaurant though, as all of our whole pies are available for carryout. Varieties include: Key Lime, Peanut Butter, Havana Dream, Banana Cream, Boston Cream, Old Fashioned Apple, Coconut Cream, and Chocolate Fudge, as well as our seasonal pie of the month. Prices are $49.95, plus tax. Please allow 24-hour advanced notice.
Purchase a pie from Joe's Chicago by calling 312-379-5637
Purchase a pie from Joe's DC by calling 202-489-0140
Purchase a pie from Joe's Las Vegas by calling 702-792-9222
BEATRIX WHOLE PIES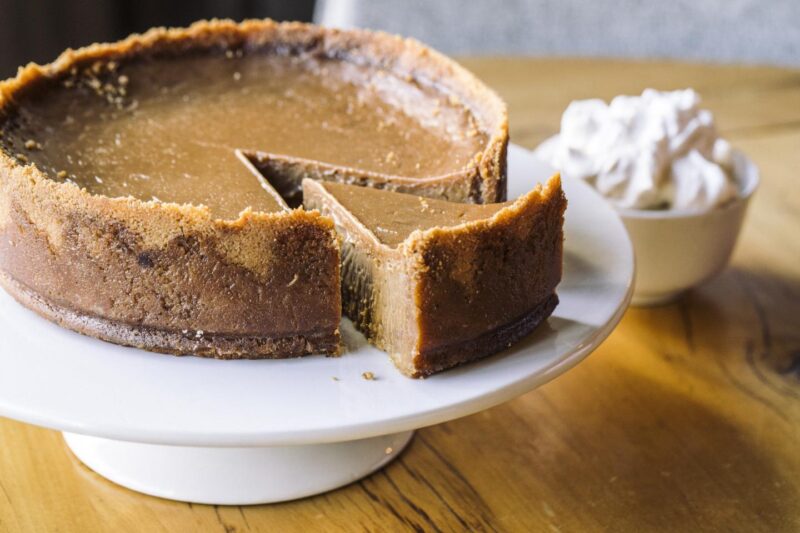 It's likely that you've wanted to take the whole pastry counter home with you at Beatrix, and it's also likely that you've said "OH MY!" after taking a bite out of the sweet and perfectly decadent Oh My! Caramel Pie, or the gluten free Tall, Dark and Handsome Chocolate Cake. Perfect for the holidays or just to show a special co-worker, friend or family member how much you care, order up a whole pie or cake to enjoy. Seasonal options also available. Prices vary by pie or cake, ranging from $50 – $55, plus tax. Available at all Beatrix locations. Please allow 24-hour advanced notice. Order a whole pie or cake from Beatrix. Beatrix's iconic Oh My! Caramel Pie and Tall, Dark and Handsome Chocolate Cake are now available to be shipped nationwide. Place your order via Tastes of Chicago for Beatrix for nationwide shipping.
HUB 51'S MARTHA'S SPECIAL OCCASION CARROT CAKE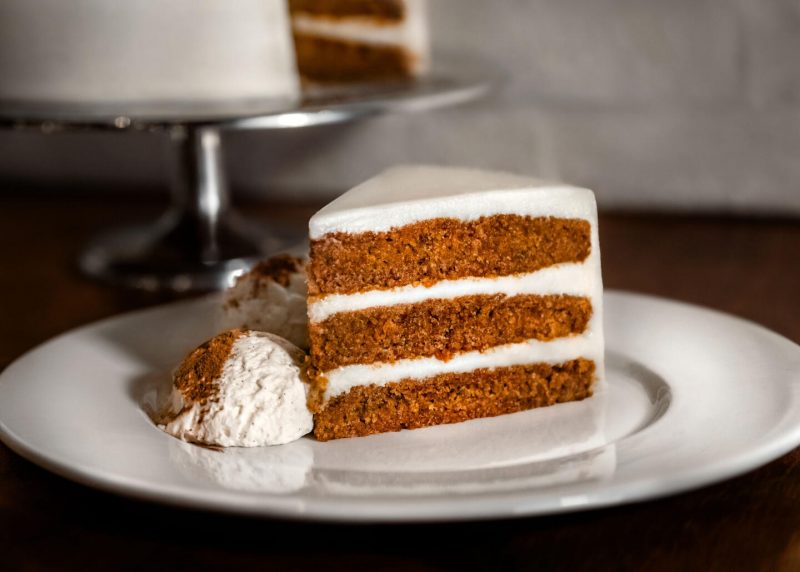 It's one of Rich Melman's favorite things so you know it's got to be good! Order up a Whole Martha Melman's Special Occasion Carrot Cake with cream cheese frosting. The cake is available in 9″ for $70, plus tax and is available for pick-up only; 48-hours advance noticed is required. Orders must be placed by calling Hub 51 at 312- 828-0051 or order Hub 51's Carrot Cake online.
WILDFIRE WHOLE PIES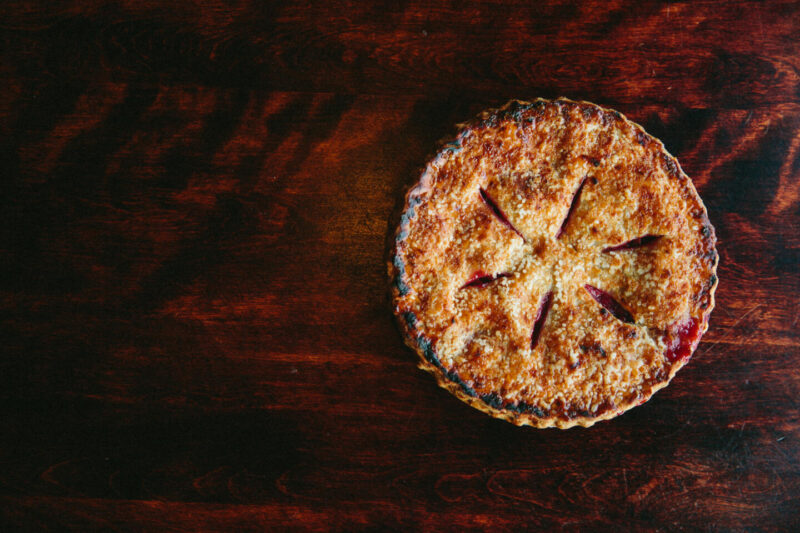 From our oven to your table, order a whole homemade seasonal pie to enjoy at home or a whole Door County Cherry Pie from Wildfire. The perfect sweet treat to end any meal. Place your pie order by calling the Wildfire location nearest you.