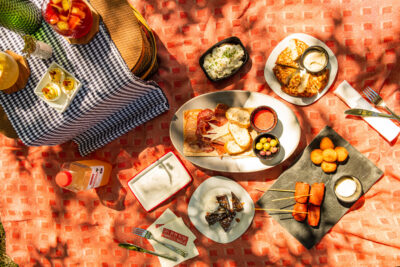 Take Your Picnic to the Next Level with these Carryout Options
Skip the prep and spend more time savoring the moment
While the sun is shining, take your next meal al fresco. Lettuce restaurants are here to help make your pinic prep easy! Whether you're chilling in the park, getting ready for a beach day, going on a swoon-worthy sunset date, or getting your fam together, we've got your back withdrool-worthy recommendations to take your picnic basket from zero to hero.
Picnic at Ravinia
Get your picnic game on for Ravinia season! From now – Sunday, September 10, Di Pescara has you covered with their $24.00 per person package (plus tax), featuring your choice of soup or salad, an entree and a Chocolate Chip Cookies for dessert. They even throw in a reusable tote bag and all the essential disposable utensils. Wine and non-alcoholic beverages are available for additional purchase. Just give them a ring to place your order.
View Di Pescara's Ravinia menu
Call to place your order: 847-498-4321 
Picnic at the Park
Get ready to take your park hangs to the next level with L. Woods Tap & Pine Lodge. Craving some saucy, smoky goodness? Order their BBQ catering for a picnic experience that will have you licking your fingers in satisfaction. From juicy ribs to melt-in-your-mouth pulled pork, their a la carte options will please all your BBQ cravings. Round up your crew, head to the park, and let L. Woods bring the flavor to your outdoor feast.
View the L. Woods Tap & Pine Lodge menu
Order BBQ catering from L. Woods Tap & Pine Lodge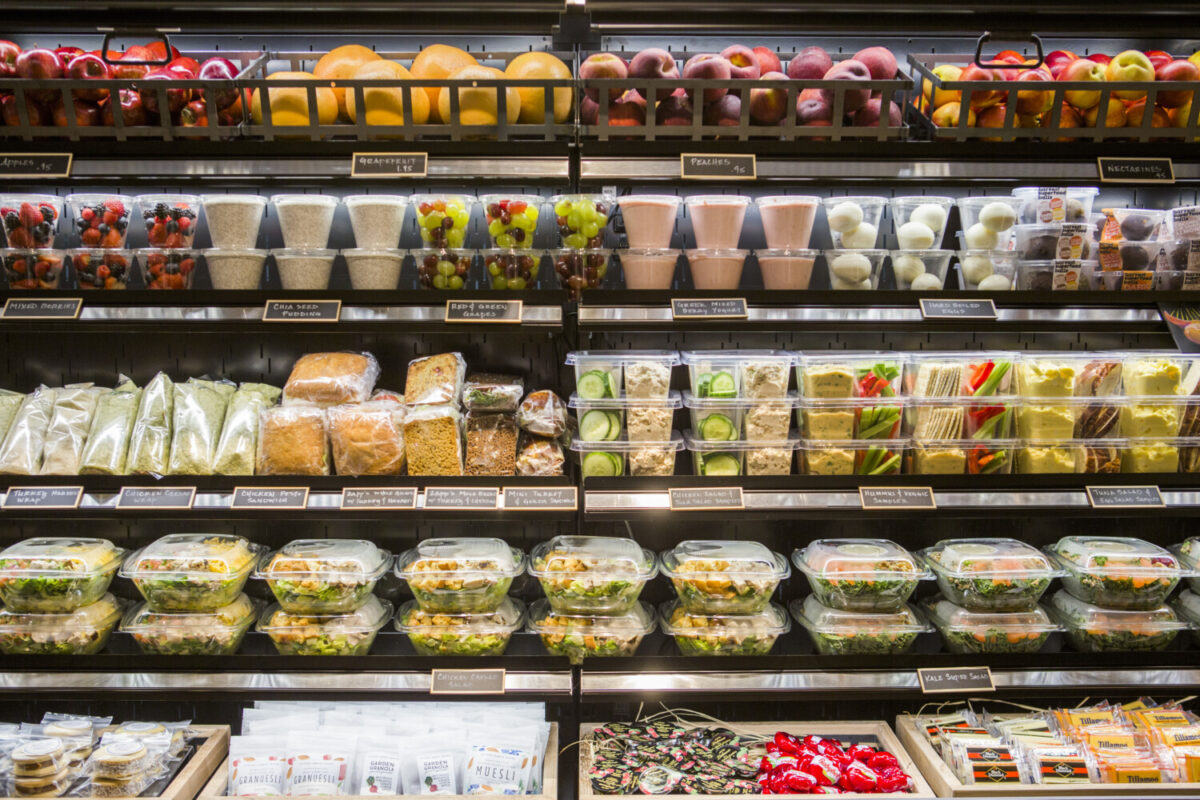 Heading to Millennium Park instead or want to enjoy lunch on the green (or near The Bean!), make Beatrix Market – DePaul your one-stop shop for sandwiches, wraps, build-your-own salad bar and hot bar, hummus bar, deep dish pizza, Beatrix Coffee Roasters coffee drinks, house-made pastries and grab & go items perfect for picnicking. Grab a kombucha or sparkling water from the cooler and make sure to snag a sweet treat to round out the spread! Beatrix Market is open until 5:00 PM every Monday – Friday.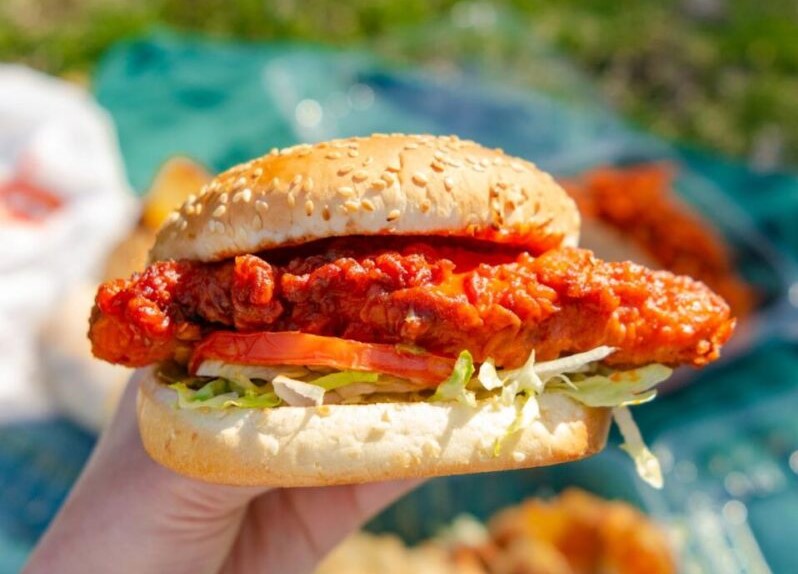 Looking to recharge after a day at the zoo? Pick up RJ Grunts' scrumptious sandwiches and wraps and head to Lincoln Park. These handheld delights are packed with flavor and are perfect for satisfying your post-zoo cravings. Grab a blanket, find a shady spot, and enjoy!
View the R.J. Grunts menu
Order carryout from R.J. Grunts
Picnic on the Roof
Elevate your picnic experience to new heights with Ema's mezze. Enjoy a delightful array of Mediterranean small plates to-go while taking in rooftop views at your friend's high rise. With a selection of fresh, vibrant dishes, you'll feel like you're on a culinary adventure in the heart of the city.
View Ema's menu
Order carryout from Ema
Picnic on a Boat
Ready to set sail on Lake Michigan this summer? Pizzeria Portofino has got your boat day covered with all their signature dishes available for carryout directly to your boat. No need to worry about packing a picnic—simply place your order for "Pickup" and include your boat's name under "Special Requests" so they know who to look for. Happy boating!
View Pizzeria Portofino's Marina Menu
Order carryout to your boat from Pizzeria Portofino
Picnic at the Beach
Immerse yourself in the flavors of Spain with Cafe Ba-Ba-Reeba! Tapas make for the perfect beachside picnic, and these delectable small plates will transport you to the lively beaches of Barcelona. Grab your sunhat, sunscreen, and a selection of these mouthwatering dishes for a beach picnic experience you won't forget.
View Cafe Ba-Ba-Reeba!'s menu
Order carryout from Cafe Ba-Ba-Reeba!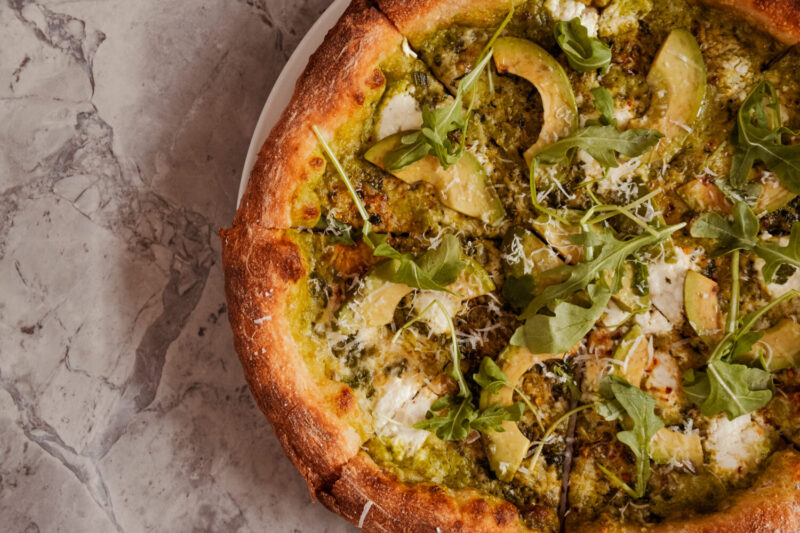 In sunny Los Angeles? Pack your basket with carryout from Stella Barra and find your perfect spot at Santa Monica Beach! The breezy Pacific paired with artisanal pizzas will have you in picnic heaven.
View Stella Barra's menu
Order carryout from Stella Barra
Picnic in the Backyard (or Patio)
Transform your backyard or patio into a sushi haven with Sushi-san's sushi sets. These ready-to-enjoy sets bring the art of sushi to your own outdoor space. From classic rolls to sashimi, enjoy the freshest seafood without leaving the comfort of your home.
View Sushi-san's menu
Order carryout from Sushi-san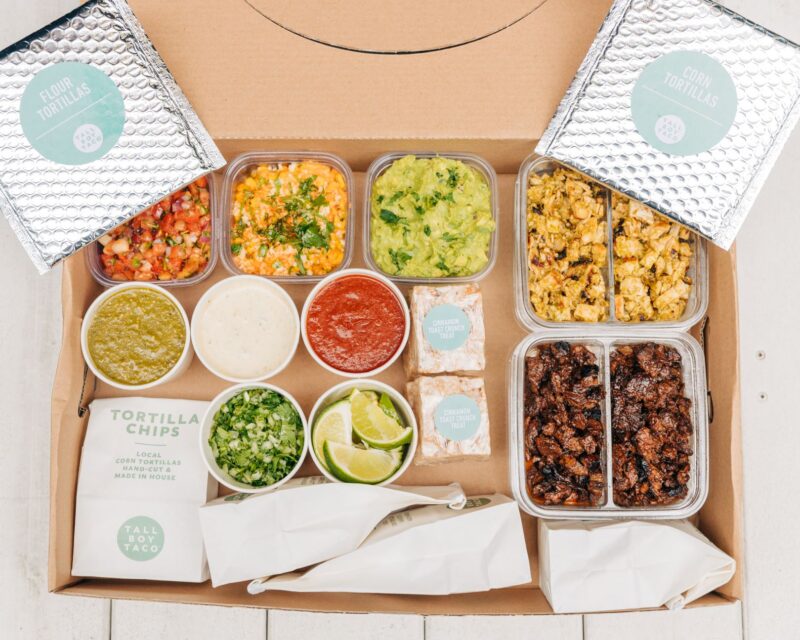 Or make it a taco picnic with Tallboy Taco's build-your-own taco bars featuring hand-pressed tortillas, choice of two proteins (carne asada, chicken chimichurri, grilled Baja shrimp and pork al pastor), assorted toppings, fresh guacamole, corn fundido and housemade chips. The kit also includes one of Tallboy Taco's signature sweets, Cinnamon Toast Crunch Treats. Order the taco kit for two people for $59.95, plus tax or four people for $99.95, plus tax.
Order a taco bar to-go from Tallboy Taco
Check out our complete list of restaurants for more carryout options near you.