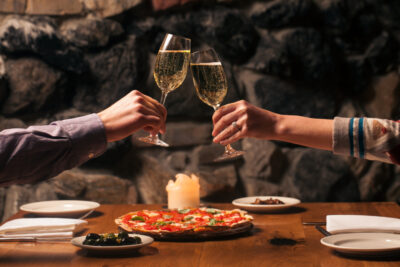 The Best Date Night Restaurant for Your Sign 
Spice up your next date night at a spot that was written in the stars
We've all heard the horoscope trope of the signs you should (and shouldn't!) date. While we're not here to comment on the compatibility of who you're dating, we do know a thing or two about where you should take them.
Aries (March 21 – April 19): Mon Ami Gabi
Key Personality Traits: Confident & Passionate
Nothing says "I'm confident in who I am" than taking a first date to Mon Ami Gabi – one of the most romantic of the Lettuce restaurants. No need to beat around the bush or play it cool – show someone you actually like them by booking a reservation at Lincoln Park's little French hideaway. Flaunt your adventurous side by ordering the Escargot and Foie Gras Torchon to share.
Make a reservation at the Mon Ami Gabi location nearest you
Taurus (April 20 – May 20): il Porcellino
Key Personality Traits: Reliable & Romantic
Italian food typically conjures up well loved, reliable dishes – spaghetti and meatballs, chicken parmesan…the delicious list goes on. Whether you're taking out a new date or your partner of 20 years – you've got a dependable winner with an il Porcellino date night. Taureans love a little romance, and this River North restaurant with the twinkly lights and a nice bottle of Chianti at the table will set the mood before you even sit down.
Make a reservation at il Porcellino
Gemini (May 21 – June 20): Summer House
Key Personality Traits: Playful & Talkative
You're versatile and quick to feel the energy of a room, Gemini. That said, a good bet for a date is the always sunny Summer House. Whether you pop in for weekend brunch or slide up to the bar, you're going to have a good time showing off your effortless wit to your date by chatting up the equally sunny servers and bartenders. Your date will have no choice but to be impressed. Pro tip: stop by the cookie counter for dessert and pick a sweet treat to share. 
Make a reservation at the Summer House nearest you
Cancer (June 21 – July 22): R.J. Grunts
Key Personality Traits: Loyal & Nostalgic
Let's be real: you won't find a happy Cancer in the trendiest new restaurant downtown. Who needs to try a bunch of small plates when you know you'd much rather enjoy the company of your date with your favorite nachos in town? Your nostalgic sign will love the R.J. Grunts menu art dating back to the 70s and the old school classic rock playlist. 
Make a reservation at R.J. Grunts
Leo (July 23 – August 22): Aba
Key Personality Traits: Charismatic & Generous
Leos love to see and be seen – and where better than Aba's cool interiors and buzzy patio? Your penchant for luxury will delight in the Reserve Cocktails menu. Start (or end) your date with the Ancient Oak Espresso Martini, and thank us later. If you really want to impress your date, make sure you order the Wild Mushroom Hummus, the Whipped Feta, and Truffle Baked Orzo to share – rich dishes that always live up to expectations, just like you. 
Make a reservation at the Aba location nearest you
Key Personality Traits: Devoted & Logical
Precise, kind, and detail-oriented – are we describing a Joe's server or a Virgo? Trick question, it's both of you. Virgos will LOVE the impeccable customer service and tried-and-true dishes at Joe's Seafood, Prime Steak & Stone Crab. The menu is practical, too – and your date will have an incredible array of items to choose from. We recommend sharing the Stone Crab with the classic mustard sauce and Oysters Rockefeller to start. You'll love chatting with your person over a classic cocktail – like a seasonal Gin & Tonic or a Boulevardier. 
Make a reservation at the Joe's Seafood, Prime Steak & Stone Crab location nearest you
Key Personality Traits: Charming & Easygoing
Libra, you love to feel inspired by all the finer things in life – art, music, and food. And if you're not feeling inspired by your date, they're just…not the one for you. Make it easy to feel inspired (and maybe even fall in love) at Pizzeria Portofino, our gorgeous Italian restaurant overlooking the Chicago River. After a few spritzes, you might just feel like you've been transported to the Italian Riviera itself – and what's more romantic than that? 
Make a reservation at Pizzeria Portofino
Scorpio (October 23 – November 21): The Omakase Room
Key Personality Traits: Bold & Mysterious
A bold-faced Scorpio move? A first date at The Omakase Room. Or, if you've been with your partner for a long time, surprise them by telling them you're headed to Sushi-san and instead lead them upstairs to our 10-seat, 18 course omakase restaurant for an experience they won't soon forget. You'll love the interactions you two will get to have with Master Chef Kaze Chan and Master Chef Shigeru Kitano as they prepare you sushi that respects tradition, but doesn't always color inside the lines.  
Make a reservation at The Omakase Room
Sagittarius (November 22 – December 21): Sushi-san
Key Personality Traits: Fun-loving & Curious
Sags are the biggest fun-lovers of the Zodiac – and what's more fun than a sake bomb and some old school hip hop? Head to Sushi-san with your date and share a San-set. You can regale your date with your stories of adventure in faraway places over an ice cold Asahi Beer. 
Make a reservation at Sushi-san
Capricorn (December 22 – January 19): Osteria Via Stato
Key Personality Traits: Practical & Romantic
Caps make everything look effortless, but they often do a lot of thoughtful planning in advance. Take your date to Osteria Via Stato and enjoy an authentic Italian experience in a cozy, romantic atmosphere. Treat them (and yourself) to a feast and use those Reward Dollars. What? We know you're a Frequent Diner.
Make a reservation at Osteria Via Stato
Key Personality Traits: Sociable & Adventurous
There's nothing WRONG with the stereotypical candlelit dinner date, but as an Aquarius, you're always looking for a way to spice things up a bit. Add The Bar at Beatrix Market to your itinerary on a day out in downtown Chicago – hit up the museums, take a stroll through Grant Park, whatever you fancy – and then let your date know that you've got an excellent rec for Chicago Deep Dish pizza. Head down to the Basement Bar at Beatrix Market for pizza and beer to end the perfect Chicago day date. 
Learn more about The Bar at Beatrix Market
Key Personality Traits: Imaginative & Empathetic
Pisces are intuitive by nature and as a water sign, tend to feel the energy around them. That's why we suggest heading to a tried (for 38 years) and true good energy spot – Shaw's. With bartenders and servers of 20+ years, you will love the personal touches and empathy in this seafood staple.