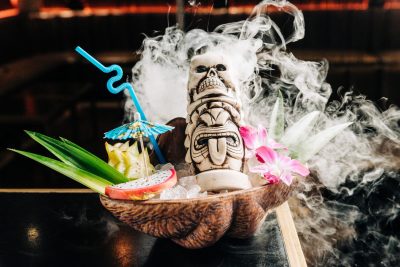 Three Dots and a Dash Debuts a New Cocktail Menu
Sip on these new cocktails at Three Dots and a Dash
Brand new cocktails, same awesome vibes! Three Dots and a Dash, downtown Chicago's destination for craft cocktails has introduced an all new line-up of cocktails from classic tropical drinks re-imagined, to large format cocktails and so much more. Three Dots and a Dash's award-winning Beverage Director Kevin Beary, is giving us a bartender's choice of drinks you should sip on next time you belly up to the bar at Three Dots and a Dash. 
View the Three Dots and a Dash cocktail menu
Make a reservation at Three Dots and a Dash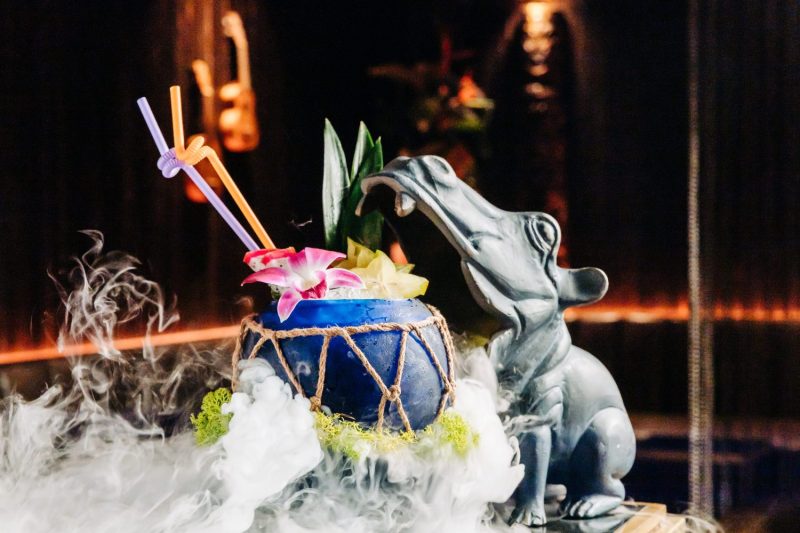 For an updated take on a classic Mai Tai

2044: Overproof Jamaican Pot Still Rum, 55° Martinique Rhum Agricole Blanc, Cask strength Cachaça, Yellow Chartreuse, lime and almond orgeat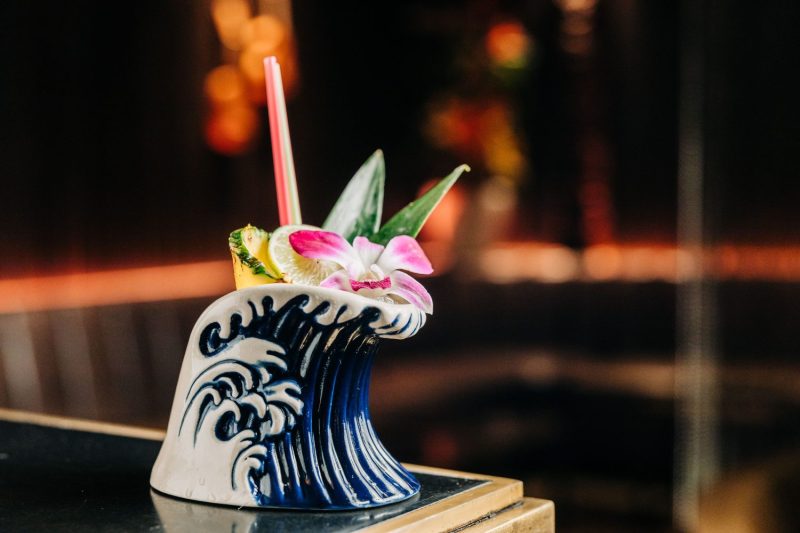 Take a trip to the beach with the Mai Tai section of the menu at Three Dots and a Dash. The original Mai Tai came from tiki legend Trader Vic in 1944 and since then, there have been several iterations through the decades. The 2044 cocktail is our future look at the Mai Tai. With the 2044, we take three more "funky" and unaged styles of rum and also swap out the orange curacao typically seen in a Mai Tai with Yellow Chartreuse, a herbal liqueur with a heavily guarded secret recipe made by French Monks since 1737. The addition of Chartreuse adds a slightly herbaceous quality to this drink. 
If you prefer your drinks strong (and on fire)
Port Light: Bonded bourbon, Overproof Jamaican Rum, 151 Proof Demerara Rum, passionfruit, lemon, pomegranate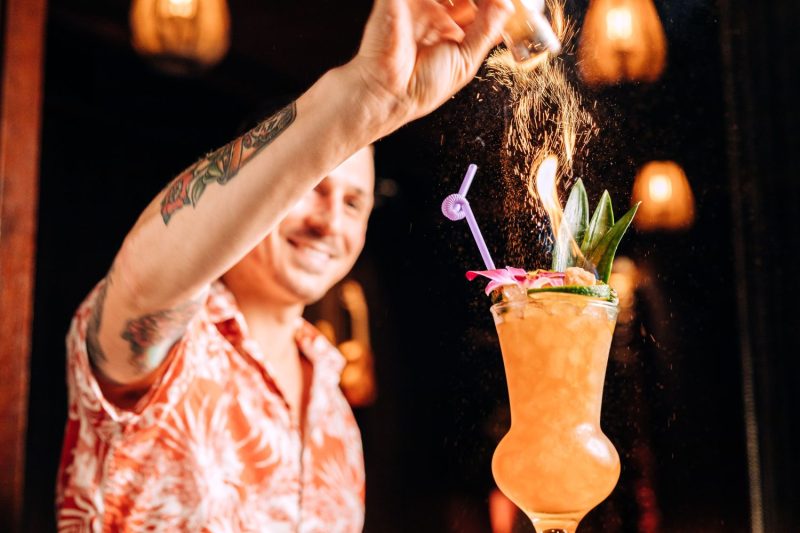 This cocktail originates back to 1961, originally from bartender Sandro Conti of the Kahiki Supper Club in Columbus, Ohio. This one is our strongest cocktail on the menu, bringing in a mixture of 100 proof whiskey and overproof rums, plus it's Three Dots and a Dash first individual drink that is served on fire. 
If you like Piña Coladas
Aloha Felicia #4: Aged Saint Lucia Rum, Jamaican Pot Still Rum, coconut, espresso, cinnamon, coconut, pineapple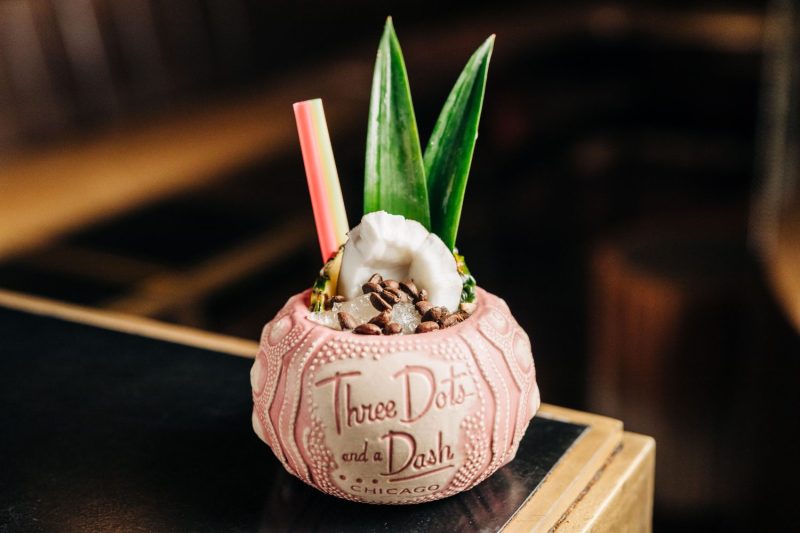 This is the 4th iteration of the Aloha Felicia cocktail over the years and the thing that holds them all together is their relationship to the Piña Colada. The Aloha Felicia #4 is a play on the Espresso Martini craze happening right now, using a coffee liqueur and pairing that with the spice notes of cinnamon and allspice, all backed with coconut, pineapple and a mixture of dark St. Lucia and Jamaican rum.
For those with a nut allergy
Isle of Mango: Blended Scotch Whiskey, mango, lime, pineapple, horchata orgeat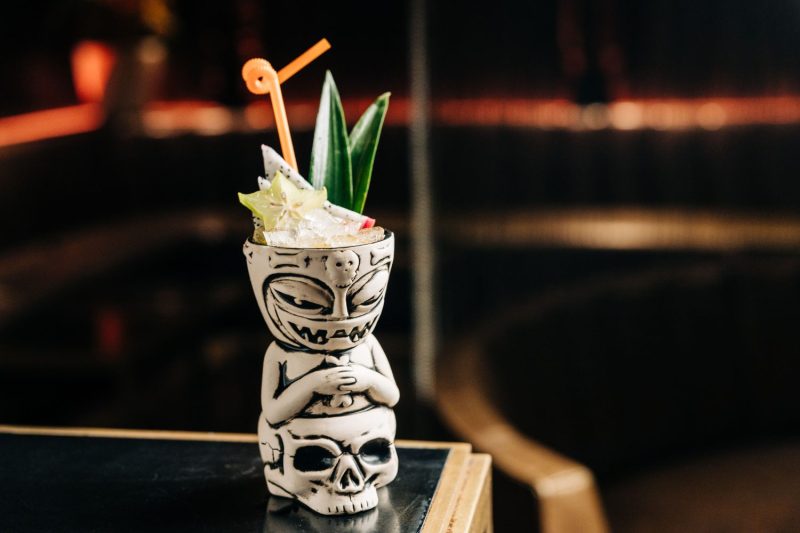 This cocktail pairs the brighter notes of blended scotch infused with vanilla with the tropical flavors of mango and pineapple, all tied together for a creamier mouth feel with "Horgeata." "Horgeata" is our version of a rice based orgeat, using a similar process to what you would see when making Horchata. This drink gives us the option to also have a good substitute for almond allergies anywhere that we would normally use orgeat.
For the perfect balance of bitter and sweet
Strawberry Jungle Bird: Overproof Jamaican Rum, Red Italian Bitter, strawberry, pineapple, lime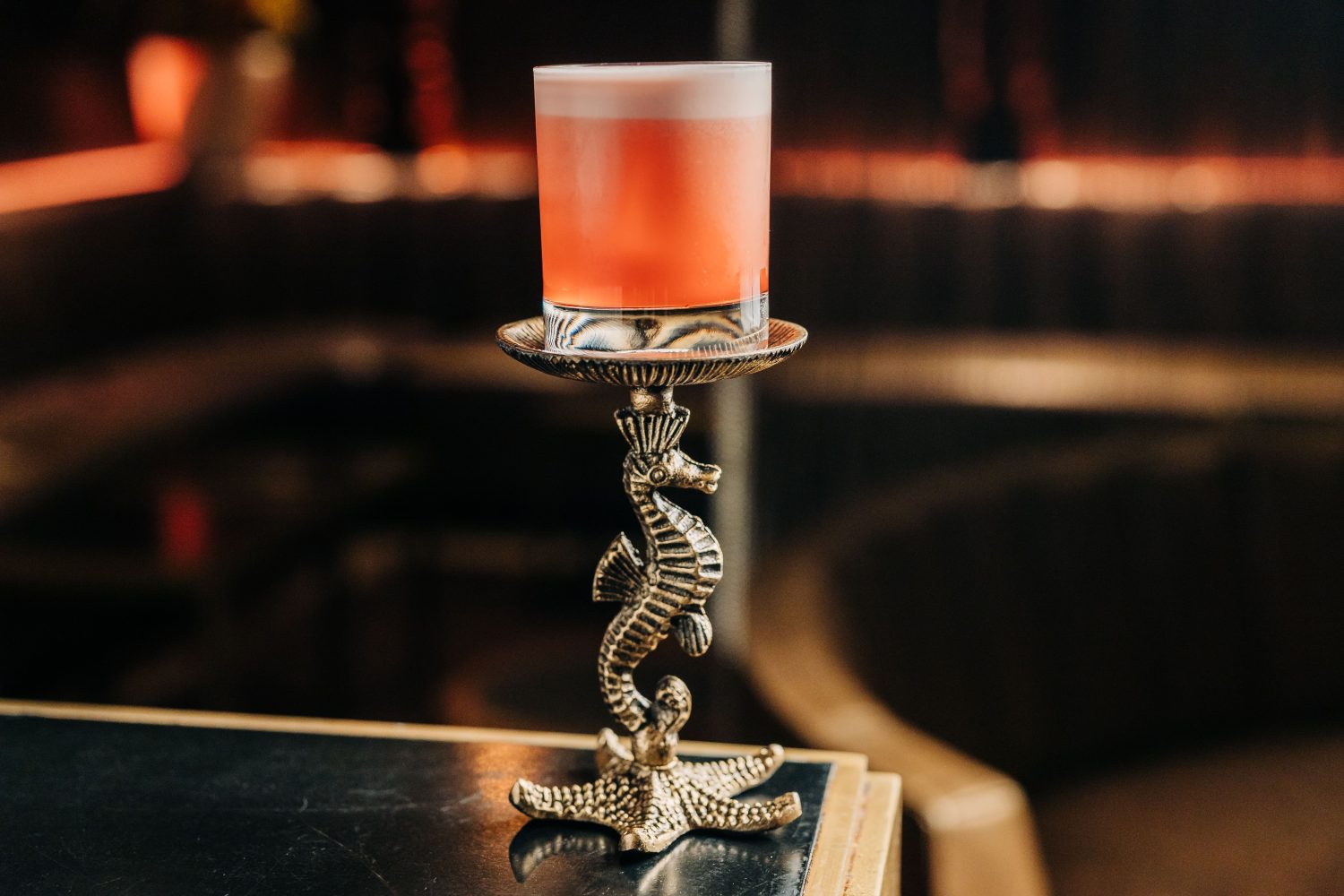 The Jungle Bird originated from bartender Jeffery Ong in 1973 from the bar Aviary located within the Kuala Lumpur hotel in Malaysia. This modern version brings in bitter notes paired with the freshness of pineapple and rum. With our version, we take an even more modern approach by infusing Wray and Nephew (Overproof Jamaican rum) with fresh strawberries, and port with a house-made strawberry cordial. 
For fall flavors that are anything but basic
Space Force Pilot: Single Village Espadin Mezcal, Bonded Apple Brandy, cinnamon, lime grapefruit, Absinthe, Angostura Bitters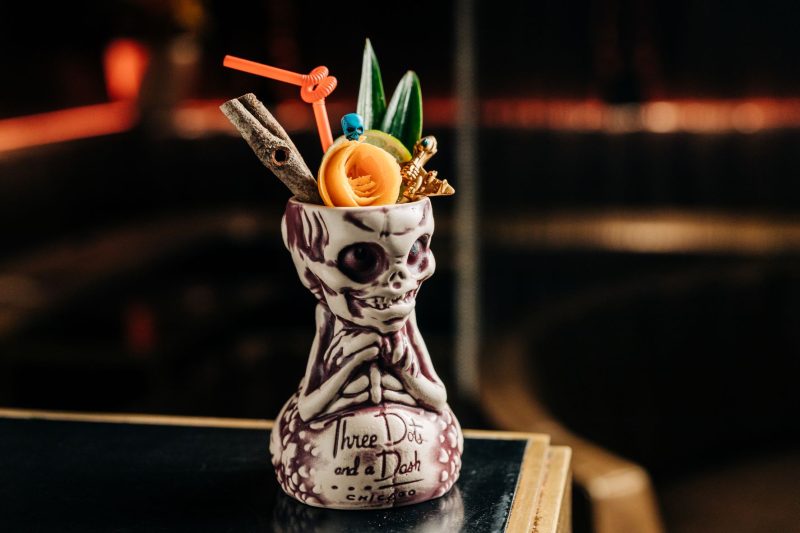 This is our modern addition to the long line of the riffs that evolved from the Test Pilot cocktail. The Test Pilot was originally created by Donn the Beachcomber in 1941.  With the Space Force pilot we ask  "What would the modern take on a Test Pilot be in the age of space exploring billionaires?" We decided to take the Jet Pilot base of lime, grapefruit, cinnamon, falernum, absinthe and bitters and subbing out the rums for a mixture of smoky mezcal and an Apple Brandy.
For when you're looking for a tasty non-alcoholic option
Con Artist: Cocoa Nib, Chinese Five Spice, cinnamon bark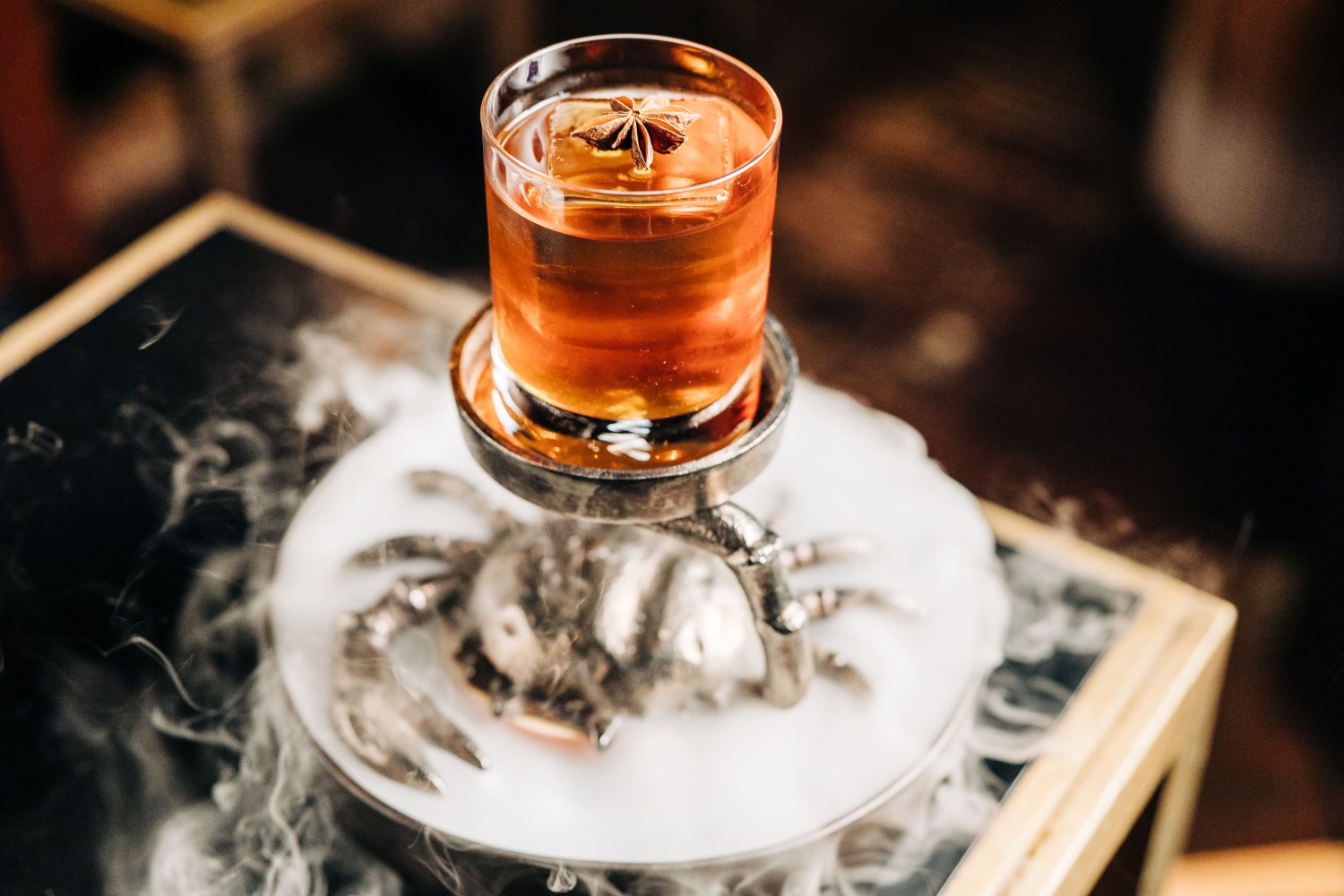 This cocktail allows you to sip on a perfectly stirred drink, but without the booze. The Con Artist uses a tea that we make with Costa Rican single estate cocoa nibs, lending a perceived bitterness as well of sweetness. We pair those flavors with five-spice and cinnamon cordial to enhance the cocoa flavors, as well as add some extra viscosity.
Trust us, you'll want to take Kevin's word and come try these delicious new drinks. We look forward to welcoming you to Three Dots and a Dash. Make a reservation at Three Dots and a Dash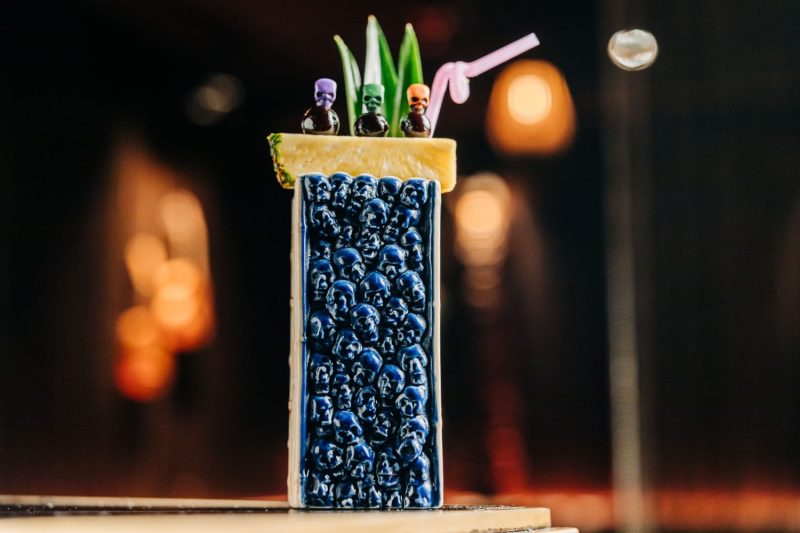 Looking for the perfect gift for your cocktail loving friends and family? Order up Three Dots and a Dash limited edition mugs, swag, cocktail kits and bottled cocktails to-go. Pro tip: The mugs ship nationwide. 
Visit Three Dots and a Dash Mug Shop.