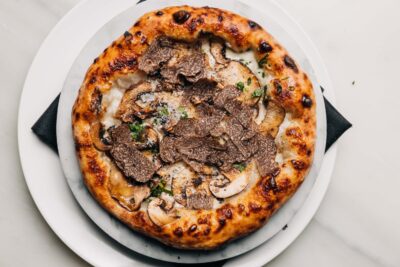 What Your Favorite Pizza Says About You
Plus where to find it
We believe every pizza has a personality so we've broken down what your go-to pizza choice says about you. Whether dining in or enjoying at home, here are our top pie picks.
CLASSIC CHEESE: YOU ARE STEADY & DEPENDABLE
If you had a motto, it'd be "consistency is key." You value reliability and don't like change, which is why you've had the same pizza favorite for quite some time. Cheese pizza always hits the spot, so why try anything different? Next time you're looking for a cheese pie you can trust, try Osteria Via Stato's Classico Cheese Pizza. The classic mozzarella and tomato sauce combo will satisfy your pizza cravings.
Make a reservation at Osteria Via Stato | Order carryout or delivery from Osteria Via Stato

PEPPERONI: YOU ARE EASYGOING & SOCIAL
Like you, this pizza enjoys a good party and would easily win a popularity contest. Your group can't decide which pizza to order? Antico Posto's brick oven Pepperoni Pizza balances the fiery pepperoni with the creaminess of the mozzarella and provolone cheeses and the freshness of the basil, it's a natural crowd pleaser.
Make a reservation at Antico Posto | Order carryout or delivery from Antico Posto
MARGHERITA: YOU ARE POLISHED & WORLDLY
If your go-to pizza order is a margherita, you've likely been to Italy – or it's on your travel bucket list! In the meantime, Summer House's Classic Margherita Pizza with fresh mozzarella, tomato sauce, olive oil, sea salt and basil, will have you traveling without hopping on a plane.
Make a reservation at Summer House – Chicago
Make a reservation at Summer House – North Bethesda
Order from the Summer House location nearest you
DEEP DISH: YOU ARE INDULGENT & MAXIMALIST
More cheese, more sauce, more everything! Own your "load it up" maximalist tendencies and don't let anyone stir you from ordering that deep dish pizza. The best part? You don't have to share. Get your very own Personal Deep Dish Pizza at Beatrix Market – DePaul Loop, choose from cheese, sausage, pepperoni or veggie.
Order from Beatrix Market DePaul

TRUFFLE: YOU ARE AMBITIOUS & ADMIRE THE FINER THINGS IN LIFE
You enjoy living luxuriously and your pizza shows it. Keep going after what you want in life (and in your dinner choices). Experience the Cremini Mushroom wood oven pizzette with Truffles & Fontina Fonduta at RPM Italian.
Make a reservation at RPM Italian – Chicago | Order carryout or delivery from RPM Italian – Chicago
Make a reservation at RPM Italian – D.C. | Order carryout or delivery from RPM Italian – D.C.
Make a reservation at RPM Italian – Las Vegas
PROSCIUTTO & APPLE: YOU ARE CONFIDENT & ADVENTUROUS
Some may do a double take when they hear you place your order, but you're willing to do (and eat) something different. You're happy to take the road less traveled because you know once your pie hits the table, everyone will be reaching for a slice. Enjoy this unique pizza combination at Pizzeria Portofino. The Prosciutto Cotto & Farm Apple pizza with rosemary and smoked mozzarella truly stands out from the crowd.
Make a reservation at Pizzeria Portofino | Order carryout or delivery from Pizzeria Portofino online
MEAT LOVERS: YOU ARE BOLD & PROUD
What's more daring than a pizza packed with three different kinds of meat? The person ordering it. Just like your pizza, you are sure of who you are and are not afraid to show it. The Meat Lover's Pizza at Stella Barra Pizzeria & Wine Bar with organic sausage, bacon, pepperoni and fresh mozzarella on a hand-stretched artisan crust,  is a worthy hold up to your strong personality. Don't forget, any pizza can be made with thin & crispy crust—just ask your server!
Make a reservation at Stella Barra | Order carryout or delivery from Stella Barra 
MUSHROOM: YOU ARE GROUNDED & CALMING
You're probably the friend everyone goes to for advice. Why? Because you're sensible and down to earth. You have a practical approach to life—and a practical approach to pizza: It's okay to indulge from time to time as long as you opt for a healthy veggie topping. Order up Saranello's White Pizza with shaved mushrooms, robiola cheese, arugula and truffle oil for a hand-tossed, thin & crispy, Roman-style pizza, and you'll check off all the right boxes. Gluten-free? They can make that happen too.
Make a reservation at Saranello's | Order carryout or delivery from Saranello's
 Did we get it right? Let us know at @lettuceentertainyou.